The D1M regular season is all but done, with just one game left to play this coming Wednesday night.
That game is a significant one however, with its result deciding which team will join Oaklands in the bottom two as potential relegation candidates.
The rest of the field is set, however, with the following match-ups in the first round of the playoffs next weekend:
#1 Team Solent Kestrels v #8 Reading Rockets
#2 Thames Valley Cavaliers v #7 Team Newcastle University
#3 Derby Trailblazers v #6 Hemel Storm
#4 Nottingham Hoods v #5 Worthing Thunder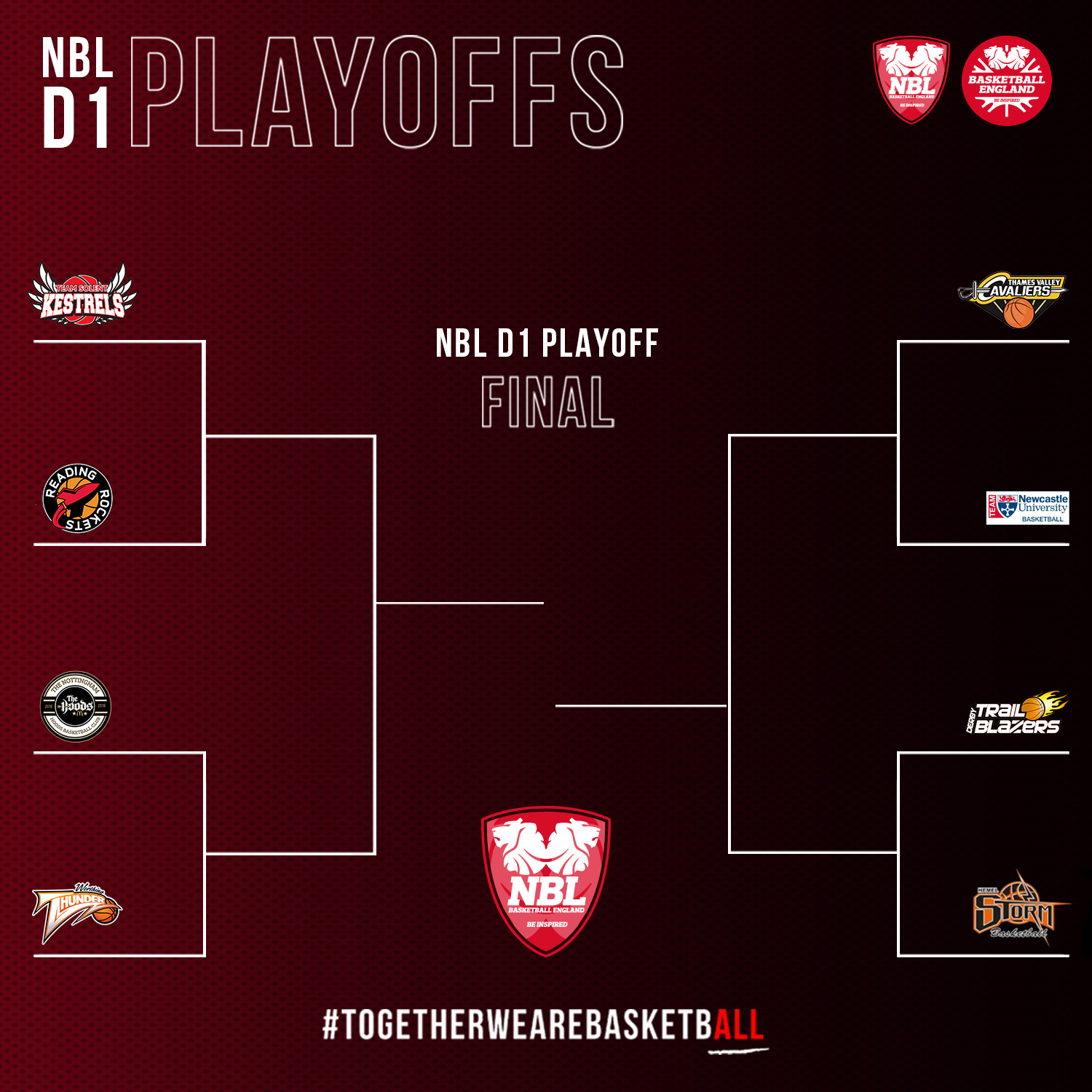 There's a recap of all the weekend's action below, and each result is also clickable if you wish to view the live stats.
Leicester came within a whisker of securing their D1M status for another season, but instead will now need to wait on Wednesday's clash between Essex and Oaklands.
In a high-scoring contest that provided excitement throughout, the hosts tried to climb back from an 18 point deficit early in the fourth quarter before eventually running out of time.
All five Derby starters came through with solid contributions, scoring at least 17 points. Wing Blake Bowman top-scored on 25 to go with eight boards and five assists, whilst Leighton Elliott-Sewell (18pts, 11reb) notched a double-double.
Leicester's Van Turner did everything he could to get his team over the line, dropping 40 points to go with seven assists, but it wouldn't be enough.
The equation at the bottom is now a simple one. With a single game to go, if Essex beat Oaklands on Wednesday, they'll avoid the bottom two. Lose, and it'll be the Warriors who survive.
It should be added that as is always the case in line with NBL regulations, relegation is only confirmed once two teams from D2M have declared they wish to be considered for promotion and meet the required standards to move to D1M.
Elsewhere this weekend
Essex Rebels (3-22) could have secured their own top-flight status with Leicester's loss, but they came up short against Oaklands Wolves (3-22) 93-91.
Kane Daley's 31 points were a standout performance for the hosts, who took their third win of the season.
Nottingham Hoods (18-8) beat Worthing Thunder (17-9) 87-81, with this fixture now set to play out for a second time next weekend as part of the opening round of the playoffs.
If Worthing are to avoid an early exit in the post season, they'll need to find a way to slow down forward Morakinyo Williams. He had 32 points and 17 boards on Saturday.
Bradford Dragons (10-16) finished their season with a win, beating London Lions II (9-17) 88-86, whilst Thames Valley Cavaliers (20-6) will enter the post-season on a high after beating  Loughborough Riders (8-18) 93-69.
Hemel Storm (16-10) had a shot at the top four with two games this weekend, but started on Saturday with an 87-80 loss to leaders Team Solent Kestrels (24-2).
It didn't get any better 24 hours later as Storm completed their double header with another L, this time going down 90-82 against Nottingham,
Morakinyo Williams was once again in top form with a 35-point, 10-rebound double-double, putting on a show against Hemel's Taylor Johnson (39pts, 6reb).
Derby wrapped their weekend and secured third place with a 100-73 win against London Lions II.
Blake Bowman dropped his second 30+ efficiency game in as many day, this time closing with 26 points, seven rebounds and six assists.
Reading Rockets (15-11) brought the curtain down on the weekend by beating seventh place Team Newcastle University (15-11) 101-82.
A 33-point, 15-rebound double-double from Rockets' forward Meshack Lufile and a 10 point, 12 rebound, 10 assist triple-double from Reis Pinnock  ensures the Berkshire outfit are one of the league's form teams entering the playoffs.
They'll need every bit of that momentum in an away tie with league winners Solent next weekend.
This weekend's results:
Saturday 26 March
3pm - Nottingham Hoods 87-81 Worthing Thunder - LIVE STATS
3pm - Leicester Warriors 102-107 Derby Trailblazers - LIVE STATS
4pm - London Lions II 86-88 Bradford Dragons - LIVE STATS
4:45pm - Loughborough Riders 69-93 Thames Valley Cavaliers - LIVE STATS/LIVE STREAM
5:30pm - Oaklands Wolves 93-91 Essex Rebels - LIVE STATS
7pm - Hemel Storm 80-87 Team Solent Kestrels - LIVE STATS
Sunday 27 March
2pm - Nottingham Hoods 90-82 Hemel Storm - LIVE STATS/FACEBOOK LIVE
4pm - Derby Trailblazers 100-73 London Lions II - LIVE STATS/LIVE STREAM
5pm - Reading Rockets 101-82 Team Newcastle University - LIVE STATS/LIVE STREAM
.
Main image credit - Luke Simcock