Basketball England's #ProjectSwish campaign is back for 2022, enabling ballers up and down the country to invest in their local outdoor court.
#ProjectSwish's mission is to improve outdoor basketball facilities across England by getting people involved in one of three easy ways:
Requesting free nets for a local court
Renovating a court with the help of Basketball England's activation guide
Buying a #ProjectSwish ball – proceeds go towards the cost of regenerating outdoor courts
Since 2019, #ProjectSwish has distributed nearly 8,000 nets to 3,500 courts and has helped individuals and organisations discover and upgrade local outdoor courts through its advice and activation guide.
It has inspired and supported a range of full refurbs and amazing art-courts – from Clapham Common in London to Chapeltown in Leeds.
Basketball England's Head of Participation Pete Griffiths said:
"#ProjectSwish has exceeded our expectations. We originally ordered 1,000 nets to start the project four years ago and that was the target. They lasted 10 days or so, and the demand for nets every summer has continued to increase.
"We love that the project has captured people's imagination and galvanised local communities to improve their courts by putting up new nets. Their input means we have also been able to collect and map the whereabouts of England's outdoor courts, and our website court finder is helping more people find places to play ball.
"With a number of high-profile court activations and regenerations and a summer of 3x3 basketball to look forward to, we hope the project will kick on again and inspire more people to download our activation guide and have a go at creating their own art court masterpieces."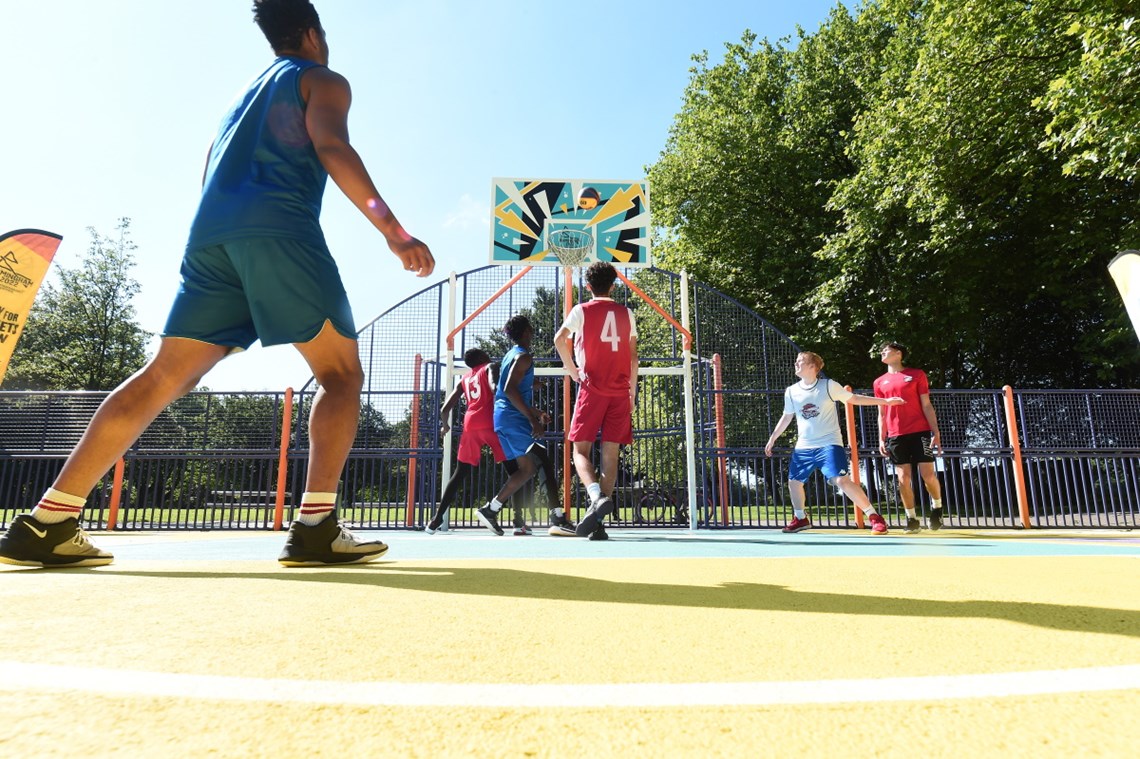 Birmingham 2022 Commonwealth Games
Interest in basketball is due to peak this summer, as the hotly anticipated 3x3 competition makes its debut at the Birmingham 2022 Commonwealth Games, with hosts Team England looking to medal.
Also, the iconic Ball Out UK 3x3 National Tour returns in partnership with Basketball England.
BE's #GameTime campaign aims to capitalise on the rise in awareness of basketball and inspire over 1 million people to engage with, play and support the game.
#ProjectSwish is part of realising that aim – creating great basketball spaces in communities by enabling individuals, clubs and partners to discover, improve and create outdoor courts to boost playing opportunities.
Head to projectswish.co.uk to discover how to upgrade outdoor courts using the #ProjectSwish court activation guide and request nets for your local court.  

Basketball has the power to change lives. The #GameTime campaign will aim to raise awareness of the positive impact that our sport can have on people no matter who they are or where they are from. 
Basketball England aims to engage one million people in basketball via the Commonwealth Games 2022, 3x3 and more.  
Whether you want to: 
Support Team England

 

#GetInvolved as a player, coach, official, volunteer or fan

 

Or improve your local court with #ProjectSwish

 
...regardless of age, gender or background, across every part of the basketball family, it's #GameTime!