Rebound's Chris Hughes to pick out the sparkling D1M performances of Bonfire Night weekend.
Chris, the All-Star organiser, content producer, YouTube host and producer, commentator and social media observer, was looking for standout performances for his Player of the Week award and four other high-quality players to make up his Team of the Week in the process.
Have your say on this week's choices and give a shout-out to the players you think deserve one using the hashtag #NBL2223 and #ReboundTOTW. Don't forget to tag us!    
Twitter:  @NBLengland / @Rebound__  
Facebook:  @NBLengland  / @ReboundNBL  
Instagram:  @nblengland / @reboundnbl  
How it works 
Chris will pick a Player of the Week and four other selections to round out his Team of the Week, paying attention to the following criteria:
Efficiency 

 

Stats 

 

Team and opposition strength 

 

Periods of influence in the game 

Being on a winning team (exceptional performances from players on losing teams will be considered for TOTW)
Other players will also receive a shout out as honourable mentions at the bottom of the piece.
The Rebound Team of the Week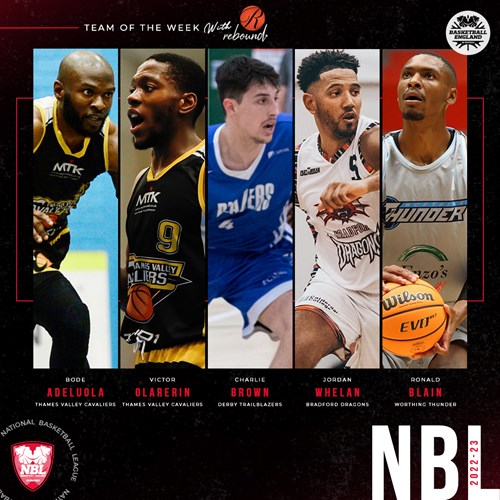 PLAYER OF THE WEEK
Bode Adeluola – Thames Valley Cavaliers, guard 
27PTS (9-13FGM/4-4 3PM/5-5FTM)/6REB/2AST/29EFF 

 
Back-to-back threes in the final moments tipped the scales in a tricky road-trip assignment in Nottingham. Bode's shooting masterclass from all areas of the court paid dividends as it opened up spacing for Thames Valley to shoot a team 45FG%, and 42% from beyond the arc.     
The win helps the Cavaliers get back on track with their top-four aspirations as they handed the Hoods their first loss of the season. The Cavs dominated all but the second quarter, a 30-20 quarter score could've been a lot worse if it was not for Bode's eight-point performance including an and-one play. 
Victor Olarerin – Thames Valley Cavaliers, guard 
20PTS/8REB/6AST/2STL/1BLK/29EFF  
Victor Olarerin is very unlucky not to get Player of the Week honours on his homecoming game at Nottingham after leaving the Hoods for the Cavaliers. The flashy guard stunned the home crowd and broke hearts with his game winner. 
Olarerin was in clutch mode with 10P/2R/1A/1S in the final five and a half minutes as he did all he could to steal the win out of Nottingham's grip. 
Charlie Brown – Derby Trailblazers, guard 
2PTS (1-1FGM)/6REB/10AST/1STL/14EFF v WESTMINSTER 
0PTS/8REB/16AST/0TO/1STL/23EFF v READING 
There are not many, if any, truer pass-first guards in the NBL better at it than Charlie Brown. He put on a passing masterclass in both games but well and truly blew Reading out of the contest on Sunday with 16 assists and one steal without registering a turnover.  
The assist king also shot 33% from field across both games as a reminder that he can shoot but prefers to create. Brown's playmaking set Derby up for a comfortable weekend as the he dominated preceding's in the first half of both games. 
Jordan Whelan – Bradford Dragons, guard 
37PTS (other stats currently unavailable) 
Jordan Whelan is a man on a mission. The former London Lions and Manchester Giants man was already top of the points-per-games averages before pouring in another 37 as he fired pushed the Dragons to a third D1M win against a London Lions side still searching for a first win. 
Ronald Blain – Worthing Thunder, forward 
24PTS/9REB (5 OREB)/4AST/1STL/1BLK/30EFF  
Ronald Blain interrupts the guard-fest in this week's stand-out performances with an efficient two-way performance that ensured Thunder remain unbeaten. 
The former Hawai Pacific forward was wining and dining on the offensive end, flirting with another 30-piece and five offensive boards.  
Blain's rebounding as part of a team effort restricted Essex to eight-second chance points and fewer than 10 offensive rebounds as Blain and Worthing out-rebounded and out-shot the Rebels. 
HEMEL PUT ON A MAGIC FIREWORK DISPLAY 
Hemel put on a shooting masterclass in Manchester with the team hitting 53% from the field and eight players getting double digits, evenly shared between bench and starters. In fact, the bench outscored the starting five by 1-point. 
Defensively Storm forced Magic into a plethora of turnovers with eight players getting steals, five of whom registered two or more steals as everyone got a chance to stuff their stats.  
DERBY SET WESTMINSTER AND READING ABLAZE 
It was another comfortable weekend for Derby who averaged 93 points with back-to-back wins this weekend to keep their ambitions rolling. 
Derby dominated in the paint even without former MVP Malcom Smith as they made light work of both Reading and Westminster. 
Honourable mentions 
RYAN BRUGGEMAN (DER) – (23:38)12P/6R/8A/2S/20 v WW & 22P/1R/8A/2/ 21EFF V RR 
SAM NEWMAN (HEM) –  (19:08) 12P/1R/8A/4S/17EFF  
ROMARIO SPENCE (HEM) – (21:42) 15P/8R/3A/3S/1B/25EFF  
SETH HALL (DER) – 30P/6R/1A/2B/31EFF  
AARYN RAI (HEM) - (18:18) 21P(7-8FGM)/4R/3A/1B/27EFF 
.
.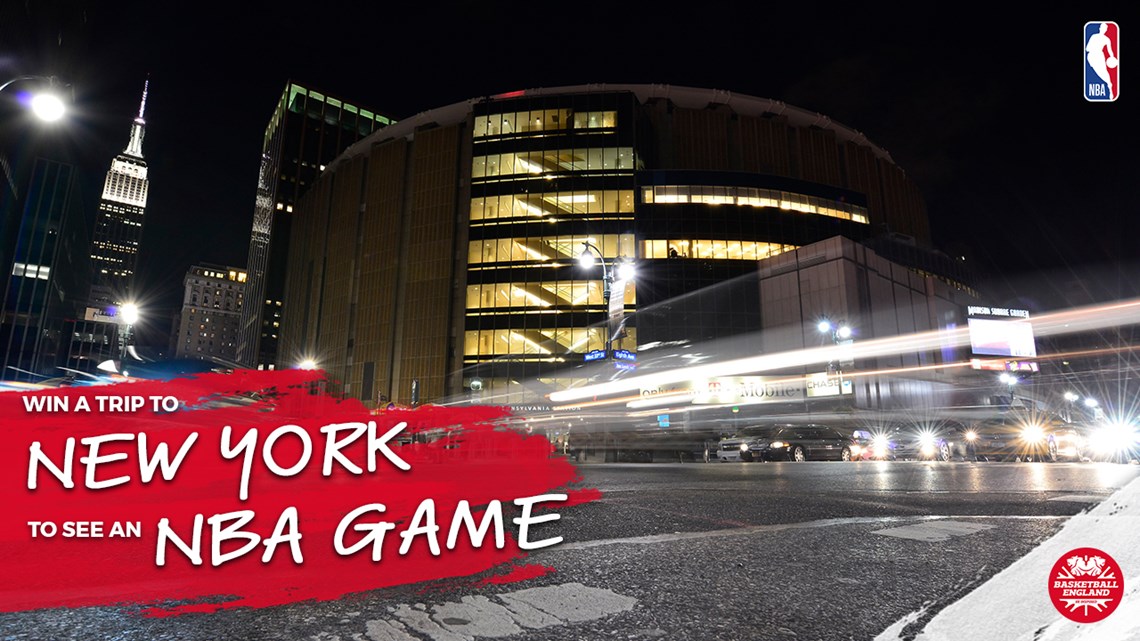 Join Basketball England for free and win a trip to New York City, courtesy of the NBA.
Whether you have a Supporter Account as a fan, follower, enthusiast or advocate, or a Full Account and have paid for a licence to play, coach or officiate in competition, you can enter our prize draw.
Basketball has the power to change lives. Our #GameTime campaign aims to raise awareness of the positive impact that basketball can have on people no matter who they are or where they are from.
.
.
Main image credit - Graham Hodges
Graphic image credits - Graham Hodges, Luke Simcock, Lauren Newham, Harry Collins, Nick Winter