With D1M now down to just four teams, this weekend marked Chris Hughes' last Team of the Week for 2021/22.
Chris, a content producer, YouTube host and commentator, still had four games and eight teams to look over when deciding his Rebound Player and Team of the Week here though, and he'll be back this time next week with a standout player selection as two teams punch their ticket to Manchester's playoff final.
Have your say on this week's choices and give a shout-out to the players you think deserve one using the hashtags #NBL2122 and #ReboundTOTW. Don't forget to tag us!    
Twitter:  @NBLengland / @Rebound__  
Facebook:  @NBLengland  / @ReboundNBL  
Instagram:  @nblengland / @reboundnbl  
How it works 
Chris will pick a Player of the Week and four other selections to round out his Team of the Week, paying attention to the following criteria:
Efficiency 

 

Stats 

 

Team and opposition strength 

 

Periods of influence in the game 

Being on a winning team (exceptional performances from players on losing teams will be considered for TOTW)
Other players will also receive a shout out as honourable mentions at the bottom of the piece.
The Rebound team of the week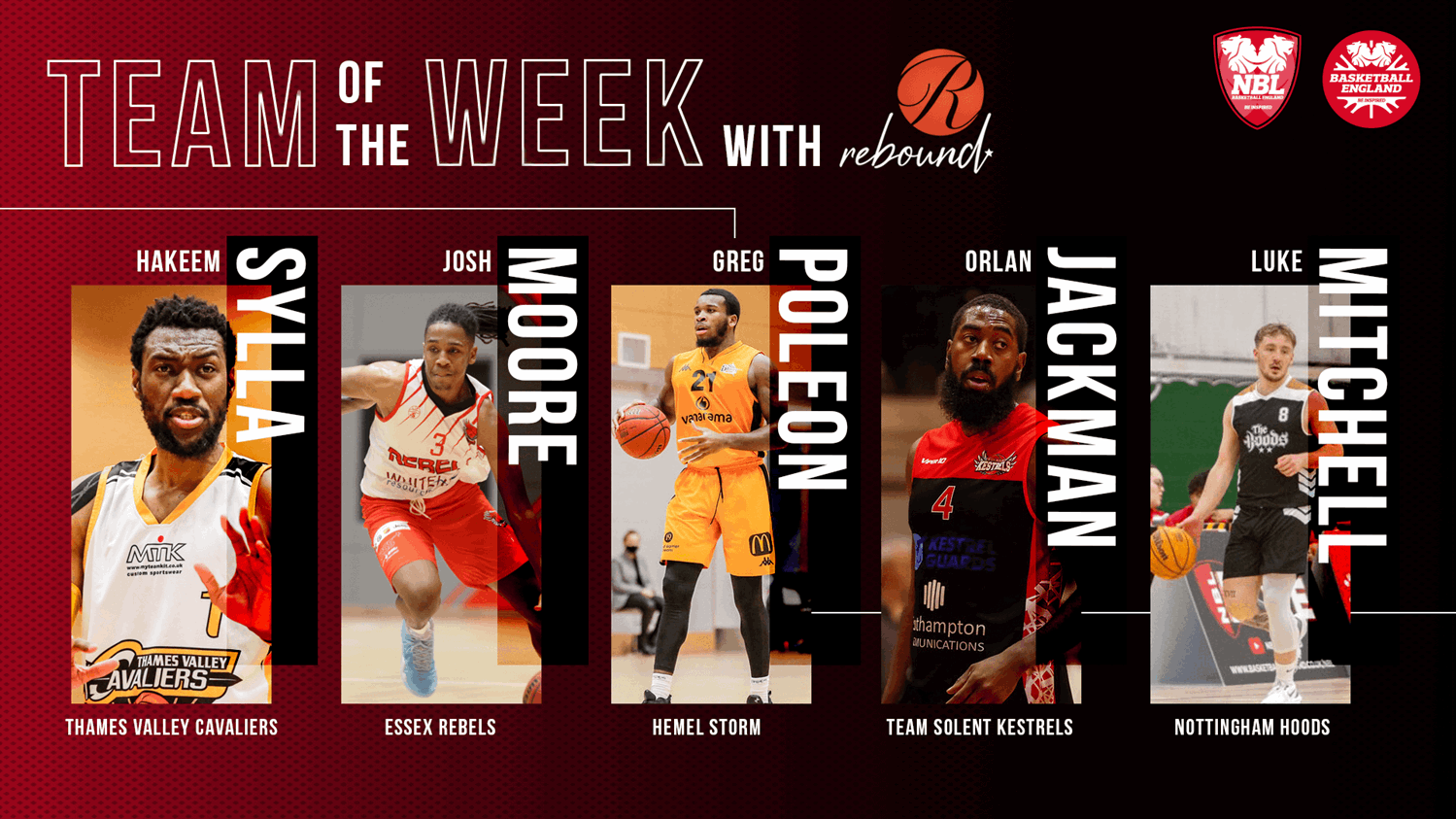 PLAYER OF THE WEEK
Hakeem Sylla - Thames Valley Cavaliers, forward
21pts, 20reb, 1stl, 3blk, 39eff
Hakeem Sylla played a sublime game as he influenced proceedings to be Rebound's Player Of The Week following TVC's 92-80 win over Newcastle.
A highly efficient double-double performance left the North East side struggling to make a dent inside when Sylla was on the floor as the Cavaliers out rebounded their opponents 60-42 and won the second chance point battle 20-11.
Sylla's performance was one of the reasons why Newcastle never had a greater than one point lead this weekend before eventually falling to a loss that would end their season.
Josh Moore - Essex Rebels, guard
27pts, 5reb, 1ast, 2stl 27eff
Josh Moore saved the best 'til last to help secure the Rebels' D1 status this past Wednesday with Essex beating Oaklands 92-71 to beat the drop.
From a stat perspective it was his best shooting performance to date (9-13 FGM/4-7 3PM/5-7 FTM), with a regular season high in points, field goals and three pointers made.
The rising star further added to his stock with what ended up being a lights out performance that doesn't look out of place in my Team of the Week alongside some top playoff performers.
Greg Poleon - Hemel Storm, forward
14pts, 12reb, 4ast, 2stl, 3blk, 25eff
The reigning D1M Player of the Season put on a great performance this weekend as Storm went on the road and upset #3 seeds Derby 91-90.
What especially caught the eye was Poleon's classy shooting to firstly help Storm to a half time lead, then eventually convert that advantage into an OT win.
It was a good two-way performance as defensively in the fourth the Brooklyn native helped force overtime with vital stops as well as a team-orientated focus to get Hemel back in the game.
Orlan Jackman - Team Solent Kestrels, forward
17pts, 16reb, 5ast, 1stl, +/- +26, 26eff
Orlan Jackman put on a two-way masterclass in what could easily be described for the most part as a fast paced, low scoring and physical game between Solent and Reading.
Defensively Jackman was putting in a shift, especially with vital rebounding and interior defence. Previous encounters between these two teams this season have resulted in Reading's Sam Toluwase and Meshack Lufile combining for 31.5PPG, but they were held to just 24 points on Saturday.
Jackman was a handful on the offensive end with Charles Barkley type finishing and did further damage from the line as the most fouled Solent player (five fouls against, and 5-7 FT).
Luke Mitchell - Nottingham Hoods, guard
20pts, 6reb, 2ast, 2stl, 23eff
Playoff Luke was in the building this weekend as the sharp shooter drained 6 triples off the bench to ensure the Hoods advanced to a semi-final spot, beating Worthing 88-79.
An efficient effort in support will give Coach Stanley a good kind of headache as Mitchell once again proved his worth ahead of potential extra minutes in the rotation this coming weekend.
Mitchell not only put in a performance worthy of selection but also recorded a season-high shooting performance for both field goals and three pointers made. What a time to raise the bar!
Team Basketball
Hemel storm to an upset
In the performance of the weekend, the never say die Hemel Storm put on a team performance to force overtime and get the 91-90 OT dub against Derby.
It was a team performance with four players efficiently working their way into double digits on the score board.
Honourable mentions are more than deserved for the likes of Taylor Johnson (23pts, 9reb, 9ast) and Bode Adeluola (18pts, 4reb, 3ast) who both excelled in this tough tie.
Nottingham shoot down Worthing
Nottingham backed up their regular season win against the Thunder last week by sending them out of the playoffs early with a team 50FG% and five of their seven man rotation dropping 12 points or more.
It was truly a team performance and just what was required as Worthing protecting the rock with only nine turnovers and shot a respectable 41 FG%.
Andrew Vickers, Johde Campbell and Kyle Jimenez all benefitted from the floor spacing earnt by Luke Mitchell's three point barrage as they also contributed to the team's 42 3P%.
Honourable mentions
Taylor Johnson (HEM) – 26P/9R/9A/1S/25EFF
Bode Adeluola (HEM) – 18P/4R/3A/1S/+-8/14EFF
Blake Bowman (DTB) – 32P/7R/4A/1S/28EFF
Travis Charles (TSK) – (17:40) 17P/10R/2S/22EFF (+/-32, LEADER)
Aiden Saunders (TVC) - 12P/9R/1A/1S/4B/19EFF (+/-22, LEADER)
.