With eight games in week 19, Rebound's Chris Hughes was spoiled for choice when making his latest Player and Team of the Week selections.
Chris, a content producer, YouTube host and commentator, had more than a few contenders to sift through when picking his Player of the Week and four other standouts to make up his Team of the Week as well.
Have your say on this week's choices and give a shout-out to the players you think deserve one using the hashtag #NBL2122 and #Rebound TOTW. Don't forget to tag us!    
Twitter:  @NBLengland / @Rebound__  
Facebook:  @NBLengland  / @ReboundNBL  
Instagram:  @nblengland / @reboundnbl  
How it works 
Chris will pick a Player of the Week and four other selections to round out his Team of the Week, paying attention to the following criteria:
Efficiency 

 

Stats 

 

Team and opposition strength 

 

Periods of influence in the game 

Being on a winning team (exceptional performances from players on losing teams will be considered for TOTW)
Other players will also receive a shout out as honourable mentions at the bottom of the piece.
The Rebound team of the week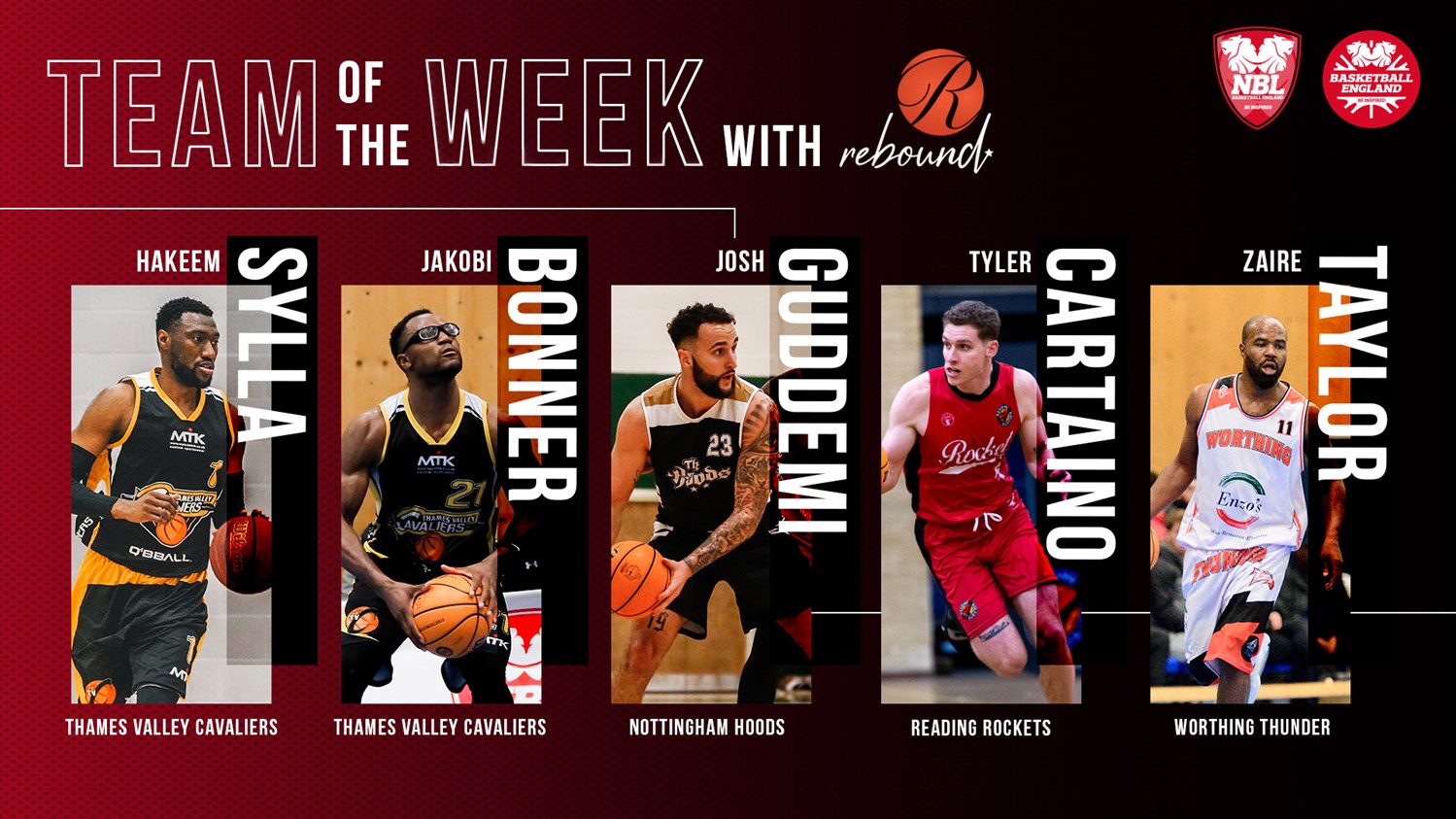 PLAYER OF THE WEEK
Hakeem Sylla - Thames Valley Cavaliers, forward
24PTS (11-14FGM), 15REB, 1AST, 2STL, 37EFF v TNU
21PTS, 17REB, 1AST, 1STL, 27EFF @DTB
Hakeem Sylla brought the double-double energy this weekend against two top four candidates, pulling out some epic two-way performances to keep the title race interesting.
Defensively the Guinea international was part of a team effort that kept Newcastle to just 26 points in the paint and nine second chance points.
Sylla was at it again on Sunday as he restricted a strong Derby side to just 11 second chance points, showing he's a presence down low regardless of opponent.
Offensively he was a handful as well, putting on a shooting masterclass in the 101-64 blowout against Newcastle, so much so he was able to bask on the bench for the entire fourth quarter.
The regular season MVP candidate also posted another monster double-double on Sunday in a weekend packed with not one but two Player of the Week worthy performances.
Jakobi Bonner, Thames Valley Cavaliers, guard
17PTS, 6REB, 2AST, 17EFF v TNU
30PTS, 9REB, 5AST, 1STL, 30EFF @DTB
Jakobi Bonner again showcased his shooting ability with a 30-point game against the Trailblazers,  but the American guard played an influential role in both games this past weekend.
Bonner was one of the leading point scorers in the first half of both games, netting double digits as Thames Valley started strongly to ensure the final result was ultimately in their favour in both outings.
Bonner's recent performances are putting weight behind claims that he is one of the pick-ups of the season.
Josh Guddemi - Nottingham Hoods, forward
23PTS, 10REB, 3AST, 1STL, 1BLK, +/-29, 28EFF
Josh Guddemi was on fire as one of the stand-out performers this weekend, putting together a double-double effort in 26 minutes of action.
Guddemi led all players with a +/- of 29 in the 107-97 win against London Lions II. The Lions are no pushovers but the young pride couldn't stop the Hoods' guard from influencing proceedings throughout.
The talented forward shot at volume and with efficiency as well (10-17 FG) which created the spacing for his guys to get to work as Nottingham shot an impressive 58 2P% and 40 3P% as a team.
Tyler Cartaino – Reading Rockets, wing
32PTS, 6REB, 1AST, 1BLK, 35EFF
Tyler Cartaino well and truly shot the lights out in Reading's hard fought 89-86 victory, condemning struggling Essex to another narrow defeat.
The American hit 13-15 from the field in the contest, which included 1-1 from 3pt range and a perfect 5-5 from the line.
Despite eight points personal, Cartaino's side still trail 15-30 at the end of the first and needed to go up through the gears to pull of the win in their quest for a playoff spot.
The former Chaminade star has been rested the last few games but did not look in the least bit rusty, instead being unlucky not to be Rebound's Player Of The Week.
Zaire Taylor – Worthing Thunder, guard
14PTS, 7REB, 9AST, 7 STL, 1TO, 27EFF
In a game between two top four teams, Zaire Taylor led his side to an important 82-76 win against Hemel.
A second quarter masterclass showcased Taylor's playmaking skills, his long range shooting and his ability to finish under pressure to give Thunder a 41-35 edge going in to half time.
Even though the former BBL man is edging closer to his announced retirement at season's end, he is still putting up near quad-doubles while remaining efficient at both ends of the court.
One thing is for certain, D1M will not be the same when Taylor does finally hang them up.
Team Basketball
Cavs win two from two as MVP candidates are kept under wraps
Thames Valley Cavaliers secured two valuable wins this weekend to keep themselves firmly in the mix for a top two finish in D1M, as well as cementing their top-four aspirations.
Against both Newcastle and Derby, TVC kept their opponents key scorers way below their season average as the likes of Ronald Blain (24.3PPG) and Brandon Federici (21.6PPG) both netted under 15 points on Saturday.
It was a similar story on Sunday with Derby's Malcolm Smith (20.0PPG) being held to just 10 points.
The TVC bench was also key as the back-ups averaged around 30 points over the double-header weekend in two great team performances.
Worthing Survive Weekend Storm Alert
The top-four race is really heating up.
Worthing's win over Hemel this weekend may slightly favour their South coast rivals Solent (Hemel have an advantage in the head-to-head tiebreaker vs the Kestrels, should they finish the season tied), however this win secures a 2-0 head-to-head record for Worthing against Storm in the battle for what is sure to be a high playoff spot.
Tactically, leaving Hafeez Abdul on the bench worked really well for the hosts. The talented forward was able to pick his moments to contribute, finishing with a +/- of +18 whilst Thunder also used the former Storm man to disrupt Jonathan Lashley (-14), who is often a spark off the bench for the visitors.
That differential between the two was one of the reasons Thunder got the 82-76 win, with both guys mainly coming on and off the court at similar times.
Honourable mentions
Taylor Johnson (HEM) – 34P/4R/9A/2S/33EFF  
Elijah Maynard (LL2) – 35P(10-10 2PM)/6R/1A/4S/34EFF
Johde Campbell (NOT) – 22P/3R/4A/23EFF
Jarrett Hart (TVC) – 16P/5R/7A/3S/26EFF V TNU & 11P/5R/1A/1S/13EFF @DER
Ricky Fetske (BRA) – 26P (4-8 3PM)/12R/31EFF
.
Main image credit - Luke Simcock