FocusHoops' Darren Paul is back once again to provide a spotlight for fans on some of the WNBL's top performances from last weekend.
As a writer, commentator, podcaster and more, Darren had a number games to choose his Player and Team of the Week from, including a huge double-win performance from London Lions II.
Have your say on this week's choices and give a shout-out to the players you think deserve one using the hashtag #NBL2122. Don't forget to tag us!    
Twitter: @NBLengland / @FocusHoops  
Facebook: @NBLengland  / @FocusHoops  
Instagram: @nblengland / @focushoops  
How it works  
Darren will pick a Player of the Week and four other selections to round out his Team of the Week, paying attention to the following criteria:
Efficiency 

 

Stats 

 

Team and opposition strength 

 

Periods of influence in the game 

Being on a winning team (exceptional performances from players on losing teams will be considered for TOTW)
Other players will also receive a shout out as honourable mentions at the bottom of the piece.
The FocusHoops team of the week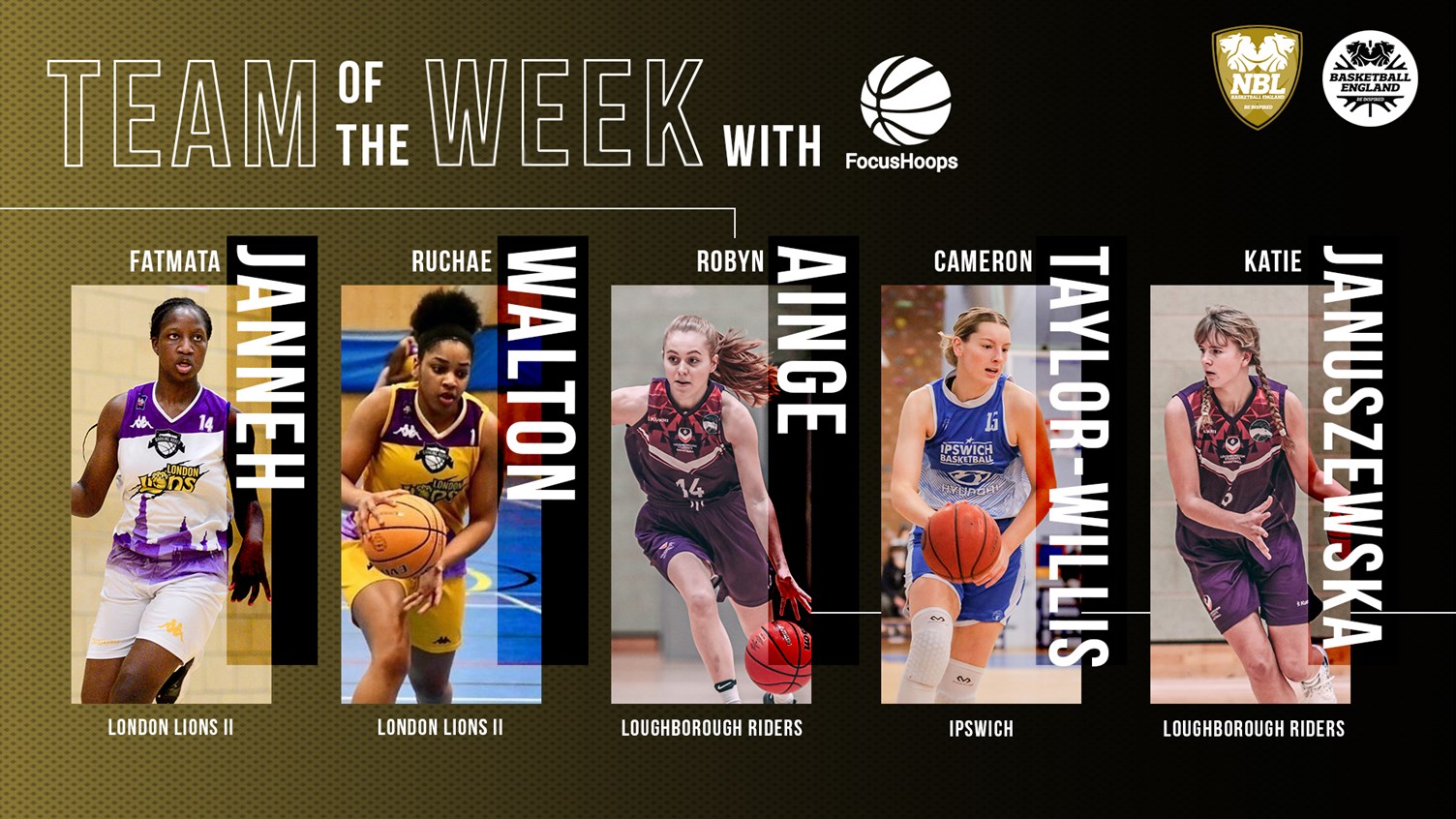 PLAYER OF THE WEEK
Fatmata Janneh - London Lions II, wing
14pts, 7reb, 1ast, 3STL, 1 blk, 17eff v BRI
25pts, 13reb, 3ast, 5STL, 24eff v LOU
Back-to-back POTW honours for Janneh come as no surprise given her exploits for the Lions this weekend.
The Londoners picked up not one but two huge victories as they look to avoid the D1W trap door and the young wing's input was key in both wins.
Topping the efficiency charts for her team in both outings, it was in Sunday's upset over Loughborough where Janneh really made an impact.
Her 25 point, 13 rebound double-double led her team in both categories as the hosts also won the second chance point battle 15-7. Janneh's +/- of 10 was second only to team mate Tinu Fakunle (+16), showing good things happened when the young star was on the court.
Ruchae Walton - London Lions II, guard
17pts, 6reb, 5ast, 4STL, 15eff v BRI
14pts, 8reb, 3ast, 3STL, 17eff v LOU
Given their performances, London Lions' provide not one but two players to my Team of the Week.
Walton was instrumental in LL2's 50-49 victory over Bristol on Saturday, providing the final six points of the game to keep her team in front come the buzzer.
With eight assists and seven steals combined across the two games, the former WEABL standout played well at both ends and deserves the plaudits she's receiving right now.
Robyn Ainge - Loughborough Riders, guard
12pts, 9reb, 5ast, 2stl, 20eff v TVC
13pts, 10reb, 3ast, 1stl, 1BLK, 7eff v LL2
Loughborough's weekend may have ended on a sour note as they lost in the Capital, but Saturday's 60-52 road victory against top four rivals Thames Valley was worthy of recognition.
Ainge came close to double-double territory and her five assists allowed others, including Katie Januszewska, to prosper in a low scoring game.
Whilst shooting 2-7 from the floor wasn't the best, the Loughborough captain did more than enough elsewhere to help her side get the W.
Sunday's result may not have gone her side's way, but Ainge still deserves to have her 13 point, 10 rebound double-double highlighted as well.
Cameron Taylor-Willis - Ipswich, forward
12pts, 11reb, 4ast, 3stl, 28eff
Ipswich piled on the misery to freefalling Worcester on Saturday, and the 81-63 score line was built on the exploits of forward Cameron Taylor-Willis.
The Ipswich captain was sharp around the rim to shoot 57 2PT%, pulling down a joint game-high 11 boards as Taylor-Willis cleaned the glass as usual.
The hosts won the third quarter 24-14 to kill off any thoughts the Wolves may have had of a comeback, turning a 45-31 half time advantage into an unassailable 24 point lead.
CTW was integral to that push, playing all 10 minutes of the frame whilst contributing five points, three assists, two steals and a pair of rebounds.
Katie Januszewska

- Loughborough Riders, forward
21pts, 7reb, 1ast, 3stl, 25eff v TVC
13pts, 10reb, 2stl, 11eff v LL2
Much like team mate Ainge, KJ deserves a spotlight on her effort against TVC this weekend.
Her 21 points led all scorers in this pivotal game between two title hopefuls, with NCAA D1 commit once again playing an starring role for the Riders. Shooting 9-13 from the floor (including 2-3 from beyond the arc), also helped push Januszewska to a team-high in efficiency.
Like others, her numbers suffered in Sunday's loss to the Lions, but a 13 point, 10 rebound outing is still a fair effort considering the final result.
Team Basketball
CoLA Move A Step Closer as Opponents Stumble
Whilst CoLA took care of business on Sunday to beat Team Solent Kestrels 69-63, results across the weekend were moving the London side one step closer to a first D1W title since 2015/16 when the WNBL's top division was split into three conferences.
Nearest rivals Thames Valley dropped points against fellow challengers Loughborough, who then in turn also dipped on Sunday as they lost to London Lions II.
Most would have thought the Riders were nailed on for a two win weekend once they dispatched TVC, but it just goes to show there are no easy games in this division.
With seven games remaining, including two against Worcester and one with London Lions II, this weekend means coach Gibbons' team now have a little bit of room up at the top.
Lions Roar to Two Win Weekend
After struggling for much of the season, it is impossible not to throw some praise on London Lions II after their weekend.
Coach Lavinier's side have really turned a corner in recent weeks and three wins on the spin are a great reward for their perseverance.
The addition of Ruchae Walton since the mid-season break has been a revelation, with the talented guard averaging 15.6PPG, 3.4SPG and 3.6APG across 35.4MPG.
That's a sizable contribution, and considering London have now won three of the seven games she has suited up for, it's no surprise that a link can be drawn between her addition and recent results.
Add in the high-level play of Fatmata Janneh and the potential of youngster like Nicholle Lavinier, Tinu Fakunle and Chenai Mushore, the Lions have breathed new life into their season.
Honourable mentions
Yassin Belle-Mbaye (IPS) - 8P/11R/13EFF
Chandre Nunez (WOR) - 21P/7R/4A/2B/17EFF
Chinwe Iwunze (TVC) - 12P/12R/1A/12EFF
.
Note: Stats for Anglia Ruskin v Reading, Nottingham v Cardiff and CoLA v Solent were unavailable at the time of writing.