10 games across the weekend gave Rebound's Chris Hughes plenty of candidates for this week's NBL awards.
Chris, a content producer, YouTube host and commentator, eventually managed to narrow things down and select a Player of the Week and four others for his Team of the Week as well, but it was a tough task!
Have your say on this week's choices and give a shout-out to the players you think deserve one using the hashtag #NBL2122 #ReboundTOTW. Don't forget to tag us!    
Twitter:  @NBLengland / @Rebound__  
Facebook:  @NBLengland  / @ReboundNBL  
Instagram:  @nblengland / @reboundnbl  
How it works 
Chris will pick a Player of the Week and four other selections to round out his Team of the Week, paying attention to the following criteria:
Efficiency 

 

Stats 

 

Team and opposition strength 

 

Periods of influence in the game 

Being on a winning team (exceptional performances from players on losing teams will be considered for TOTW)
Other players will also receive a shout out as honourable mentions at the bottom of the piece.
The Rebound team of the week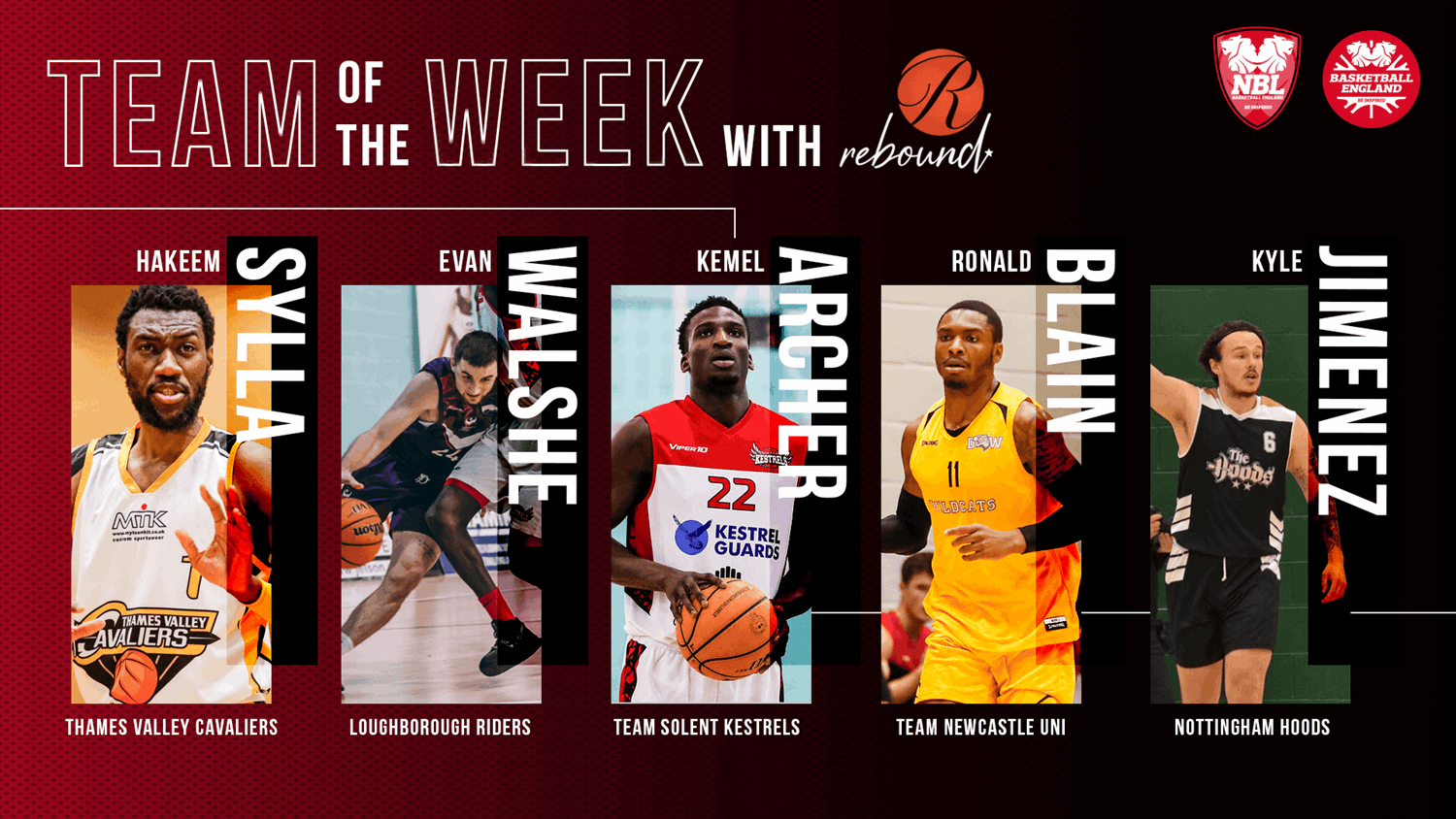 PLAYER OF THE WEEK
Hakeem Sylla - Thames Valley Cavaliers, forward
28pts, 13reb, 1stl, 1blk, 37eff
It is a copy and paste job to start this week's selections with Hakeem Sylla recording back-to-back Rebound 'Player of The Week' awards.
Shooting 13-16 from the floor and grabbing eight offensive boards on the way to 13 total, the TVC man put in a double-double effort that was more than worthy of the accolade.
In the second quarter of Sunday's 102-97 win against Reading, Sylla let his offense do the talking as he directly contributed 10 points to stretch the Cavs' lead to nine points, just one point off their biggest lead of the game.
In the home and away double-header weekend against the Rockets, Sylla was 1-0 on the weekend having sat out of Saturday's 87-71 loss. Coach Banks' side missed his presence as they took an L that shrank their already slender title chances even further.
Evan Walshe - Loughborough Riders, guard
29pts, 11reb, 7ast, 2stl 35eff
The part played by Evan Walshe in Loughborough's important 86-68 win at a resurgent Essex Rebels further proves that his January signing was a shrewd move in helping to keep Loughborough's D1 status alive.
The sharp shooter netted with ease on Saturday (12-18 FGM & 3-6 3PM) as he flirted with a triple-double, still managing to have a highly efficient game despite six turnovers.
Loughborough started the fourth quarter by conceding the lead, calling for Walshe's reintroduction off the bench. The talented guard then directly disrupted the Rebels' offense in their next two possessions, helping to orchestrate two straight successful attacking possessions, one of which Walshe assisted on.
The former Scorchers guard further influenced proceedings by helping his team to a 27-11 final quarter and ultimately the 18 point win.
Kemel Archer - Team Solent Kestrels, forward
11pts, 21reb, 1ast, 1stl, +/- 26, 26eff
In a hugely effective 18:39 cameo, Kemel Archer displayed his ability for Solent as they easily dispatched London Lions II 106-61.
Despite his limited minutes, Archer was one of Solent's most influential players, scoring, rebounding (including nine on offence) and on defence with a +/- of 26.
Archer was heavily involved as Solent outrebounded the young Lions 64-37, which also contributed to the visitors' 30 second chance points versus London's four.
Archer also shot a nice 50 FG% and was rebounding like Dennis Rodman at the weekend as the defending champs found it easy to rack up a 43 point win.
Kyle Jimenez - Nottingham Hoods, guard
18pts, 7reb, 2ast, 5stl, 27eff
Kyle Jimenez is anything but just an 'Assist King', as he showed this weekend as the Scottish Commonwealth international put in a great two-way performance against Hemel.
Shooting the lights out (8-10 FG) alongside a great defensive performance in a key game on the road against a top-four rival, the talented guard was influential in helping Nottingham overcome Storm 98-79.
Jimenez was key midway through the first quarter with five quick points to take the Hoods from three points behind to owning the lead, one which they'd barely surrender from there on out.
Ronald Blain - Team Newcastle University, forward
22pts, 13reb, 4ast, 1stl, 27eff
Ronald Blain put in a strong performance as Team Newcastle University rose up the playoff seedings following a hard-fought 91-88 win versus Worthing Thunder.
The former Hawaii Pacific forward starred in this game with another point and rebound double-double for his collection ,whilst also demonstrating his playmaking skills.
Blain assisted twice in the last five minutes, including the game winning bucket from Jack Cork.
Team Basketball
Rebel Comeback gives Essex new hope
Overall it was a mixed weekend for the Essex Rebels as they split their double header 1-1. The thrilling 86-80 win over fellow strugglers Leicester was definitely a highlight, especially consider Essex were trailing by 32 points at one stage.
A 29-7 fourth quarter was the icing on the cake with clutch shooting from the free throw line, including 2 completed and-one plays by Ben Winter.
Holding their nerve and sealing the deal on Sunday also gave Essex the head-to-head with Leicester, who knows how important that could be come season's end.
Nottingham on target as they take out hemel
In one of the biggest remaining games in the fight for the top four, Nottingham pulled out the road win with a 19 point victory at Hemel.
It was in every sense a team performance, with the squad shooting a 52 FG% and 22 points coming from bench.
Nottingham also managed to get the dub with highly talented guard Victor Olarerin sidelined, quite the achievement given the strength of their opponent this past weekend.
Honourable mentions
Travis Charles (TSK) – 19P/10R/1B/23EFF  
Lee Hodges (ESS) – 18P/6R/3A/1S/24EFF V LOU & 14P/8R/2A/1B/20EFF V LEI
Leighton Elliott-Sewell (DER) – 26P/8R/2A/2S/29EFF
Blake Bowman (DER) – 27P/11R/4A/29EFF
Delaney Powell (LEI) – 35P/6R/1A/1S/35EFF V BRA & 17P/8R/4A/2S/16EFF @ESS
.
Main image credit - Lizzy Harrison