Week 17 had a big impact on both the top and bottom of D1M, and Rebound's Chris Hughes was on hand to see it all unfold as he makes his weekly selections.
Chris, a content producer, YouTube host and commentator, was once again tasked with picking his NBL Player and Team of the Week, plus highlighting five honourable mentions as well as two impressive team performances.   
Have your say on this week's choices and give a shout-out to the players you think deserve one using the hashtag #NBL2122 and #ReboundTOTW. Don't forget to tag us!    
Twitter:  @NBLengland / @Rebound__  
Facebook:  @NBLengland  / @ReboundNBL  
Instagram:  @nblengland / @reboundnbl  
How it works 
Chris will pick a Player of the Week and four other selections to round out his Team of the Week, paying attention to the following criteria:
Efficiency 

 

Stats 

 

Team and opposition strength 

 

Periods of influence in the game 

Being on a winning team (exceptional performances from players on losing teams will be considered for TOTW)
Other players will also receive a shout out as honourable mentions at the bottom of the piece.
The Rebound team of the week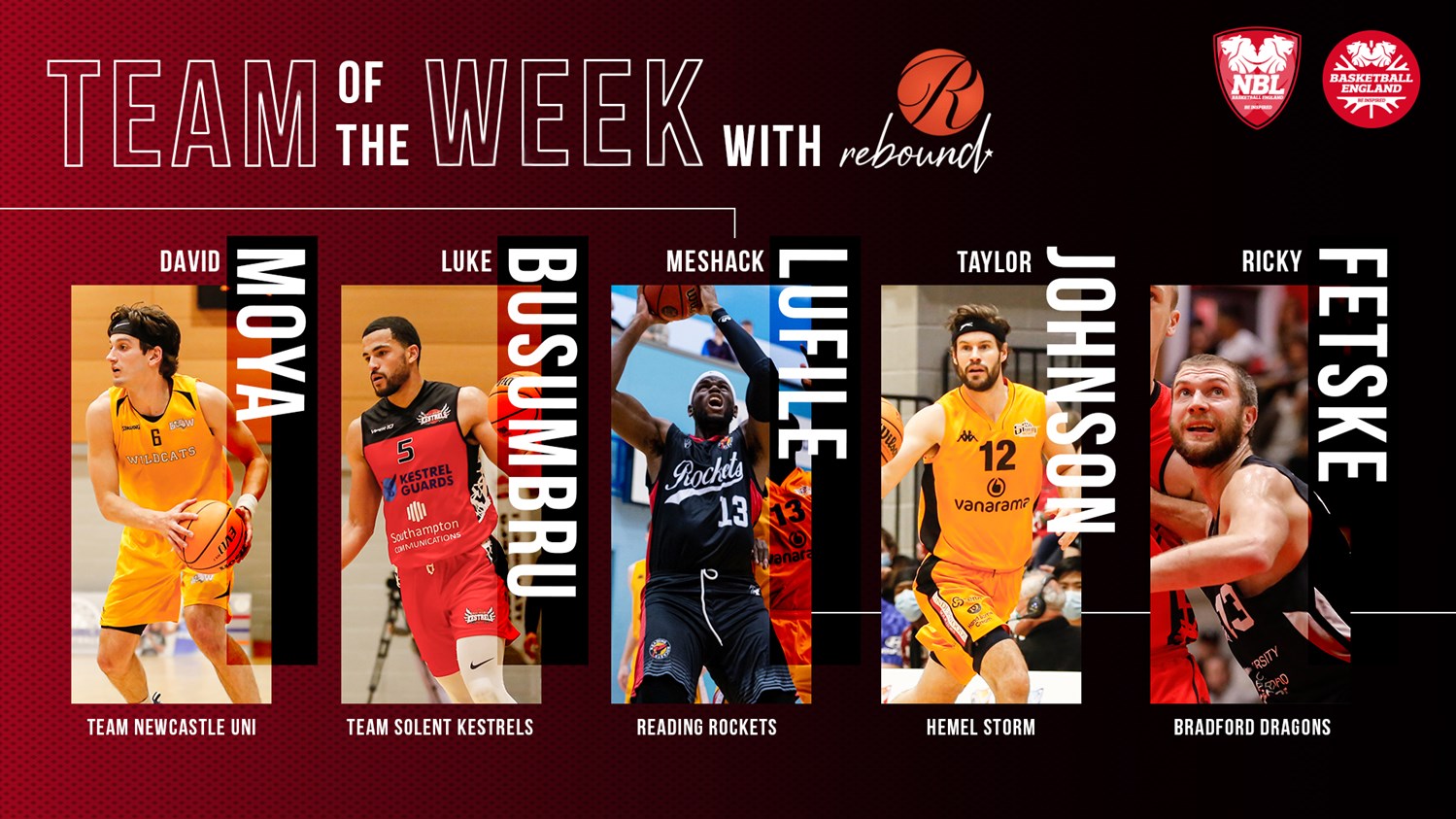 PLAYER OF THE WEEK
David Moya – Team Newcastle University, guard
31PTS (7-11 3PM), 4REB, 4AST, 2STL, 33EFF
This weekend the NBL Live spotlight was on the Wildcats Arena and Newcastle's David Moya was the star of the show to pick up the Player Of The Week title.
Moya spearheaded the Knights' offensive push in the third quarter with a personal 9-2 scoring run to give his side a 15-point lead that proved key in the final outcome on Saturday.
The talented guard put on a shooting clinic, sinking seven threes. It's been a common theme this season, with the Newcastle man hitting 4-6 from range last time he played the Hoods.
Luke Busumbru – Team Solent Kestrels, guard
17PTS, 10REB (7 OREB), 7AST, 2STL, 2BLK, 27EFF
Getting towards triple-double territory is impressive in any contest, but to do it in a road trip dub against a tough Cavaliers side is special.
With the Cavs still reeling from a valiant OT loss in the BBL Trophy on Friday night, Solent's flashy guard was cleaning the glass to give the Kestrels plenty of second-chance opportunities.
Busumbru led or tied his Solent peers across the box score in an all-round performance to ensure the league leaders not only got the win but also claimed the head-to-head tiebreaker with their rivals for good measure.
Meshack Lufile – Reading Rockets, forward
20PTS, 14REB, 2AST, 2BLK, 28EFF @ HEM
32PTS (13-16FGM), 12REB, 4BLK, 37EFF @ESS
Meshack Lufile is unlucky not to be a back-to-back Rebound POTW after posting two monster sized double-doubles this past weekend.
It was hard to split the two performances, with a solid 20-point, 14-rebound effort in a narrow loss to a strong Hemel side, whilst Sunday's numbers jump off the page in the win against Essex.
Efficient shooting in both games helped lead to the great performances and added weight to calls for the Canadian to get another the Player of The Week award.
Taylor Johnson – Hemel Storm, guard
25PTS, 7REB, 6AST, 1STL, 27EFF
Taylor Johnson's 10 points in the fourth quarter of Hemel's 22-9 comeback run was the catalyst to the Storm grabbing the 82-78 victory against Reading, having trailed by 11 points at one stage.
The former Dartmouth College guard and regular season MVP candidate led his side with 25 points and was the most efficient shooter for the Storm, earning every bit of his 39:49 of game time.
Ricky Fetske – Bradford Dragons, forward
14PTS, 12REB, 1AST, 2BLK, 22EFF v ESS
18PTS(7-9FGM), 6REB, 22EFF V LON
Ricky Fetske put in a double-double performance on Saturday and a shooting clinic on Sunday, netting a pair of triples to lead Bradford in FG%, 3P% and FT%.
The experienced forward led the Dragons across the weekend with two strong performances as the team picked up victories against Essex Rebels on Saturday and London Lions II on Sunday.
The Dragons may well look back at this double header as the one that helped their season the most, pushing them even further away from the D1M trapdoor and firmly into the race for the post season instead.
Team Basketball
Dragons lift Playoff Chances With Pair of Home Wins
Bradford Dragons headed into this weekend with four W's in the win column and had to defend home court versus the mid-table Lions and struggling Rebels.
Losses to either, but particularly the Rebels, could have pulled Bradford down into the relegation scrap. Not only did they avoid that fate, but they can now look up instead down as they fight for the post season.
Honourable mentions to the shooting from Zach Gachette, who averaged 24.5 points, David Walsh's 7-17 3PM, plus the all-round influence from Rihards Sulcs who even flirted with a quadruple-double on Saturday (11P/11R/7A/6S)!
Solent Get Revenge aND Reverse The Head-To-Head
Solent put in a big 23-point performance to get revenge for the Cavaliers'  five-point win on the South Coast a few months ago.
Travis Charles seems to be finding his feet following his injury earlier this season and honourable mentions must go to Brendan Okoronkwo, Elliot Dadds and Orlan Jackman, who influenced the game more than their box score suggests with double digits for +/-.
Following this weekend, Solent seem to have half a hand on the D1M regular season trophy with an ever-growing buffer over the chasing pack.
With just two defeats to their name (Worthing, Thames Valley & Nottingham all have four) plus favourable head-to-head records so far, it's hard to see anything but the two remaining games versus Nottingham plus a final day of the season clash with Hemel slowing the Kestrels down at this point..
Honourable mentions
Ryan Bruggeman (DTB) – 26P/6R/1S/24EFF (BBL TROPHY) & 17P/5R/8A/2S/23EFF V WOR
Hakeem Sylla (TVC) – 30P/9R/4A/1S/1B/33EFF (BBL TROPHY) & 19P/12R/3A/2S/22EFF V TSK
Travis Charles (TSK) – 17P/10R/1A/16EFF
Lewis Diankulu (LEI) – 32P/13R/1A/1S/32EFF
Jaz Bains (REA) – 29P/6R/5A/1S/30EFF @HEM
.