FocusHoops' Darren Paul was able to take in an exciting weekend of D1W action, including CoLA's first loss of the season as they fell to Ipswich.
As a writer, commentator, podcaster and more, Darren will use everything he's seen to pick his WNBL Player and Team of the Week, plus single out some great team performances and honourable mentions to boot.
Have your say on this week's choices and give a shout-out to the players you think deserve one using the hashtag #NBL2122. Don't forget to tag us!    
Twitter: @NBLengland / @FocusHoops  
Facebook: @NBLengland  / @FocusHoops  
Instagram: @nblengland / @focushoops  
How it works  
Darren will pick a Player of the Week and four other selections to round out his Team of the Week, paying attention to the following criteria:
Efficiency 

 

Stats 

 

Team and opposition strength 

 

Periods of influence in the game 

Being on a winning team (exceptional performances from players on losing teams will be considered for TOTW)
Other players will also receive a shout out as honourable mentions at the bottom of the piece.
The FocusHoops team of the week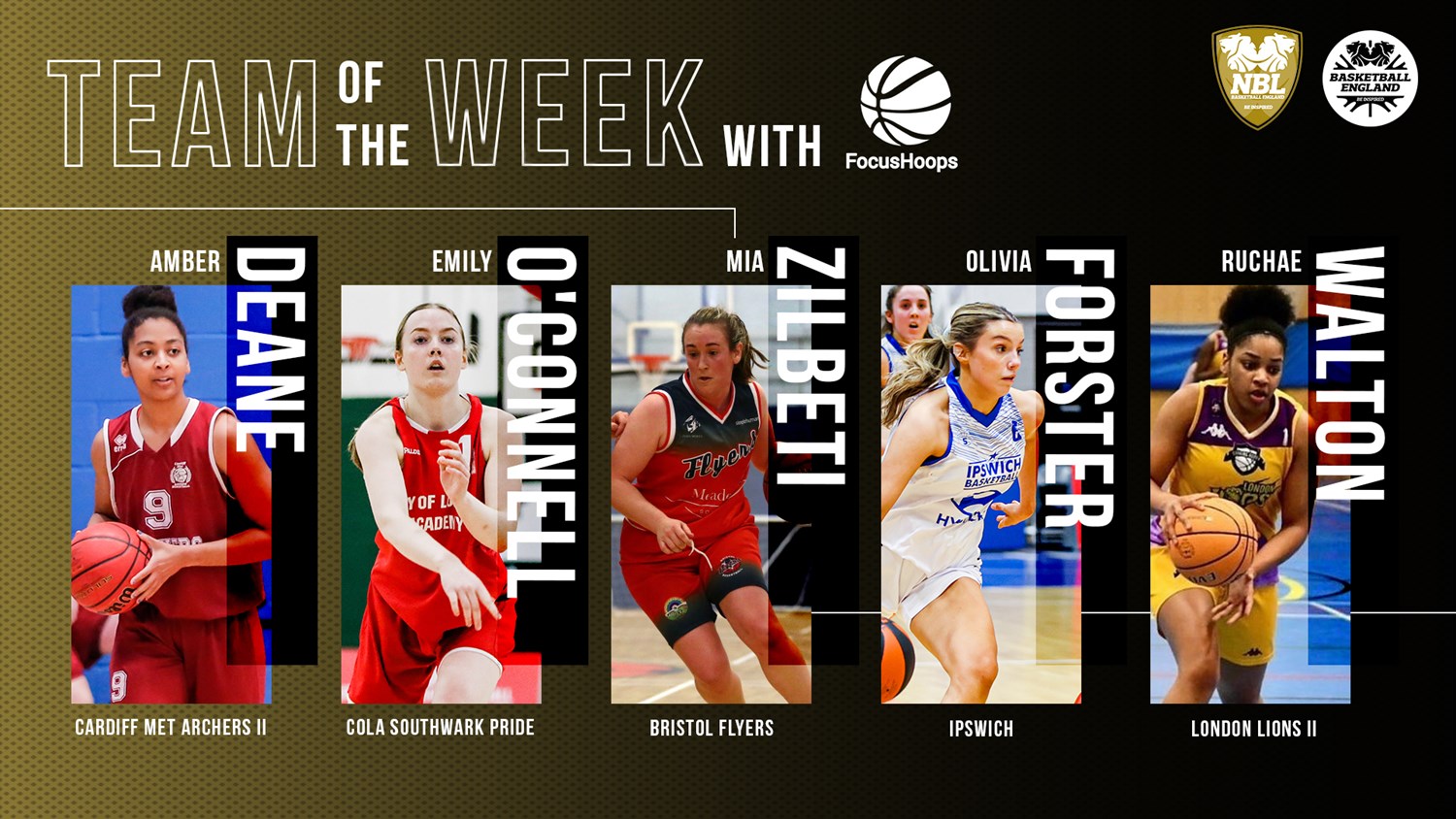 PLAYER OF THE WEEK
Amber Deane - Cardiff Met Archers II, guard
14pts, 10reb, 10ast, 10stl, 3blk, 0PF, 35eff
There was no room for discussion for my Player of the Week honours as Amber Deane's quadruple-double effort clinches her top billing.
The Cardiff standout contributed 14 points on 40% shooting, pulled down 10 rebounds with five offensive, 10 assists and an eyewatering 10 steals as she led Cardiff over London 81-67 on the road.
Deane would also send back three shots whilst not conceding a single foul, drawing five for her side in response. Deane has been ever-present for Cardiff since her return and sent the league a reminder of just what she is capable of this weekend.
Emily O'Connell - CoLA Southwark Pride, guard
23pts, 16reb, 3ast, 4stl, 37eff @IPS
CoLA suffered their first league defeat of the season on Saturday, but Emily O'Connell battled from whistle to whistle for her side against Ipswich.
The CoLA guard finished the contest with 23 points on 56% shooting, including hitting three triples and pulling down a game-high 16 rebounds to round out her double-double performance.
O'Connell contributed three assists and made four steals plus a block in a very strong individual performance against a tough opponent.
Mai Zilbeti - Bristol Flyers, guard
26pts, 5reb, 1ast, 7stl, 30eff @IPS
Mai Zilbeti has been a star in the WNBL and Sunday's performance in Bristol's 86-76 road win over Ipswich was a reminder to the rest of the league of her status.
Zilbeti, on the second game of Bristol's East of England road trip, bagged 26 points, including sinking five three-pointers at a 50% clip and only missing one shot from inside the arc.
The talented guard drew four fouls and made all five of her free throws in a crucial matchup for both sides. Zilbeti finished the contest with five boards and an assist along with a game-high seven steals. It was quite the performance to help the Flyers pull off an upset on the road.
Olivia Forster - Ipswich, guard
18pts, 6reb, 4ast, 2stl, 23eff v CoLA
Ipswich took an enormous victory against CoLA on Saturday and Olivia Forster was the star of the show. She finished with 18 points scored at 54%, making all her free throws and draining two of her three triples.
Forster contributed six defensive rebounds and dished a joint team-high four assists whilst conceding just two turnovers.
Forster, who played the full 40 minutes, also took away two steals and only conceded two fouls in a disciplined performance which helped Ipswich hand CoLA their first loss of the season.
Ruchae Walton - London Lions II, guard
19pts, 8reb, 6ast, 5stl, 1 blk, 28eff v CAR
23pts, 4reb, 3ast, 6stl, 21eff v TVC
Ruchae Walton makes her Team of the Week debut thanks to a pair of very good performances for London Lions II.
The pick of her outings was a 19 point performance against Cardiff on Saturday and despite being on the wrong end of the result, captain Walton led by example.
The London guard sank three triples in that contest on her way to a joint-team high 19 points, scoring at 47%. She also led her side on the glass with eight boards and made six assists whilst only turning the ball over twice, swiping five steals and sending a shot back in the process.
On Sunday Walton went off for 23 points and six steals in a narrow loss to high flying Thames Valley, rounding out a positive individual weekend even if the Lions' results didn't go as planned.
Team Basketball
Ipswich topple CoLA
Ipswich took down CoLA Southwark Pride to give the league leader's their first defeat of the season on Saturday, edging past the London outfit 70-65 thanks to an exception third quarter effort that saw them take the period 26-17 and erase their half time deficit.
The hosts were led in the contest by Cameron Taylor-Willis' 22 points and 11 boards to go with Liv Forster's Team of the Week performance of a very efficient 18-6-4.
Yassin Belle-Mbaye's 7-11-4 line also deserves recognition as the Suffolk outfit blew the title picture wide open.
Bristol enjoy a shock on the road
In the second leg of their double-header weekend, Bristol Flyers bounced back from a gruelling loss to Anglia Ruskin on Saturday with a huge win over Ipswich 24 hours later.
Bristol started the contest on fire, running out to a sizable first-half lead which Ipswich struggled to chip away at in the second half. The visitors controlled the contest thanks to an inspired performance from Mai Zilbeti and a wonderful scoring performance from Leila Jepson, who finished with 24 points.
The Flyers won the key battles in the match-up, cleaning up on the boards and outshooting the hosts from both inside and outside the arc. Bristol's defence was also key as they finished with 19 steals to bring Ipswich back to down with a bump after their win over CoLA.
Honourable mentions
Leila Jepson (BRI) - 24P/1R/2A/6S/20EFF @IPS
Wura Ijelu (LL2) - 11P/8R/7A/4S/21EFF v TVC
Carys Roy (CAR) - 22P/9R/2A/22EFF
.
Main image credit - Luke Simcock