Valentine's Day is nearly upon us, but there's no love lost in the race for the D1W title.
Six games fill this coming weekend, with leaders CoLA looking to bounce back from their first defeat of the season last time out.
If they stumble once more, the likes of Loughborough and Thames Valley could both reduce the gap at the top by another two points.
We take a look at all the action below, with links to live stats and live streams at the bottom of the page.
Fourth plays second on Saturday as two heavyweights collide when Loughborough travel to Anglia Ruskin.
With just five losses between them this season, both teams will be going all out for another victory tomorrow.
If Ruskin are still to mount an unlikely title challenge, they can't afford another loss between now and the end of the season, and even then it would need three more defeats from current leaders CoLA. An unlikely prospect given the London programme's 12-0 start to the season.
Instead ARU are more likely to focus their efforts on maintaining their top-four spot and a home tie in the opening round of the playoffs, anything above that would be a bonus.
Loughborough can retain loftier ambitions however, they're still just one game back of the Pride, assuming they win their game in hand, and unlike their opponents tomorrow, Riders' tiebreaker fate with CoLA is yet to be decided.
Those two teams meet for a second time in late March, and Loughborough are sure to want to keep growing their five-game win streak up until that point.
After making a habit of pushing players to both Player and Team of the Week honours since the mid-season break, Loughborough certainly have the firepower to make that lengthy streak into a reality. Katie Januszewska, Alia El Shabrawy and Robyn Ainge have all excelled in recent weeks and will no doubt play a part in any success the Riders' enjoy this weekend.
.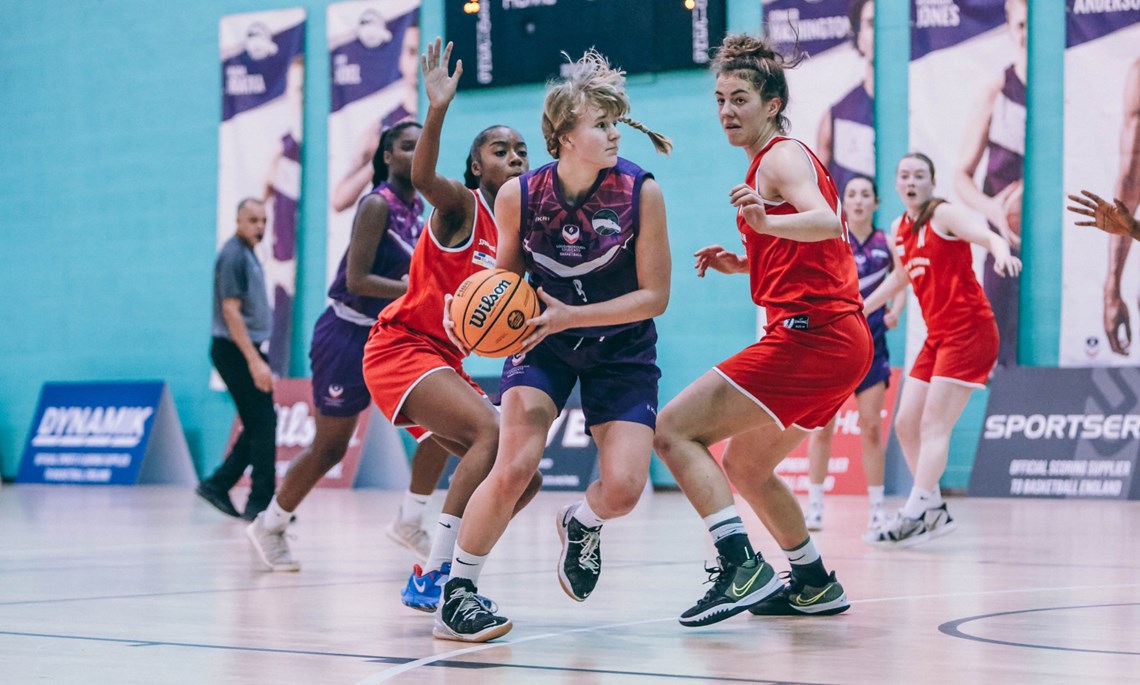 Elsewhere this weekend
The weekend begins with Thames Valley Cavaliers (9-2) at home against Bristol Flyers (6-10).
TVC's win streak currently sits at eight games and the longer it lasts, the more their confidence will grow that a run at the D1W title is a real possibility.
Worcester Wolves (4-8) have lost five in a row and would love a win to snap their current streak, they're at home to a London Lions II (1-13) team they beat 57-56 earlier this season.
There's a tough stretch coming up for Team Solent Kestrels (7-6), with ties against CoLA, ARU, Cardiff and Thames Valley. That makes it even more important for Solent to pick up a positive result tomorrow against Reading Rockets (4-8), who have lost three of their last four.
CoLA Southwark Pride (12-1) should be able to get back to winning ways on Sunday, they enjoy an away day against Nottingham Trent University (1-12), a side coach Gibbons' team held to just 28 points last time they met.
Sunday's only other game sees two midtable teams duking it out as Ipswich (8-4) take a trip to Cardiff Met Archers II (6-7).
Ipswich were 100-44 winners when the teams met in Suffolk back in November, expect a much closer contest this time around, especially if reigning Player of the Week Amber Deane can keep her current form going.
This weekend's fixtures:
Saturday 12 February
3pm - Thames Valley Cavaliers v Bristol Flyers - LIVE STATS
4pm - Anglia Ruskin University v Loughborough Riders - LIVE STATS/LIVE STREAM
4pm - Worcester Wolves v London Lions II - LIVE STATS
6pm - Team Solent Kestrels v Reading Rockets - LIVE STATS/LIVE STREAM
Sunday 13 February
12:30pm - Cardiff Met Archers II v Ipswich - LIVE STATS
2pm - Nottingham Trent University v CoLA Southwark Pride - LIVE STATS
Main image credit - Anglia Ruskin University