Whilst some may be swapping cards and chocolates this weekend, D1M sides will be feeling anything but giving as they embark on another key set of fixtures.
All 14 sides are set to play tomorrow in an action-packed Saturday, with six teams in double-header action across three Sunday ties as well.
The pick of the bunch could well be Solent's trip to Nottingham in a contest with title implications, whilst the NBL Live cameras are in Essex this week for the first leg of the Rebels v Thames Valley back-to-back series.
We take a look at all the weekend's games below, with links to live stats and live streams at the bottom of the page.
Nottingham Hoods are the latest team to try and topple reigning champs Solent Kestrels as they meet in the Midlands on Sunday.
Last weekend's results included a Solent win over Thames Valley, plus a loss for Worthing in Derby, giving coach Guymon's side a two-loss cushion over their next closest rivals.
With the Kestrels now owning the head-to-head record with both the Thunder and Cavs, that leaves Nottingham as the four-loss team most likely to halt the current leaders in their quest for another regular season title.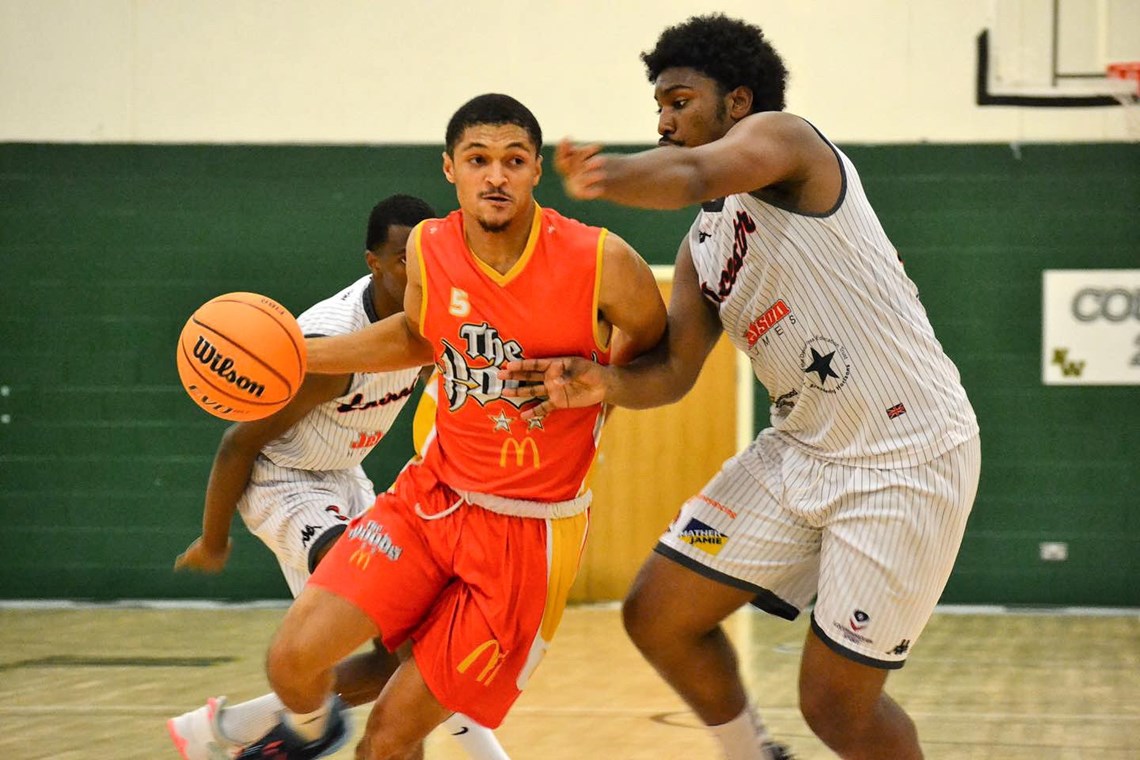 The Hoods plan to steal top spot wasn't helped last time out when they were pipped 98-95 by a David Moya inspired Newcastle. That loss could come back to haunt tomorrow's hosts, but only if they find a way best Solent in the coming weeks.
The Kestrels have had no such issues of late, winning their last three games by a combined margin of 60 points. Solent topped the 90-point mark in all three of those games, leaving their offence in a good place to match up with a Hoods' D that looked far from solid last weekend.
.
Elsewhere this weekend
Saturday's full house kicks off with Oaklands Wolves (2-14) against Nottingham Hoods.
The Hoods will do well to avoid taking their eye off the ball ahead of their game with Solent on Sunday, this is a Wolves team fighting hard in a bid to secure their D1M safety, after all.
Reading Rockets (8-9) will continue their battle to snag a playoff spot as they play out a home tie against Bradford Dragons (7-9), who won twice last weekend.
Taylor Johnson and Greg Poleon combined for 58 points last time Hemel Storm (11-5) played Leicester Warriors (2-15), they'll be hoping for more of the same tomorrow, whilst Solent start their weekend with a road trip to Loughborough Riders (5-12).
Worthing Thunder (14-4) title chances are no longer in their own hands following back-to-back D1M losses, the South coast side will look to correct their recent downward trend as they head to London Lions II (8-9), who beat Thunder 84-73 in East London last year.
There's a replay of last month's L Lynch Trophy final as Derby Trailblazers (10-6) head north to take on Team Newcastle University (9-6), with the hosts looking to avenge their 86-71 defeat in the showpiece.
Saturday's only other game is the start of back-to-back games between Essex Rebels (2-14) and Thames Valley Cavaliers (10-4).
The NBL Live cameras will be on hand to capture all the action in that one, with the Rebels still playing hard to avoid relegation, whilst TVC need to bounce back following their recent loss to Solent.
That game is live from 5pm, with the two teams set to line up in Uxbridge for the return leg at 3:30pm on Sunday.
That leaves Bradford and Newcastle to play out their double-header weekend in Yorkshire, with both teams searching for a victory that would improve their playoff chances.
This weekend's fixtures:
Saturday 12 February
3pm - Oaklands Wolves v Nottingham Hoods - LIVE STATS
3pm - Leicester Warriors v Hemel Storm - LIVE STATS
4pm - London Lions II v Worthing Thunder - LIVE STATS
4pm - Loughborough Riders v Team Solent Kestrels - LIVE STATS/LIVE STREAM
5pm - Reading Rockets v Bradford Dragons - LIVE STATS/LIVE STREAM
5pm - Team Newcastle University v Derby Trailblazers - LIVE STATS
5pm - Essex Rebels v Thames Valley Cavaliers - LIVE STATS/LIVE STREAM
Sunday 13 February
3:30pm - Thames Valley Cavaliers v Essex Rebels - LIVE STATS
6:30pm - Bradford Dragons v Team Newcastle University - LIVE STATS
6:30pm - Nottingham Hoods v Team Solent Kestrels - LIVE STATS
Main image credit - Evie Collier