Five D1M games accompanied the NBL National Cup final this weekend to give Rebound's Chris Hughes his potential choices for this week's Player and Team of the Week.
Chris, a content producer, YouTube host and commentator, saw Solent claim their second National Cup title in a row, whilst there were important league wins in the title hunt for Thames Valley, Hemel and Worthing.
Have your say on this week's choices and give a shout-out to the players you think deserve one using the hashtags #NBL2122 and #ReboundTOTW . Don't forget to tag us!    
Twitter:  @NBLengland / @Rebound__  
Facebook:  @NBLengland  / @ReboundNBL  
Instagram:  @nblengland / @reboundnbl  
How it works 
Chris will pick a Player of the Week and four other selections to round out his Team of the Week, paying attention to the following criteria:
Efficiency 

 

Stats 

 

Team and opposition strength 

 

Periods of influence in the game 

Being on a winning team (exceptional performances from players on losing teams will be considered for TOTW)
Other players will also receive a shout out as honourable mentions at the bottom of the piece.
The Rebound team of the week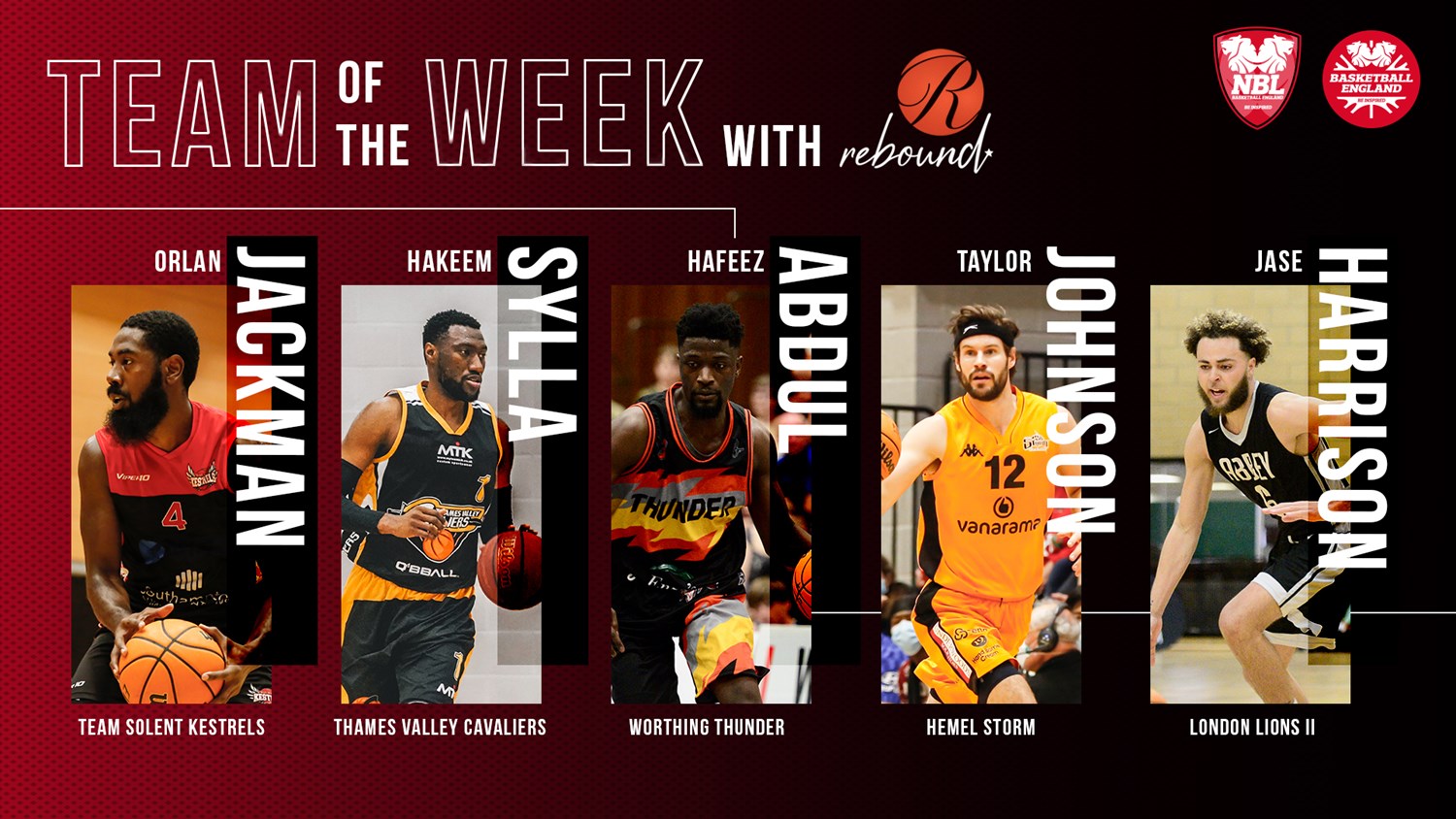 PLAYER OF THE WEEK
Orlan Jackman – Team Solent Kestrels, forward
22PTS (8-9FGM), 8REB, 2AST, 1STL, 1BLK, 28EFF
In an 18:04 cameo that only spanned the first three quarters of the National Cup final, Jackman was the hot hand, only missing once in a lights out display.
Newcastle really didn't have an answer for how to stop the former BBL man, with the 2018 Commonwealth Games representative continually finding space in the paint and using his extensive experience to make being the go to option on offence look easy.
Jackman heavily contributed to Solent's largest scoring run with big plays at both ends of the floor. He finally checked out half-way through the third after netting the shot the pushed Solent's lead to 29 points.
Hakeem Sylla – Thames Valley Cavaliers, forward
27PTS, 14REB, 3AST, 5STL, 42EFF
Hakeem Sylla put in a Player of the Week worthy performance in Thames Valley's 11 point win against ninth place Bradford, who are yet to beat a top eight side this season.
As is usually the case, Sylla's rebounding was crucial versus a physical Bradford side, but the forward was also key on the defensive end as his five steals contributed to pretty much all of the Cavaliers' 12 points from turnovers.
Hafeez Abdul – Worthing Thunder, forward
35PTS, 3REB, 3AST, 1STL, 2BLK, 29EFF
In a warm up to next weekend's top of the table clash against rivals Solent, Worthing's Hafeez Abdul put on a shooting clinic to enjoy a stat line of 60/60/80. As one of the stand-out signings of the season, the former Hemel man wasn't too far from collecting the Player of the Week award, either. 
Abdul is revelling in a starting role and managed to still get his shots off while being the most fouled player on court (7 from 21 total fouls in the game). 
Leicester did everything they could to slow the forward down, but it still wasn't enough.
,/center>
Taylor Johnson – Hemel Storm, guard
23PTS, 13REB, 8AST, 29EFF
A vital fourth quarter showing earned Taylor Johnson a starting berth in my Team of The Week.
Despite being strong favourites this weekend, Hemel Storm went into the final frame of their game against Loughborough leading by just a single point, and with 4:36 to go that advantage had turned into a four point deficit.
Cometh the hour, cometh Taylor Johnson. The high IQ guard netted 10 points and affected the game at both ends as part of a team effort to ensure Hemel scored 23 unanswered points for what in the end looked a comfortable victory.
The former Ivy league star also flirted with a triple-double while being the most fouled man on court as the Riders tried everything, fair or foul, to try and stop Johnson getting into a rhythm.
Jase Harrison – London Lions II, guard
17PTS, 8REB, 8AST, 1TUR, 2STL, 30EFF
Jase Harrison flirted with a triple-double in a stand-out performance to keep the seventh seeds in the playoff picture.
The captain led his 'pride' with some efficient shooting with a stat line of 60/60/100 while as a team London Lions II netted a meagre 33FG%.
The captain took more of a playmaking role in the third quarter which essentially called game with London dominating the frame at both ends to take it 26-6.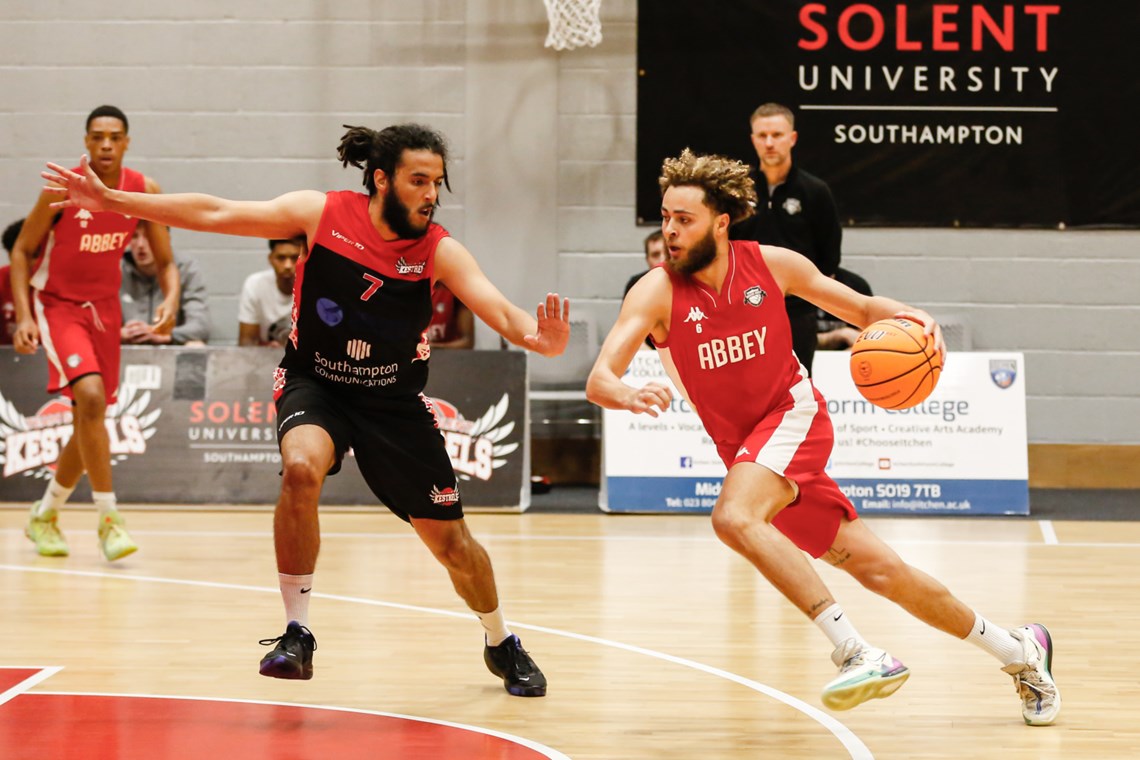 Team Basketball
Solent put on a classic performance to seal more silverware
For one of the first times this season, Sunday's NBL National Cup final saw Solent name a full strength line up. The result was spectacular, showcasing a team performance that got them a mammoth win and even allowed coach Guymon to check out game MVP Orlan Jackman with almost 14 minutes still left on the clock.
It could be said that Solent have played in second or third gear so far this season, on Sunday however they were surely cruising, shooting greater than 50 FG% as a team.
The Kestrels really benefited from the two way athleticism from the likes of Arissol, Busumbru and others as they dominated in transition, whilst also taking care of the ball as well, only one Solent player registering more than two turnovers.
Hemel's gutsy comeback gets it done
Down by four late in the game, Hemel pulled out all the stops to quickly reversed that trend before driving off into the sunset with a 19 point dub. 
The win enhances their top-two aspirations following a fourth place finish in 2019/20 and a third place finish plus a playoff final appearance last year.
It was a team win, with Greg Poleon continuing his good work following an injury earlier on in the season and the likes of Sam Newman (12p/8a) and former Solent duo Tayo Oyefusi (10p/8r) and Johnathan Lashley (6p/9r) all flirting with double-doubles.
Elite 3-point shooter Jack Burnell chipped in with nine points after hitting three of his seven attempts from downtown.
Honourable mentions
Jarred Dixon (WOR) – 23P/3R/6A/4S/31EFF
Greg Poleon (HEM) – 22P/13R/1A/1S/26EFF   
Raheem May-Thompson (DTB) – 26P/9R/3A/1B/29EFF 
Travis Charles  (TSK) – 15P/7R/3A/0T/21EFF 
Luke Busumbru (TSK) –  17P/7R/4A/2S/+-48/ 16EF
.
Main image credit - Luke Simcock