Rebound's Chris Hughes picks his NBL Player and Team
of the Week, plus highlights
five 
honourable mentions 
as well as two impressive 
team performances.  
Chris, a content producer, YouTube host and commentator, took in the D1M top of the table clash between Worthing and Solent, plus eight other games, to select his Player of the Week and four other standouts to make up his Team of the Week as well.
Have your say on this week's choices and give a shout-out to the players you think deserve one using the hashtag #NBL2122 and #ReboundTOTW. Don't forget to tag us!    
Twitter:  @NBLengland / @Rebound__  
Facebook:  @NBLengland  / @ReboundNBL  
Instagram:  @nblengland / @reboundnbl  
How it works 
Chris will pick a Player of the Week and four other selections to round out his Team of the Week, paying attention to the following criteria:
Efficiency 

 

Stats 

 

Team and opposition strength 

 

Periods of influence in the game 

Being on a winning team (exceptional performances from players on losing teams will be considered for TOTW)
Other players will also receive a shout out as honourable mentions at the bottom of the piece.
The Rebound team of the week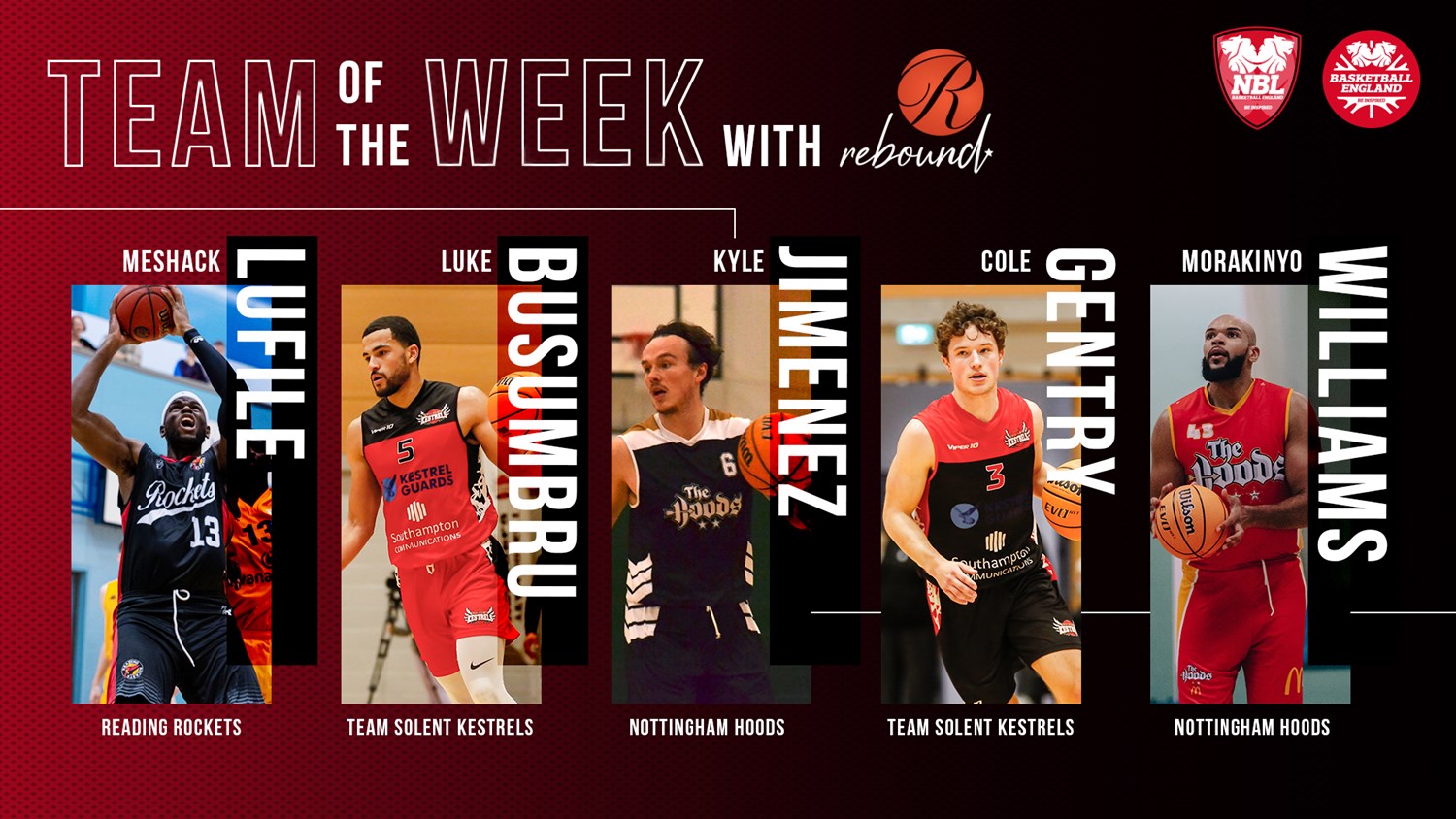 PLAYER OF THE WEEK
Meshack Lufile - Reading Rockets, forward
18PTS, 13REB,4AST, 1BLK, 28 EFF @LOU
29PTS, 11REB, 3AST, 4BLK, 38EFF @NEW
Meshack Lufile provided the winning mindset this weekend with two highly efficient performances, propelling the Rockets up the table with back-to-back road victories.
Probably the pick of his many personal highlights came from Sunday's 81-79 win versus Team Newcastle. Lufile's 10 points in the last seven minutes of play, including two and-one plays, really stood out.
No-one was stopping the Canadian forward or the Rockets from getting that dub, and his efforts went with another strong performance 24 hours earlier as Reading easily saw off Loughborough 97-59.
Luke Busumbru – Team Solent Kestrels, guard
12PTS (6-8FGM), 9REB, 9AST, 3STL, +/-49, 28EFF
A reminder if you needed one, Luke Busumbru is a baller.
The flashy guard is getting in on Valentines season early, "flirting" with a triple-double performance as he fell just a rebound and an assist short of that milestone.
Busumbru is routinely putting in epic performances and it's no surprise to me that his average box score right now is around double his output from last season.
If there was a Most Improved Player award for this year then Busumbru would surely deserve it.
Kyle Jimenez – Nottingham Hoods, guard
20PTS (10-11FTM), 4REB, 10AST, 2STL, 26EFF
Kyle Jimenez reminded the league that he is not ready to relinquish his "Assist King" title as he produced a double-double performance to get the Hoods a closely fought win in Saturday's clash versus Bradford.
Notching an impressive 10 assists to go with 20 points, the 2018 Commonwealth Games representative was also handy from the charity stripe, only missing one of his 11 attempts.
Cole Gentry – Team Solent Kestrels, guard
16PTS, 7REB, 8AST, +/-29, 22EFF
In the top of the table clash against Worthing, Solent's Cole Gentry also came close to a triple-double in the 104-59 win.
Gentry's four triples really opened up the spacing as Solent shot 53FG% as a team vs Worthing's 27%.
The American floor general's handles and pace make him a tough man to slow down, and his eye for a pass also allowed him to notch eight dimes to share the Kestrels' offensive load.
Morakinyo Williams – Nottingham Hoods, forward
14PTS, 7REB, 4AST, 7BLK, 20EFF
In what would have been one of the rarer triple-doubles you'll see, "Big Mo" rejected Bradford a game-high seven times for what seems to be a career high.
Williams also affected the game on the offensive end as Bradford tried a bit of everything to stop him, but the former BBL man still made six of his seven free throw attempts.
Williams was at it again on Sunday as Nottingham won their back-to-back contests with the Dragons, contributing another 16 points in the 87-79 victory.
Team Basketball
Solent back to 2019/20 form as they keep on rolling
One of the shock results of the weekend was on the South coast between Worthing and Solent. though not due to the result itself but instead the eventual margin of victory.
Solent were the victors in the 45 point win, shooting north of 50FG% as a team, harking back to their form and shooting from two seasons ago.
It shouts volumes about the Kestrels' depth that coach Guymon's side can win by 45 points on the road whilst the likes of reigning NBL Defensive Player of the Year Andre Arissol and this season's National Cup MVP Orlan Jackman play 19 minutes from the bench.
Travis Charles (14pts, 3reb, 18:49 of action) put in more good work on his continuing road to recovery from injury, whilst Elliot 'Mr Southampton' Dadds led his side with an impressive 17 points.
DERBY WEATHER THE STORM TO KEEP TOP FOUR CHANCES ALIVE
Derby got a much-needed win against Hemel on Saturday to keep themselves close to the top four.
Derby started strong and a 28-14 second quarter gave the hosts a comfortable 15 point lead going into the half time break.
The likes of Blake Bowman (19pts, 8reb) and Player of the Year candidate Malcolm Smith (23pts, 5reb, 3ast) again put on a show as American guard Ryan Bruggeman (8pts, 6ast, 4reb) stepped up his return from injury.
Though it is worth stating that Derby have played more games (15) than Thames Valley in third (13) and Nottingham Hoods in fourth (13), the Midlands outfit are still in the mix should those sides falter with their games in hand.
Honourable mentions
Reis Pinnock (REA) – 20P (5-6 3PM)/7R/5A/1S/25EFF
David Moya (NEW) – 10P/13R/12A/2S/28EFF V OAK & 17P/7R/8A/4S/25EFF V REA
Tom Child (ESS) – 14PTS/7R/9A/23EFF
Hakeem Sylla (TVC) – 17P/8R/3B/23EFF V LEI & 17P/13R/1A/4S/1B/27EFF V HEM
Jordan Jackson (OAK) – 21P/14R/2A/1S/31EFF
.
Main image credit - Todd Lindley