Rebound's Chris Hughes welcomes in the New Year with a bumper weekend of basketball to pick over for his first selections of 2022.
Chris, a content producer, YouTube host and commentator, had two NBL performances in the BBL Trophy, four D1M ties plus a pair of NBL National Cup semi-finals to consider when picking his Player of the Week and four other standouts to make up his Team of the Week as well.
Have your say on this week's choices and give a shout-out to the players you think deserve one using the hashtag #NBL2122 #ReboundTOTW. Don't forget to tag us!    
Twitter:  @NBLengland / @Rebound__  
Facebook:  @NBLengland  / @ReboundNBL  
Instagram:  @nblengland / @reboundnbl  
How it works 
Chris will pick a Player of the Week and four other selections to round out his Team of the Week, paying attention to the following criteria:
Efficiency 

 

Stats 

 

Team and opposition strength 

 

Periods of influence in the game 

Being on a winning team (exceptional performances from players on losing teams will be considered for TOTW)
Other players will also receive a shout out as honourable mentions at the bottom of the piece.
The Rebound team of the week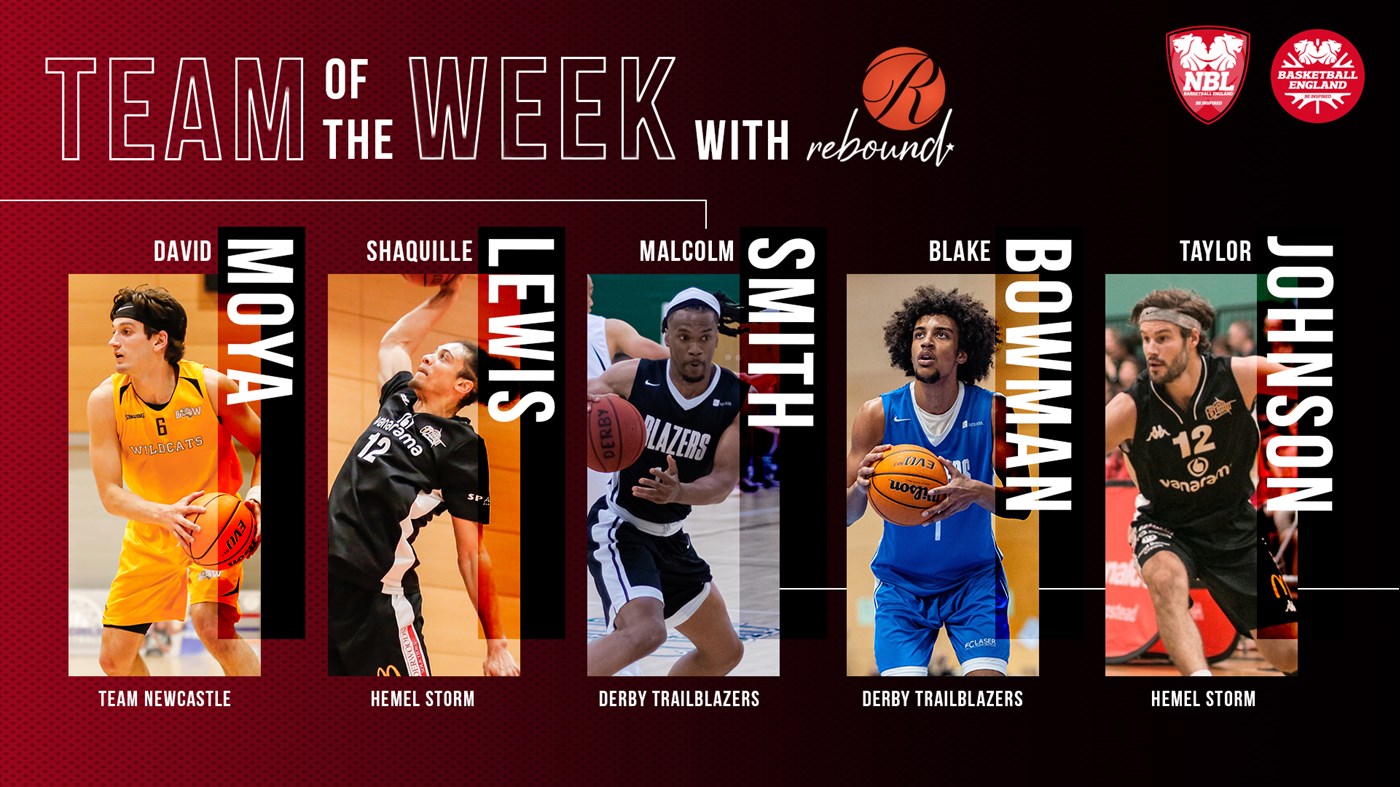 PLAYER OF THE WEEK
David Moya - Team Newcastle University, guard
23PTS, 12REB, 7AST, 2STL, 35EFF
The pass first guard did everything he could to get his team to their second showpiece of the season, eventually doing just that as Newcastle defeated Thames Valley to book a spot in the National Cup final.
What caught my eye the most was Newcastle's response to going down by 10 points after a shaky first quarter. Moya in particular took the bull by the horns and used sniper like accuracy to quickly notch 10 points without missing a shot.
The flurry caused TVC's Coach Banks to call time-out with Newcastle having flipped the script to now lead by 1.
It was a shooting clinic for the remainder of the game as Moya netted six triples from 10 attempts to close on 23 points.
Shaquille Lewis - Hemel Storm, forward
19PTS (8-9), 8REB, 1 AST, 1BLK, 27EFF
As I've said before, every bench needs a man like Shaq.
Shaquille Lewis barely missed during his 16:31 of action, shooting the lights out in another highly efficient cameo. If there was an NBL 6th Man of the Year award then surely Shaq has called game!
The bench star's rebounding also opened up second chance opportunities for himself and rest of the Storm contingency as he narrowly missed out on a double-double.
Blake Bowman - Derby Trailblazers, wing
25PTS, 2REB, 3AST, 2STL, 25EFF
Derby's young star put on some performance in the BBL Trophy, further increasing his stock if anyone in the British Basketball community was in doubt.
Bowman's influence was the main catalyst in Derby's upset against Surrey, clocking a game-high +/- of 21, head and shoulders above the rest in the 9-point win.
Accuracy from long range is something Bowman has added to his locker in the last few seasons and his hard work paid off here as he hit three of his five shots from beyond the arc.
Taylor Johnson - Hemel Storm, guard
25PTS, 7REB, 7AST, 3STL, 31EFF
Taylor Johnson needs no introduction. The MVP candidate put in an almost routine performance to ensure there was no upset this weekend as Hemel demolished local rivals Oaklands.
The Ivy league alumni is a high IQ player who as usual shot incredibly well as an all-round threat.
Johnson's influence extended to others with a +/- of 55. Having Johnson on the court allowed spacing for his team mates to shoot well, and for the likes of Bode Adeluola and Sam Newman to find good passes as the pair combined for 24 assists.
Malcolm Smith - Derby Trailblazers, forward
36PTS, 12REB, 1AST, 2STL, 30EFF
The former D1M Player of the Season is already making 2022 his year.
The L Lynch Trophy Final's MVP was at it again in Trophy action, ensuring his team have further success as Derby moved on to the second round.
Smith is a smart player when it comes to shooting and found himself fouled a game-high of 12 times. The American forward made 12 of his 14 free throws and shot an impressive 42FG% under pressure. 
Team Basketball
Derby extinguish Scorchers to advance
Derby raced to a 16-point half time lead to make light work of their BBL opponents on Friday night.
A late comeback from the Scorchers was too little, too late and some BBL observers were critical of the Scorchers defence but credit should also be given to the high IQ players such as Malcolm Smith and Blake Bowman.
Former NBL assist king, Kayne King, also really took advantage of the match up and dished plenty of eye-catching dimes.
Newcastle make it to final #2 despite spirited cavs performance
Newcastle have put in the hard work throughout their cup campaign and fully deserve their spot in the final later this month.
David Moya led the charge but honourable mentions should goto Ronald Blain and Martyn Gayle who kept the scoring ticking over.
I was particularly impressed by Michael Hamilton, who came off the bench and recorded a game-high four blocks.
Honourable mentions
Kayne King (DTB) – 9P/8R/14A/2S/24EFF
Lee Hodges (ESS) – 18P/11R/1A/1B/20EFF
Jase Harrison (LL2) – 13P/8R/3A/1S/1B/19EFF V LEI & 12P/6R/4A/2S/16EFF @TSK
Orlan Jackman (TSK) – 13P/9R/2A/1B/11EFF @GLA & 15P/9R/6A/1B/28EFF V LL2
Sam Newman (HEM) – 12P/5R/12A/4S/1B/28EFF
.