In the penultimate weekend of the D1M regular season, plenty of players stood tall to help their teams secure some key results.
Rebound's Chris Hughes, a content producer, YouTube host and commentator, had his work cut out to pick a Player of the Week and four other standouts to make up his Team of the Week as well, with no shortage of viable candidates.
Have your say on this week's choices and give a shout-out to the players you think deserve one using the hashtag #NBL2122 and #ReboundTOTW. Don't forget to tag us!    
Twitter:  @NBLengland / @Rebound__  
Facebook:  @NBLengland  / @ReboundNBL  
Instagram:  @nblengland / @reboundnbl  
How it works 
Chris will pick a Player of the Week and four other selections to round out his Team of the Week, paying attention to the following criteria:
Efficiency 

 

Stats 

 

Team and opposition strength 

 

Periods of influence in the game 

Being on a winning team (exceptional performances from players on losing teams will be considered for TOTW)
Other players will also receive a shout out as honourable mentions at the bottom of the piece.
The Rebound team of the week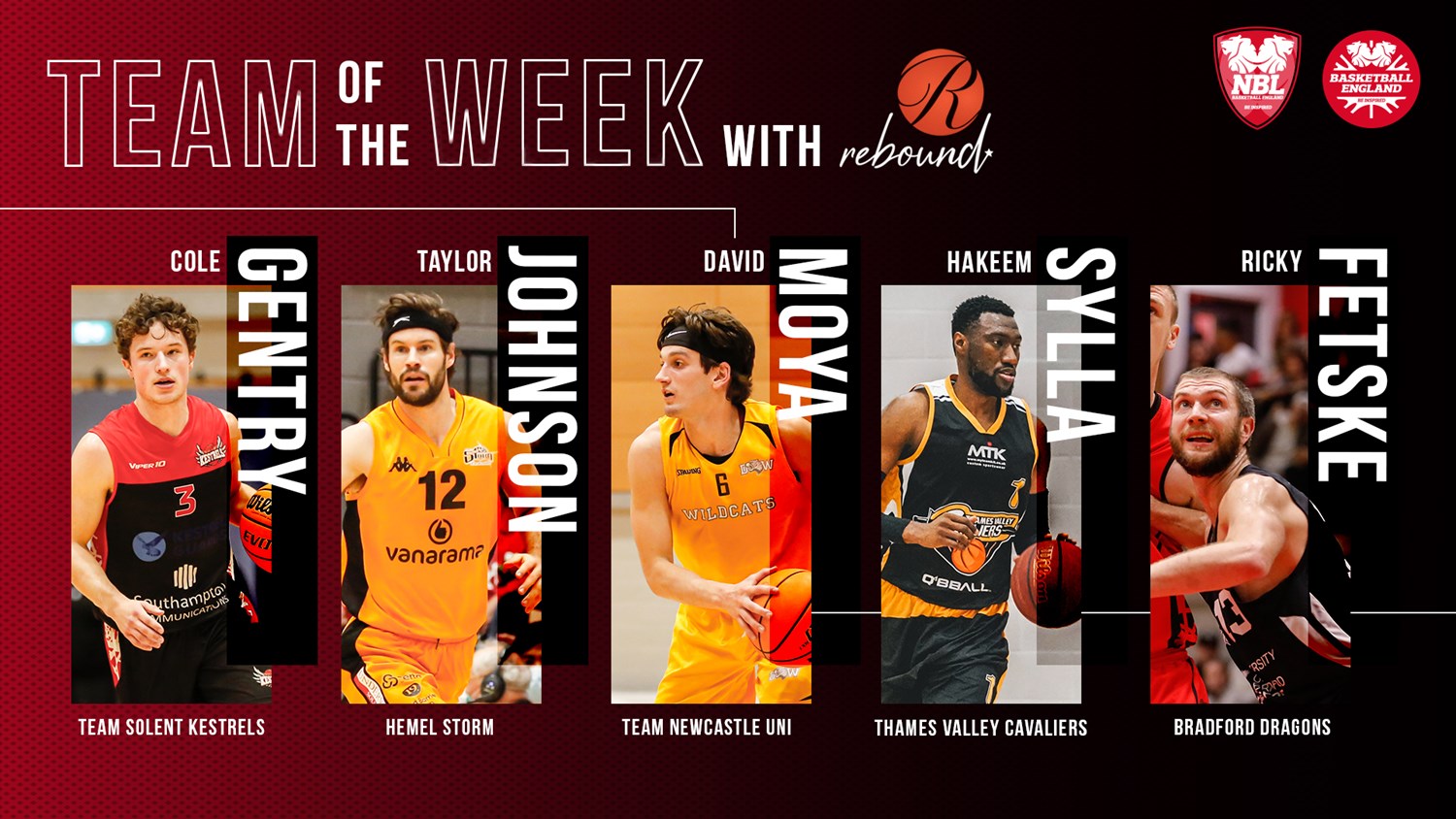 PLAYER OF THE WEEK
Cole Gentry - Team Solent Kestrels, guard
28PTS, 2AST, 0TO, 6STL, 26EFF @BRA
26PTS, 6REB,9AST, 1TO, 2STL, 34EFF @NEW
Cole Gentry put in two stylish performances across the double-header weekend to earn my Player Of The Week award.
The Northern road trip to Bradford and Newcastle was both a personal and team success with the Kestrels knocking off the Dragons 105-81 before a 106-77 victory in the North East.
Gentry once again demonstrated his smooth play and rhythm as a key cog in an ultra-stacked team, rightfully earning his looks as a premier scoring option and a real +/- go getter.
He also collected double-digit dimes across the weekend, picking pockets on defence whilst protecting the ball when in possession.
Taylor Johnson - Hemel Storm, guard
43pts, 12reb, 8ast, 43eff
Taylor Johnson is very unlucky not to be the recipient of my Player Of The Week award.
Scoring at a point a minute whilst knocking down six triples as part of a 43 point haul, Johnson led the Storm to a 127-118 OT win against Essex, barely going to the bench in the process.
The American is renowned for his quality shooting and high-IQ game, the Rebels couldn't stop him this week no matter what they tried.
When they did slow him down and sent the Hemel man to the line, he was a perfect 7/7, including two clutch attempts with a second remaining to force the extra frame.
David Moya - Team Newcastle University, guard
32PTS (5-8 3PM), 8REB, 9AST, 2TO, 5STL, 38EFF v LEI
28PTS (6-12 3PM), 6REB, 8AST, 1TO, 1STL, 1BLK, 28EFF V TSK
David Moya enjoyed individual success where few others have this season, stepping to the fore against champions Solent, and in the absence of Player of the Year candidate Ronald Blain to boot.
What makes Sunday's performance versus the Kestrels even more impressive was the feat of flirting with a triple-double 24 hours earlier.
The Newcastle guard showed any potential doubters that he can flat out shoot the ball, averaging 30 points over two games this weekend whilst hitting a combined 11 triples.
Hakeem Sylla - Thames Valley Cavaliers, forward
16PTS, 10REB, 3AST, 1STL, 1BLK, +/- 32, 26 EFF @LL2
29PTS, 14REB, 2AST, 3STL, 36EFF @OAK
Two games, two double-doubles from Hakeem Sylla as the TVC man once again led his team to a pair of wins.
The efficient shooter was up to his usual tricks to help the Cavs cement the #2 seed for the post season, going 6-7 from the floor in 17:58 of action Saturday, closing with an impressive +/- of 32 in the 112-75 win over London Lions II.
Oaklands didn't fare any better on Sunday as the Guinea international upped his scoring output and efficiency in the 106-68 victory.
Ricky Fetske - Bradford Dragons, forward
25PTS (9-12 FGM/6-7 3PM), 11REB, 4AST, 1STL, 1BLK, 33EFF
Find yourself a captain that leads by example, like Ricky Fetske. The Bradford forward did everything possible to help his team try and overcome Solent, eventually falling 105-81.
Fetske shot the lights out, only missing one three pointer from seven attempts in one of the most efficient shooting performances seen this season.
Doing that against the four-time regular season champions is no mean feat!
Team Basketball
Derby take local bragging rights in top four push
Derby are once again making a late sprint for the top four, akin to their runs in the last two regular seasons.
Games do not get much bigger than a late season clash with a local rival and top four contender, but Derby still took the spoils 102-88.
The shooting from Ryan Bruggeman (26pts, 11-16FG, 4-8 3PT) and Leighton Elliott-Sewell (29pts, 11-15FG, 2-2 3PT) was a key to DTB's success. The duo combined for 20 of Derby's 32 points in the second quarter, spearheading the Trailblazers to a nine point lead at half time that they'd then convert in to another valuable W.
Blast off for Rockets!
The Berkshire side got two vital wins  this weekend to confirm their playoff status. In addition, winning seven of their last nine has given the Rockets an opportunity to move up the seventh, avoiding a first round playoff game in Solent.
Honourable mentions to Tyler Cartaino (29pts, 13reb @OAK) and Jaz Bains (20pts, 5reb, 4ast v LL2) who among others were very impressive this weekend.
Honourable mentions
Leighton Elliott-Sewell (DTB) – 29P/11R/4A/1S/35EFF
Tyler Cartaino (REA) – 29P/13R/4A/3S/2B/37EFF @OAK & 18P/2R/8A/4S/1B/23EFF v LL2
Ryan Bruggeman (DTB) – 26P/4R/5A/3S/32EFF
Jaz Baines (REA) – 22P/3R/5A/1S/28EFF @OAK & 20P/5R/4A/21EFF V LL2
Blayne Freckleton (TVC) - 14P/4R/9A/3S/24EFF @LL2
.