The academy basketball season has reached a key moment with the Final Fours of the EABL and WEABL as well as the ABL all scheduled to take place on Wednesday 23 March.
The prize at stake is a place at Finals Day at Manchester's National Basketball Performance Centre the following Wednesday, 30 March.
EABL
With three teams from the North all progressing, we're set for some great looking ties.
Barking and Charnwood will be penning another chapter in one of the most storied rivalries in the EABL, with the two sides unable to cross paths since their famous 2019 final.
The Riders denied BA a third-straight EABL title that day, and no doubt the East London programme would like a little bit of payback and the chance to reach another showpiece in the process.
Myerscough host Sheffield in the other tie, though no doubt the visitors will go into this one confident of getting a positive result.
2019/20 co-champions Myerscough only lost twice in the regular season, once to top seeds Charnwood but also away to Sheffield, going down 81-75 thanks to an 18 point, 18 rebound effort from Charles Okafor.
'Sco did win the return leg in the North West, 86-66, setting the scene for what should be a brilliant third and final instalment of their season series.
Elite Eights recap on the EABL website HERE
WEABL
Copleston's upset over Charnwood means they've earned the opportunity to take a third crack at fellow Southern conference side CoLA.
The Suffolk programme didn't manage to best their London rivals in either meeting during the regular season, losing 74-45 at home a few weeks ago and 84-50 on the road.
Still, third time could be the charm, and you can never say anything for certain when knockout basketball is involved.
The other tie sees another unbeaten side, Nottingham Academy Wildcats, hosting Oaklands College.
The Wolves went 9-3 across the regular season, powered by the talents of Daisy Porter, Miriam Carrasco-Menendez and Kizzy Spence. Nottingham are unbeaten for a reason, however, and on their own court will clearly be favourites.
Elite Eights recap on the WEABL website HERE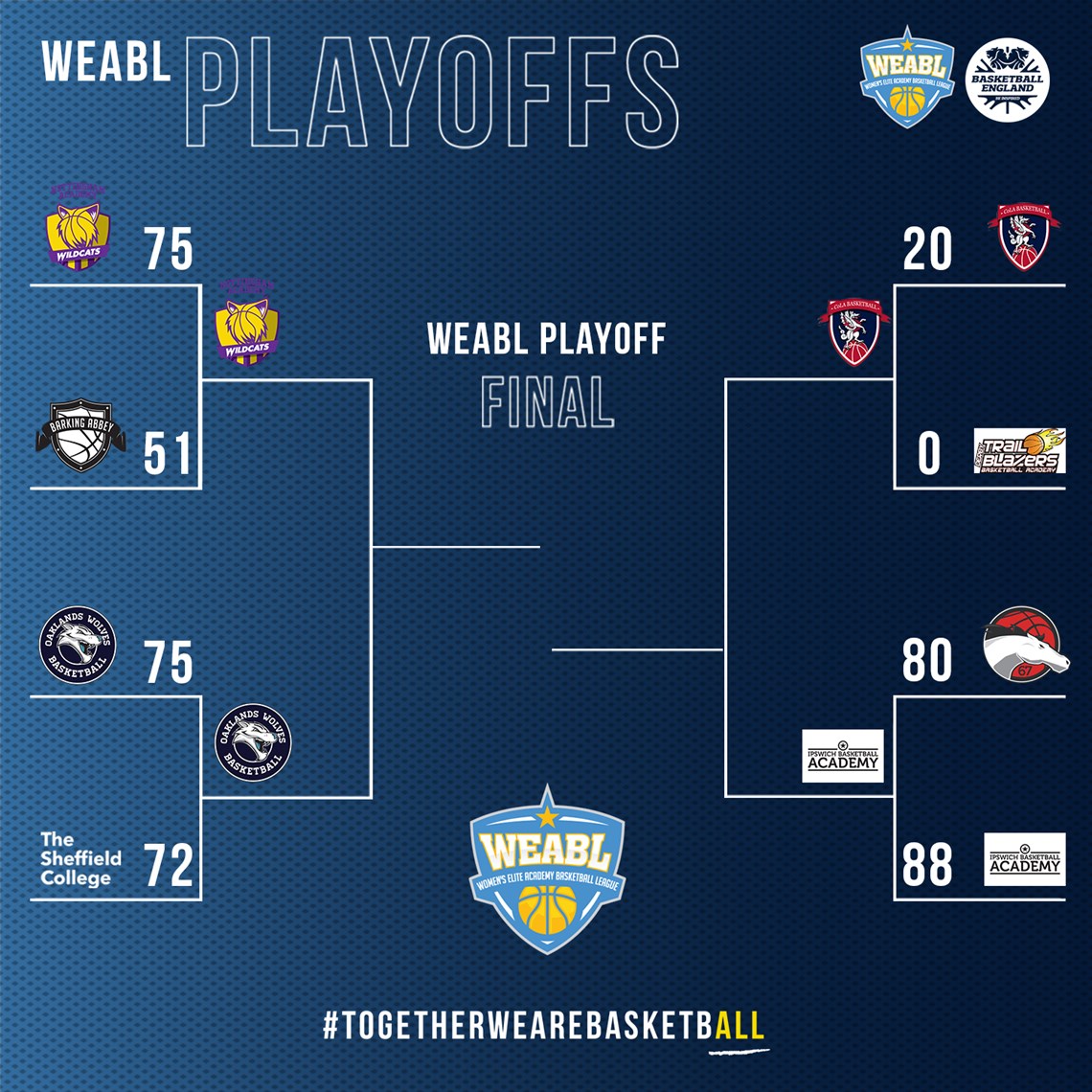 ABL
Former winners Haringey have been in cruise control so far, with a pair of 26-point wins.
They take on Northolt High School, with the #4 seeds taking the Western Conference with a 15-1 record before victories over Sigma 6 and HTS Storm.
Like Haringey, Dagenham Park are also continuing their perfect season, tacking a pair of playoff victories onto their 14-0 Eastern conference record.
The East London programme will host the 2019/20 co-champions New City College, who have so far beaten Stoke-on-Trent College and Aston Manor Academy.
Elite Eights recap on the ABL website HERE