Rebound's Chris Hughes was on hand during the Halloween weekend to look over seven spooky contests across D1M.
Chris, the All-Star organiser, content producer, YouTube host and producer, commentator and social media observer, was looking for standout performances for his Player of the Week award and four other high-quality players to make up his Team of the Week in the process.
Have your say on this week's choices and give a shout-out to the players you think deserve one using the hashtag #NBL2223 and #ReboundTOTW. Don't forget to tag us!    
Twitter:  @NBLengland / @Rebound__  
Facebook:  @NBLengland  / @ReboundNBL  
Instagram:  @nblengland / @reboundnbl  
How it works 
Chris will pick a Player of the Week and four other selections to round out his Team of the Week, paying attention to the following criteria:
Efficiency 

 

Stats 

 

Team and opposition strength 

 

Periods of influence in the game 

Being on a winning team (exceptional performances from players on losing teams will be considered for TOTW)
Other players will also receive a shout out as honourable mentions at the bottom of the piece.
The Rebound Team of the Week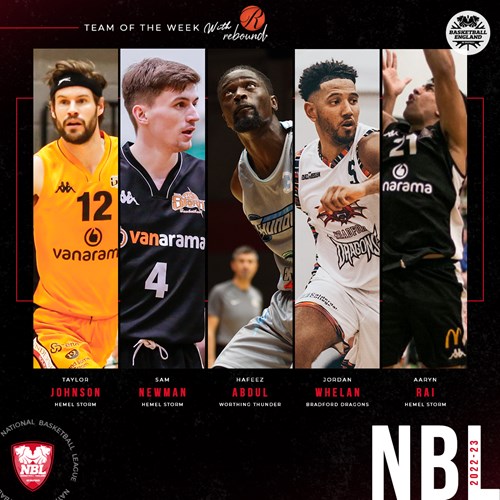 PLAYER OF THE WEEK
Taylor Johnson  – Hemel Storm, guard
27PTS, 12REB, 7AST, 3STL, 37EFF
Big stars always shine under the spotlight, so with the NBL Live crew streaming, Taylor Johnson, an All-Star MVP, put in a crowd-pleasing performance on his birthday weekend.
Johnson flirted with a triple-double as Hemel stormed to a 4-0 record, easily defeating Reading 103-79.
The American's efficient seven points in the third quarter helped high-scoring Hemel to significantly widen their 6-point half time lead by another 17 points, creating an advantage they'd never relinquish.
Sam Newman – Hemel Storm, guard
15PTS (5-5FGM), 2REB, 13AST, 3STL, 1blk, 30EFF
Sam Newman put on a show that was worthy of a 'Player Of The Week' award as Hemel eased past Reading this past weekend.
The talented guard did his bit to help his side to a smooth team shooting value of 59FG% with lights-out shooting and precision passing.
In a prolific third quarter, Newman contributed six dimes, including an alley-oop (that can be viewed below), as Storm put on an offensive masterclass to blow the Rockets out of the game.
Hafeez Abdul – Worthing Thunder, forward
29PTS, 9REB, 3AST, 3STL, 34EFF
Hafeez Abdul was just one board shy of a double-double in the road trip dub at Manchester.
Abdul put on a shooting masterclass in the paint by putting away his shots, as well as his freebies from the charity stripe after being fouled a game-high 10 times.
The Worthing fan favourite was a menace under the basket, pulling down eight offensive boards, as his rebounding former a key part of a team effort that ensured Worthing recorded 16 more second chance points than their opponents.
Jordan Whelan – Bradford Dragons, guard
36PTS, 5REB, 6AST, 3STL, 1BLK, 34EFF
Former Manchester Giants' star Jordan Whelan is at home in the NBL, putting together another stand-out performance on the road to keep Bradford just outside of the top-four spots.
Whelan put in a two-way performance of real quality, leading his side in points, assists and tied for steals and blocks in a stat filled performance as the Dragons beat Westminster 94-81.
Aaryn Rai – Hemel Storm, forward
25PTS, 11REB, 3AST, 32EFF
Aaryn Rai put in an efficient double-double performance on a day where Hemel almost outrebounded Reading two to one.
Rai's lights-out shooting (9-12FG) opened up the spacing for Seth Swalve, Sam Newman and Jack Burnell to go to work in a statement 24-point win.
Team Basketball
LOUGHBOROUGH RIDE OUT A SLOW START TO DEFEAT NEWCASTLE
Loughborough used a strong second and third quarter to turn an initial seven point first quarter deficit into a 27-point lead with 10 minutes remaining.
Shout out to Justin Hedley who recorded an unusual non scoring 11 rebound and 11 assist double-double.
The Riders' bench was on hand to add 30 points, ensuring it was a comfortable win against a talented and previously unbeaten Newcastle team.
DERBY BRUSH OFF The Cavs On The Road
Derby Trailblazers rode their starting five as the quintet all netted double digits scoring this weekend. That production allowed DTB to see off Thames Valley Cavaliers 89-74 and continue Derby's title aspirations.
Last season's NBL DPOY Raheem May-Thompson's 10 defensive rebounds, three steals and a game-high five blocks were one of the catalysts to the tough road W.
Honourable mentions
Ishmael Fontaine (WOR) – 21P/7R/3A/2S/29EFF
Justin Bessard (TSK) –  26P
Joshua Guddemi (NOT) – 24P/13R/4A/1S/2B/28EFF
Raheem May-Thompson (DTB) – 10P/12R/5A/3S/5B/24EFF
Justin Hedley (LOU) - 6P/11R/11A/3S/1B/25EFF
.
.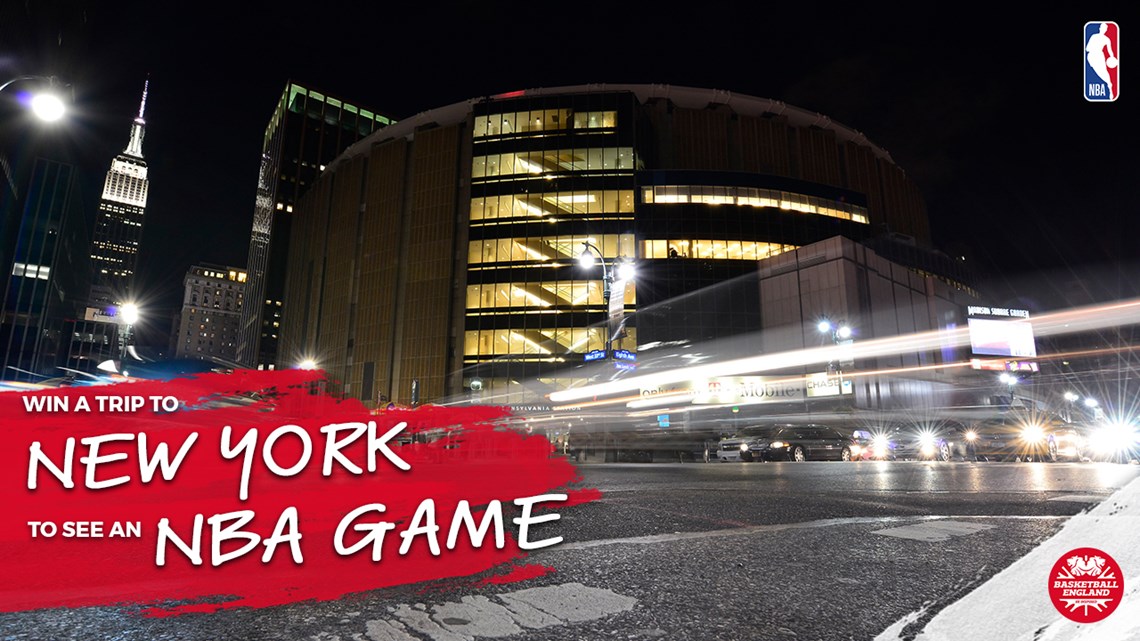 Join Basketball England for free and win a trip to New York City, courtesy of the NBA.
Whether you have a Supporter Account as a fan, follower, enthusiast or advocate, or a Full Account and have paid for a licence to play, coach or officiate in competition, you can enter our prize draw.
Basketball has the power to change lives. Our #GameTime campaign aims to raise awareness of the positive impact that basketball can have on people no matter who they are or where they are from.
.
.
Main image credit - Joanne Charles
Graphic image credits - Nick Winter, Joanna Charles, Harry Collins