Team England continued their 3x3 preparation for the Birmingham 2022 Commonwealth Games this weekend with another tough European test.
And there were important performance takeaways for both the men's and women's teams on both days of the Big Twelve International 3x3 Tournament for National Teams in Voiron, France.
With temperatures in the low 30s, the music pumping and punters engrossed - 3x3 basketball as it was intended - Team England women started day two of the tournament with an emphatic OT win over Italy, who they lost to in the same way only 24 hours earlier. 
Excellent defence and clutch two-pointers
Women's head coach Stef Collins said before the game her team would bounce back and they did in gritty fashion.
Up 16-20, the Azzuri looked set to win the game in regular-time. They only had to score once more to do the double over England, but some excellent defence from Shanice Beckford-Norton, Abby Lowe, Cheridene Green and Hannah Jump, plus two clutch two pointers from Green and Jump pulled them back level and forced OT.
From there, Beckford-Norton and Green teamed up to assist each other with a score a piece and sealed the win for England.
In their second match up, they pushed eighth in the world USA all the way, but lost by a single point. 
The men started their day against the USA on the main court. The game initially started as tit-for-tat affair, but that eventually petered out when USA scored three 2-pointers to put them up 13-7, even Myles Hesson's six points in the last third of the game wasn't enough to get the team back in the game.
In their final match against a very well put together French team, England were much more composed and ferocious on defence. But with a couple of calls going the way of the French and not enough time on the clock to make amends for a few turnovers meant the lads missed out on what would have been a good scalp against a top 10 FIBA ranked 3x3 team. 
Day 2 results
Women's Saturday's play
England 22-21 Italy
England 15-16 USA 

Men's Saturday's play 
England 15-21 USA 
England 11-15 France 1​
Watch
Dispatching Portugal and France with ease
On the first day of competition, it was two-for-two for the men in Pool B, dispatching Portugal and France 3 with ease - the latter a dunk-contest between Kayne Henry, Jamell Anderson and Myles Hesson - to progress onto the semi-finals. However, it was deja-vu for head coach Julius Joseph's team, as they lost once again to a clutch two-pointer (the first time to Poland at the Europe Cup Qualifiers in Romania) from Italy 2 in OT. 
Hesson, Anderson, Andre Arissol and Orlan Jackman had the chance to win the game in normal time, but Italy 2 snuck a two in before the regular-time buzzer and did the same moments later in overtime, sinking the hearts of English men.​
England women had a tough run of results in Pool B, losing their first game against France 21-12, even though they had made a promising start with key buckets from Cheridene Green and Hannah Jump, putting them up 7-3.
Against Italy, England dug themselves out of an almost 10-0 deficit to push the Azzuri into OT - like the men, a two-pointer won Italy the game 18-17. Finally, England women came off the courts with their heads held high after pushing 9th seed in the world Spain all the way in an 18-21 loss.
Team England 3x3 Women head coach Stef Collins reflection of day one: 
"We had some difficult results. We played a very physical and talented France team, who rattled us a bit physically and we never found our groove in that game. Italy started in the same way and we nearly went down by as much as double digits, but managed to claw ourselves back into the game, forcing overtime. 
"Spain are predominately one of the better teams in Europe and in the world, and, as they were the third game in the day, it was always going to test us mentally and physically, and getting used to playing outside again [after being inside in Serbia], and in the heat. I'm pleased with where the girls are going. There's still a lot to work on and improve, but we're ready to take on the next phase of this competition."
Team England 3x3 Men head coach Julius Joseph reflection of day one: 
"This is part of the preparation and we need to make sure we're learning from these experiences. When you're up by a point and you've got the ball, and there's 13.5 seconds left on the clock and the shot clock is 12; mathematically, you just hold the ball and take your chances with the remaining 1.5. 
"[The players} don't want this type of disappointment again, and obviously I don't. We move onto the next one. We got two tough games tomorrow, so no time to lick the wounds, but saying that we had two quality performances early on - you have got to take the positives away, as well."
Day 1 results
WOMEN'S FRIDAY'S PLAY (POOL B)
England 12-21 France 2
England 17-18 Italy 
England 18-21 Spain
MEN'S FRIDAY'S PLAY (POOL B)
England 21-11 Portugal 
England 22-14 France 3
Semi-final - England 13-15 Italy 2
Doing battle before Birmingham 2022
After travelling to Serbia last weekend to take part in the Belgrade 3x3 National Teams Tournament, the women's and men's teams are in Voiron, France this week to do battle in the Big Twelve International 3x3 Tournament for National Teams on Friday and Saturday. 
Head coaches Stef Collins and Julius Joseph have named five-player rosters for the competition, which features a host of teams heading to the FIBA 3x3 World Cup the following week. It includes the likes of USA – women's Big Twelve champions last year – France and Italy, plus Commonwealth Games rivals New Zealand and Canada. 
Following positive performances in Belgrade, where England's women finished third and the men sixth, the coaches will continue to assess their options ahead of final confirmation of their squads for the Games later this month. 
The players, meanwhile, will continue to build their 3x3 experience against top-quality opponents with the aim of being on the final four-player rosters selected for the Games 3x3 competition, which takes place from July 29 to August 2.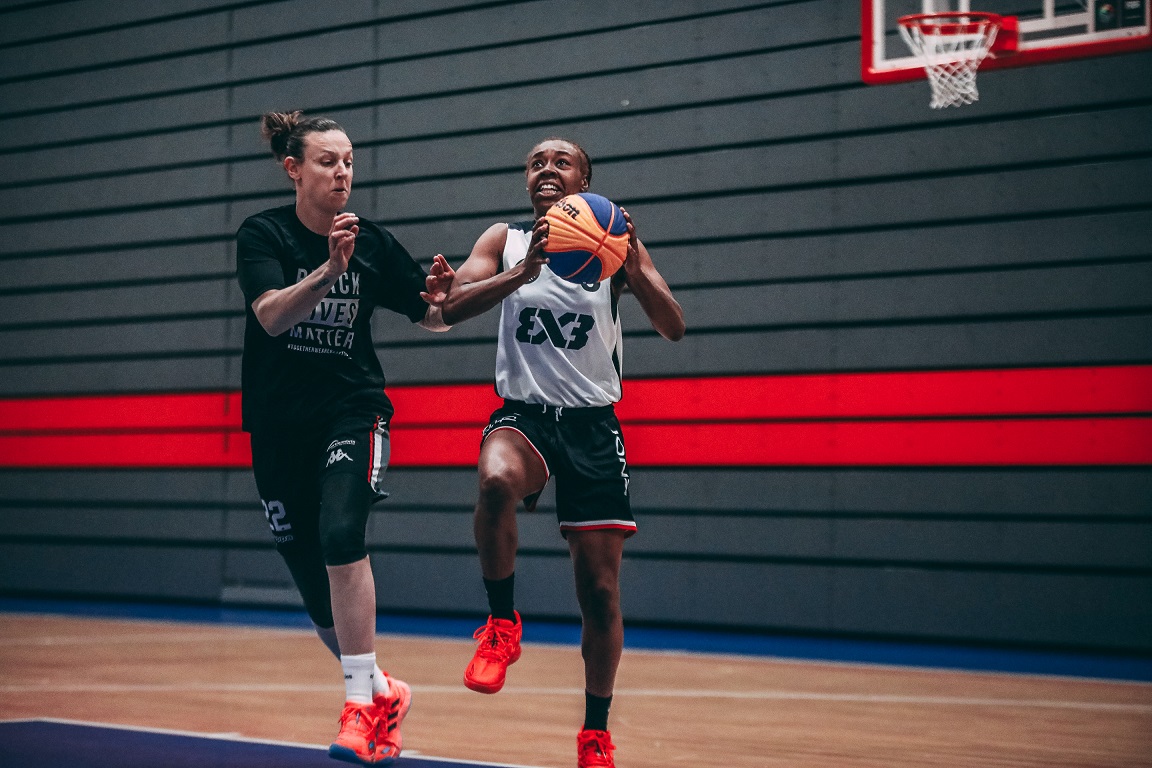 Big Twelve squads