The playoff fields for the Elite Academy Basketball League (EABL), Women's Elite Academy Basketball League (WEABL) and College Basketball League (CBL) are complete with Elite Eight ties set to get underway on Wednesday.
Teams in the two elite academy leagues plus the newly-configured Tier 2 of the CBL, representing the best U19 talent in the country, are targeting places in the semi-finals and ultimately the finals on Wednesday 29 March 2023 at Manchester's National Basketball Performance Centre.
Here's how the seeded brackets line up as we await the action getting under way.
Last season's beaten finalists Myerscough will try to use their #1 seed in the North to go one better this year. They'll start their playoff journey against The Canterbury Academy, who have made the playoffs for the first time since 2019/20.
South champs Barking Abbey have a home tie with North #4 seeds Derby, with Barking looking to claim their first solo title since 2017/18 (BA were joint winners with Myerscough in the 2019/20 COVID-affected season).
The Manchester Magic Academy are on the road to South runners up City of London Academy – Southwark, with the winner getting to take a shot at either Myerscough or Canterbury.
Defending champs Charnwood still have the ability to repeat their success of a year ago, but first they'll have to navigate a challenge from South #3 seeds Itchen College.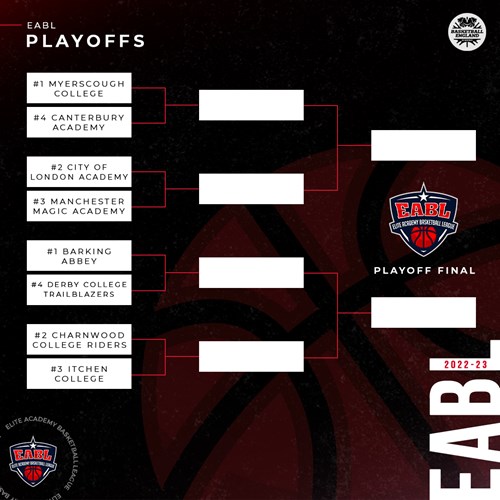 North conference top dogs Nottingham Academy Wildcats have a home tie with South #4 seed Itchen College, whilst South winners and defending WEABL champs City of London Academy – Southwark will host #4 Sheffield College as CoLA look to try and secure a record fourth title.
There's a repeat tie from last season's Elite Eights as Copleston take on Charnwood. The Riders were a #2 seed a year ago with the Suffolk programme finishing third in the South, but this time around the roles have been reversed.
Copleston sprung the upset in 2021/22, winning 88-80 on the road, so no doubt the Riders will have some extra motivation for this one.
Battling it out for a chance to face either CoLA or Sheffield, North conference runners up Manchester Mystics Academy have a home game with South #3 seeds Oaklands College, who went all the way to the Final Fours last year before losing to eventual finalists Nottingham.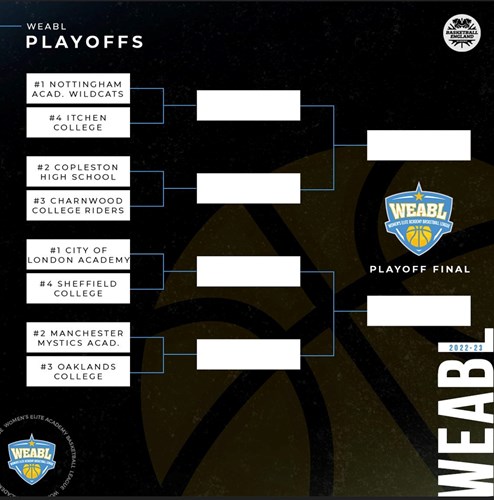 There's plenty to get excited about across the CBL's Elite Eight match ups.
#1 seeds Shenley Brook End get reacquainted with Group A neighbours Carmel College, who they've beaten twice already during the regular season.
#2 seeds Bracknell and Wokingham face a visit from #7 seeds Holy Trinity, whilst #3 The Crest Academy will need to be wary of Nottingham after their momentum-boosting win this week.
#4 Haringey Sixth Form College against #5 New City College is a repeat of the 2019/20 ABL final, which sadly didn't take place due to the start of the COVID pandemic as both teams were named co-winners.
They're two teams who always match up well against each other, and that game should be well worth watching.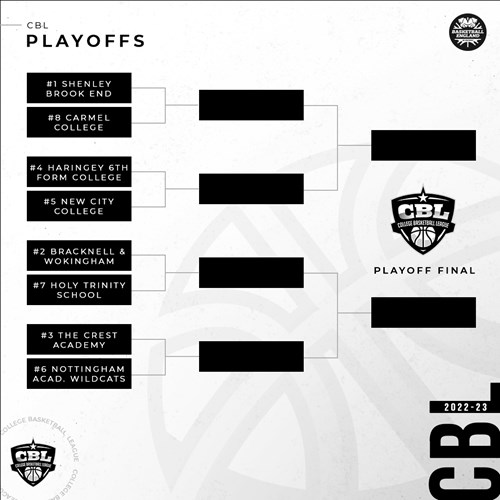 Finals
Tickets to attend the final on Wednesday 29 March are free, but still need to be purchased for capacity reasons.
To secure your ticket, please head to the Basketball England shop by clicking here.
.

Join Basketball England for free. Whether you have a Supporter Account as a fan, follower, enthusiast or advocate, or a Full Account and have paid for a licence to play, coach or officiate in competition, you can be part of the basketball family.
Basketball has the power to change lives. Our #GameTime campaign aims to raise awareness of the positive impact that basketball can have on people no matter who they are or where they are from.
.