Rebound's Chris Hughes is back with his NBL1 Player of the Week - plus four others to make up the Team of the Week.
Chris, the All-Star organiser, content producer, YouTube host and producer, commentator and social media observer, had eight games to look over across the weekend, and with so many games to choose from, he didn't have a shortage of worthy candidates.
While Hemel Storm were busy winning the KitKing Trophy against Worthing Thunder, some new faces made their presence felt in league play to earns spots in the Team of the Week.
Have your say on this week's choices and give a shout-out to the players you think deserve one using the hashtag #NBL2223 and #ReboundTOTW. Don't forget to tag us!    
Twitter:  @NBLengland / @Rebound__  
Facebook:  @NBLengland  / @ReboundNBL  
Instagram:  @nblengland / @reboundnbl  
How it works 
Chris will pick a Player of the Week and four other selections to round out his Team of the Week, paying attention to the following criteria:
Efficiency  
Stats  
Team and opposition strength  
Periods of influence in the game 
Being on a winning team (exceptional performances from players on losing teams will be considered for TOTW)
Other players will also receive a shout out as honourable mentions at the bottom of the piece.
The Rebound Team of the Week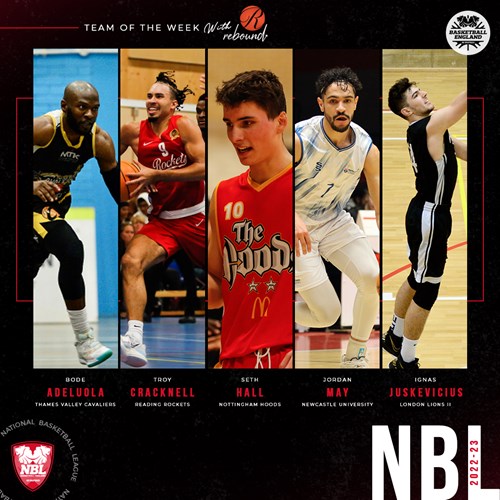 player OF THE WEEK
Bode Adeluola – Thames Valley Cavaliers, guard 
32PTS/5REB/8AST/1TUR/37EFF v BRA 
26PTS/6REB/7AST/4STL/24EFF V LL2
Bode Adeluola put on a double-header masterclass with two strong playmaking and shooting performances. From inside the arc he was a walking bucket, making eight of his 12 attempts in both games. In both 13-point wins he led his team in scoring, while also dishing out plenty of assists, to ensure it was a 2-0 weekend for the Cavs. 
In the statement 30-19 third quarter versus the Lions on Sunday, Adeluola influenced the proceedings with eight points and plenty of eye-catching assists. His influence was greatest in the statement 29-22 third in the win versus Bradford, with 13 points and three assists.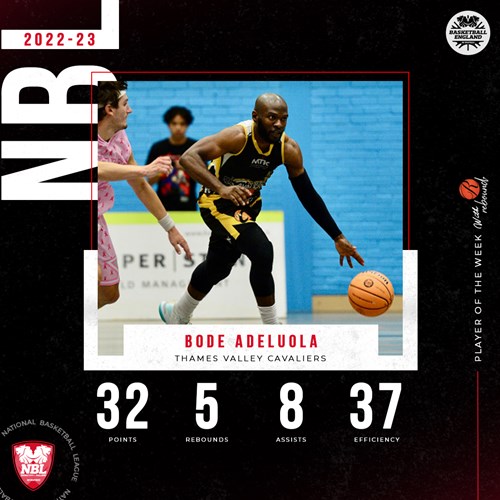 Troy Cracknell – Reading Rockets, guard 
28PTS/19REB/3AST/1TUR/3STL/41EFF  
Cracknell put on a performance worthy of a Player of the Week award with the only caveat being it was against 14th placed Westminster. The American's performance was a catalyst in the win, firing the Rockets into the top four and potentially condemning the Warriors to relegation. 
Cracknell got off to an impressive start with 10 points in a tone-setting 30-15 first quarter. The margin from the first period set the game in favour of the hosts, who saw out a 15-point win. 
Seth Hall – Nottingham Hoods, guard
19PTS/2REB/2AST/1BLK/13EFF @NEW 
27PTS/7REB/7AST/1TUR/1STL/32EFF V NEW 
It was a tough double-header between Nottingham and Newcastle in which both teams won their home tie - with Nottingham getting the two-point edge in terms of the tiebreaker between the sides.
Hall's shooting, especially from the line, contributed to Nottingham grabbing that head-to-head overall.
The sharp-shooting guard was making bullseyes at an efficient rate with a 50 3P% in both games. In the second game of the pair, Hall was repeatedly fouled and sent to the line, from where he made all but two of his free throws. 
Jordan May – Team Newcastle University, guard 
30PTS/4REB/3AST/3STL/29EFF V NOT
20PTS/5REB/4AST/2STL/12EFF @NOT
May was consistently strong in both games, leading the scoring for for his side and facilitating with a strong passing performance, averaging only 2.5 turnovers over the weekend. 
Whilst a number of Newcastle players have stepped to the fore in recent weeks, May remains an important part of the North East side's offence, and he'll no doubt be key if coach Elderkin's side are going to maintain their place in the top eight.
Ignas Juskevicius  – London Lions II, centre

 
21PTS(9-14FGM/3-4FTM)/8REB/1AST/1BLK/24EFF V ESS 
15PTS(5-6FGM/5-6FTM)/9REB/3STL/1BLK/26EFF @TVC
In two 20-something-minute cameos, Lions' centre Juskevicius put in two highly efficient performances to help his side get a closely fought win on Saturday and limit the damage on the defensive end in the tough loss on Sunday. 
It was Sunday's two-way performance that stood out for me despite the result, with four stops individually alongside personal contributions on the defensive end to keep it as close as possible against an in form Cavaliers side.
Offensively on Sunday, it was a lights-out shooting display, with just a single missed free throw and field goal, capping off a fine display. 
Team basketball 
CAVS COMING ON STRONG 
Thames Valley are finding some form as the current ninth seeds eye a play-off spot, a winning double header puts them one win away from a place in the top eight.
With Loughborough in fifth down to Nottingham in tenth separated by just two points, the margins for error are razor thin right night and any team in that pack will fancy their chances of sealing a playoff spot.
It was the TVC guards that really impressed me this weekend, putting in strong shooting performances to seal what could be a valuable pair of wins.
DERBY ON THE RIGHT ROAD 
Derby travelled to the South Coast to shore up a top-four spot against a Solent side who, on their day, can mix it up with the best of D1. Derby's efficient shooting from the line, defensive stops and reducing Solent to only five points from turnovers was a good enough mix to get DTB the win.
Derby showed a clinical nature in turning defensive into offense with 18 points from Solent's turnovers, added to a plethora of fast break points.
Honourable mentions to Derby's playmakers Bruggeman and Brown who combined for 10 assists and two steals with just three turnovers. 
Honourable mentions 
Joshua Guddemi (NOT) – 15P/3R/1S/4EFF & 29P/13R/5A/2S/1B/32EFF BOTH V/@ NEW
Victor Olarerin (TVC) – 26P/3R/7S/24EFF & 18P/6R/1A/1S/18EFF 
Raheem May-Thompson (DER) – 21P/8R/1S/2B/22EFF 
Josh Moore (NEW) – 13P/6R/5A/1S/29EFF & 17P/12R/8A/2S/25EFF BOTH V/@ NOT
Owen Chose (ESS) - 34P/5R/3A/1S/31EFF 
.

Join Basketball England for free. Whether you have a Supporter Account as a fan, follower, enthusiast or advocate, or a Full Account and have paid for a licence to play, coach or officiate in competition, you can be part of the basketball family.
Basketball has the power to change lives. Our #GameTime campaign aims to raise awareness of the positive impact that basketball can have on people no matter who they are or where they are from.
.