There was plenty to enjoy in Week five, with some high-quality Academy performances across the country.
The slate consisted of a quartet of EABL games and three more WEABL contests as teams continue to work through the early season schedule.
Have your say on this week's picks and give a shout-out to the players you think deserve one using the links below.
X:  @Academybballeng
Facebook:  @Academybballengland
Instagram:  @Academybballengland
How it works 
Player of the Week will be selected by paying attention to the following criteria:
Efficiency  
Stats  
Team and opposition strength  
Periods of influence in the game 
Being on a winning team (exceptional performances from players on losing teams will be considered)
Other players will also receive a shout out as honourable mentions as well.
WEABL 
Charnwood's Erin Powell has had a firm grip on the WEABL accolades so far in 2023/24, and although the Riders' star was still a standout in week five, she was pipped by another North conference player who put in a strong outing.
Helping her side to a 99-75 home win against The Sheffield College, Manchester Mystics' Elizandra Costa has earned the latest WEABL Player of the Week award.
Costa dropped a team-high 20 points on 10/17 shooting, with her 0/6 3pt shooting the only thing to pull down an otherwise fine performance.
With eight assists, five steals and three rebounds, Costa did more than enough to overcome her long range shooting woes, finishing with a solid 27 efficiency rating.
Following the game, Costa said: "Sheffield tested our mental toughness and physical strength as they were tough and aggressive, they constantly found ways to close the gap in the score.
"As the game progressed, we started to play better as a team. We communicated better and raised our intensity defensively, allowing us to get some quick scores which allowed us to put the game out of reach."
Mystics head coach Rob Fairley added: "I'm really happy for Ellie, she's been working hard to develop her skills as a point guard.
"As a quick skilful player, its often tempting to try to take everyone on, but over the recent weeks Ellie has really worked on controlling the tempo of a game, getting her team mates involved and making the right plays.
"This past week's performance, highlighted by eight assists, really shows her improvement in this area.
"I'm looking forward to see her progression as a lead guard over the coming years."
Honourable mentions
Erin Powell (CHA) - 25P/10R/4A/28EFF
Louise Fisher (CHA) - 15P/16R/3A/16EFF
Stephanie Oliver (SHE) - 31P/11R/4A/29EFF
Elia Ando (JMA) - 26P/19R/2A/2S/23EFF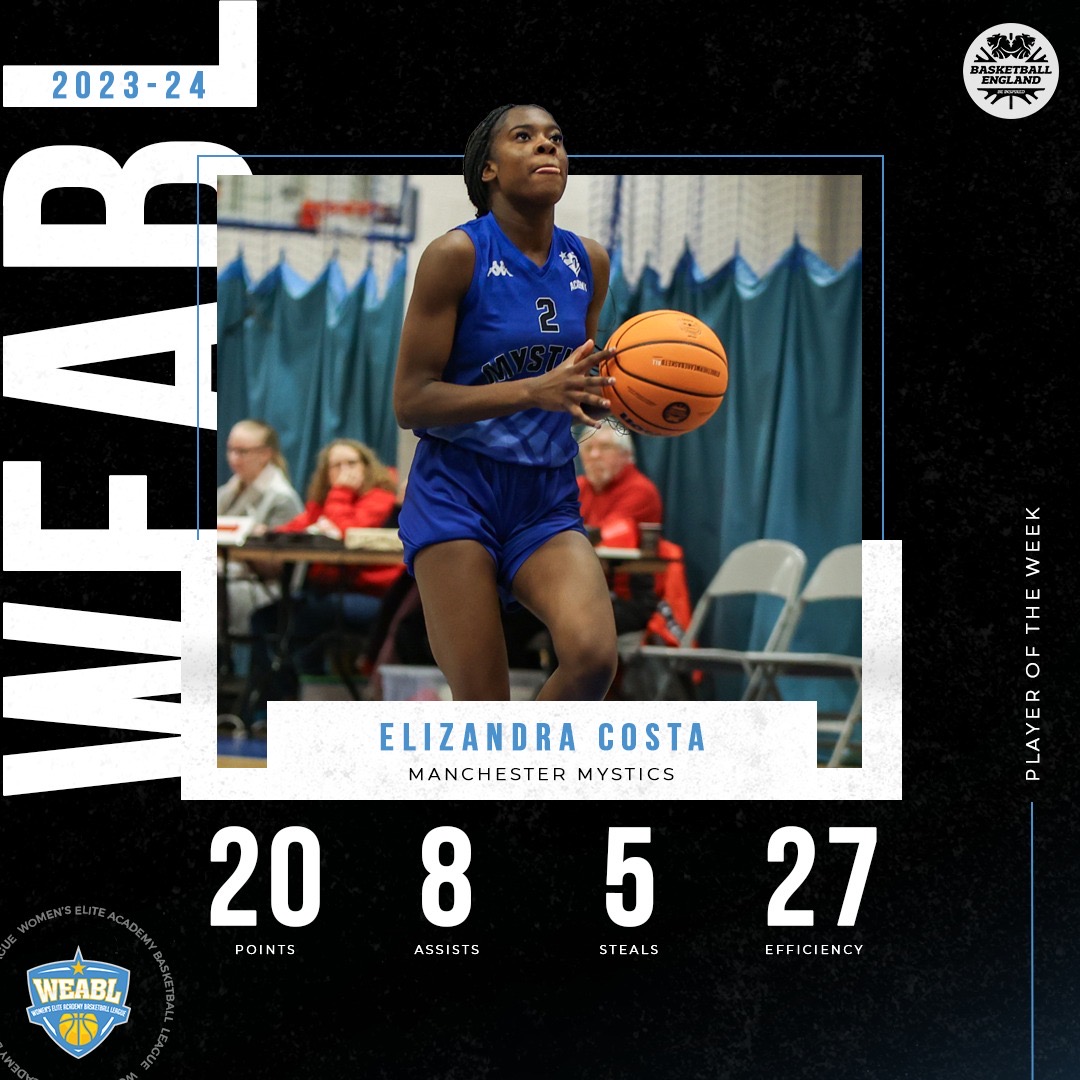 EABL
The Canterbury Academy are enjoying a strong start to the season in the South conference, and it's no surprise to see them providing plenty of contenders for the EABL weekly awards.
After a second win of the season for Tim Oboh last week, it's the turn of another Crusaders to get the nod in week five, with Ludlow Hewson stepping to the fore.
Hewson played the full 40 minutes in the 68-63 road win against Itchen, scoring a game-high 29 points and making a huge difference in a low-scoring contest.
Hitting five triples, the Kent standout also pulled down five rebounds, dished a pair of assists, nabbed four steals and was fouled seven times for a final efficiency rating of 21
After the game, Hewson said: "I'm very grateful to be receiving this award , super proud of how the guys responded after being down at the half, and their ability to stay relaxed and make plays in such a pressured environment.
"Credit goes to the coaches who recreate this pressured atmosphere every time we step on court , and is what I believe helped us come out on top."
Canterbury head coach Adam Davies added: "Ludlow fully deserves this award. He put the team on his back at times and carried us.
"At the end of the first period he hit two huge threes to help build confidence, then in the third made some big baskets to narrow the difference after being down as much as 12.  Then in the fourth he took two chargers down the stretch, putting his body on the line for the team.
"These awards also mean a lot to the programme, confirming that we must be doing something right for player development and preparing athletes to perform at a high level."
Honourable mentions
Isaac Thorpe (DTB) - 37P/3R/7A/3S/44EFF*
Oscar Curran (CHA) - 9P/7R/4A/5S/3B/20EFF
Will Taylor (ITC) - 14P/12R/4B/21EFF
Isaac Round (JMA) - 22P/7R/5A/26EFF
Harry Milbank (JMA) - 23P/5R/2S/20EFF
Bolade Egbeyemi (BAR) - 18P/4R/2A/17EFF
* stats submitted after weekly cut off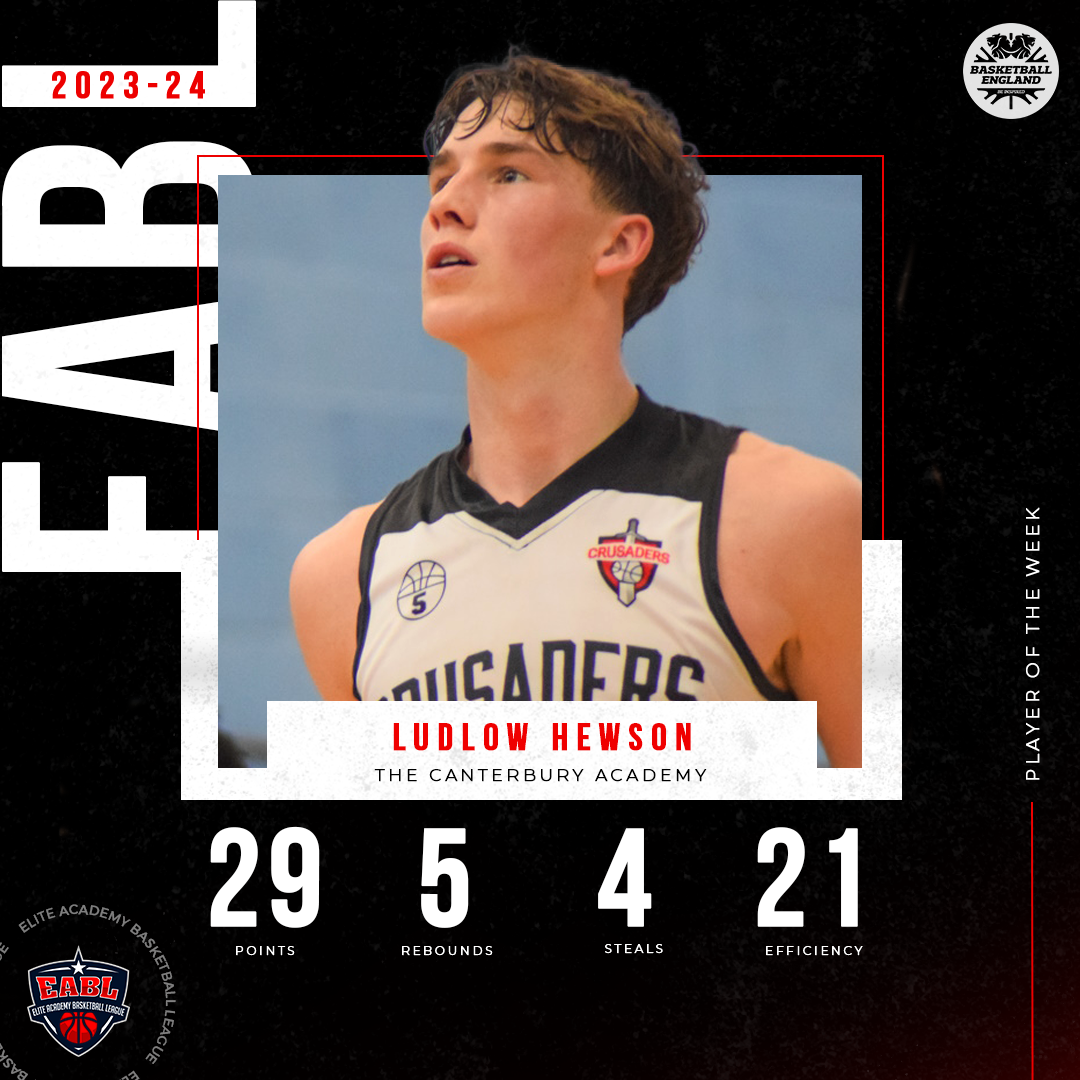 .
.
.