The latest draws for the NBL and WNBL National Cups have now been confirmed.
The NBL National Cup is moving into the round of 16, with eight ties to be concluded across the weekend of 2 and 3 December 2023.
The WNBL National Cup has reached the quarter-final stage, with four exciting games to be played by the end of this month.
In addition, the Jnr. NBL Sure Shot Cups are also progressing, with the U18 and U16 competitions all at various stages as we move towards January's finals.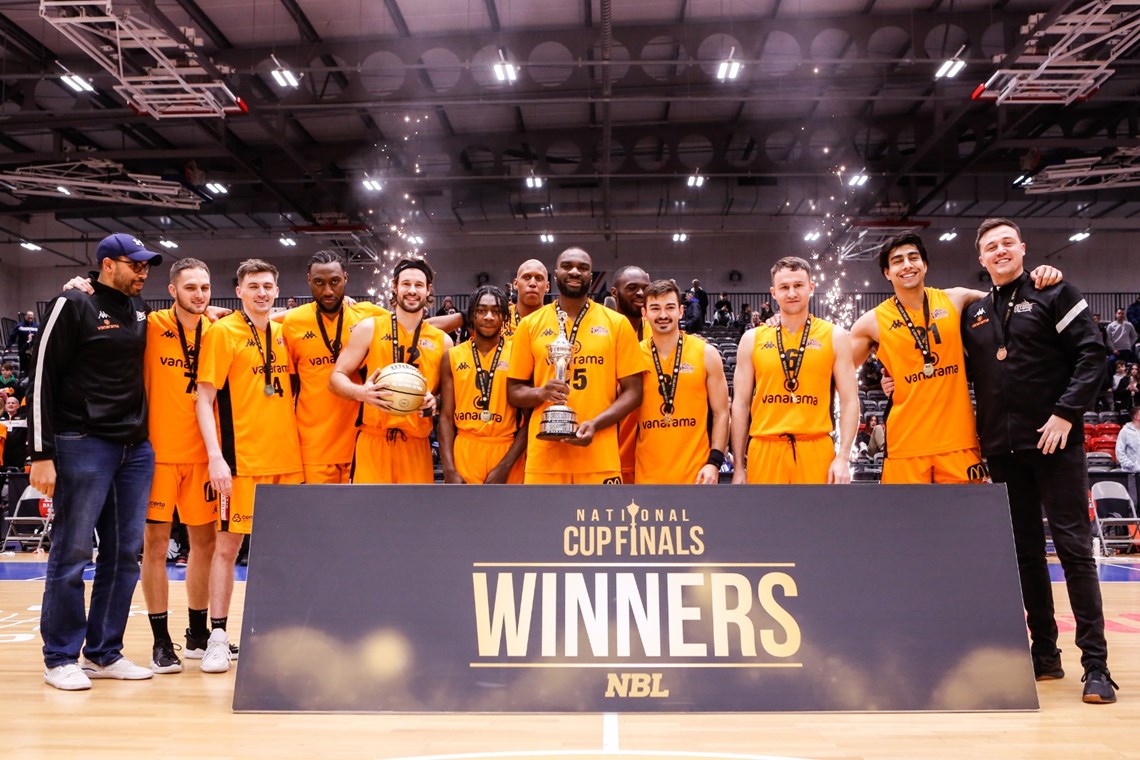 NBL
Reigning champs Hemel Storm have a tough road game away to Worthing Thunder in a repeat of the 2022/23 D1M playoff final.
Last season's Cup finalists Derby Trailblazers currently top D1M are away to 2015/16 winners Manchester Magic, whilst much-fancied D2 outfit Milton Keynes Breakers are at home to Nottingham Hoods.
The only remaining unbeaten top flight team, Reading Rockets, are at home to D2 side Greenwich Titans, and Thames Valley Cavaliers have a chance to put their struggling league form to one side and focus on a home tie with Barnet Bulldogs.
London Elite and CoLA both progressed following local derbies in the last round and are rewarded with another all-capital affair.
Newcastle University are at home to Bradford Dragons in an all-D1M battle, and D3 side Canterbury Academy Crusaders will be able to test themselves against Essex Rebels.
WNBL
Four quarter-finals await, with a pair of D2 sides mixing it against top flight opponents combined with two all-D1W clashes.
Last season's winners Thames Valley Cavaliers have the tough task of taking a trip to the only remaining undefeated side in D1W, Brent Bulls.
City of Birmingham Rockets will face a tricky test from the veteran know-how of Sheffield Hatters II, who won the second-tier playoffs a year ago and look more than capable of upsetting the D1 Rockets.
Worcester Wolves will also be hoping that home court advantage is enough to overturn D1W's Reading Rockets, especially since the Berkshire side are in the midst of a three game losing streak as things stand.
That just leaves a much-anticipated clash between CoLA Southwark Pride and Endeavour Ipswich Basketball, with the pair playing out a thrilling 102-95 CoLA OT victory last Sunday.
Jnr. NBL Sure Shot
National Cups
London Elite's defence of their U18 Men's title is still alive, with that competition reaching the last 16 to be played this weekend (19/11).
That includes a choice match up between Milton Keynes and Sheffield Elite, plus a local derby between Islington Panthers and CoLA Southwark Pride.
The semi-finalists for the U18 Women's competition have already been confirmed, with holders Endeavour Ipswich Basketball plus Milton Keynes, CoLA Southwark Pride and Manchester Mystics all just one game away from January's final, with the draw still to take place.
In the U16 Boys draw, another eight games are scheduled this weekend, including defending champs Manchester Magic at home to cross-Pennine rivals Sheffield Elite, and Eastern Premier leaders Haringey Heat are at home to West Herts Warriors.
The U16 Girls are at the quarter-final stage, with all four ties to be resolved this weekend.
Current champs Manchester Mystics are taking the next step in their Cup defence at home to MK Breakers, whilst last season's Junior Final Four finalists Richmond Knights have a tough trip to Team Solent Kestrels.
NBL draw - to be played on 3/12 unless stated
Newcastle University vs Bradford Dragons
Manchester Magic vs Derby Trailblazers
Milton Keynes Breakers vs Nottingham Hoods
26/11 - Worthing Thunder vs Hemel Storm
Reading Rockets vs Greenwich Titans
Thames Valley Cavaliers vs Brent Bulldogs
Canterbury Academy Crusaders vs Essex Rebels
London Elite vs CoLA Southwark Pride
WNBL draw - to be played on 26/11 unless stated
City of Birmingham Rockets vs Sheffield Hatters II
Worcester Wolves vs Reading Rockets
Brent Bulls vs Thames Valley Cavaliers
CoLA Southwark Pride vs Endeavour Ipswich Basketball
For more information, including the full Jnr. NBL draws and the most up to date list of fixtures as games are confirmed, head over to the NBL Scores & Schedules section using the button below.
.