The EABL and WEABL have started once again, but some players are already in red-hot form.
Six EABL fixtures played out, with three games in the North and three in the South, whilst the WEABL action was purely in the South conference with a pair of games.
Some players have wasted no time in getting straight into mid-season form though, putting up quality stat lines as part of impressive team wins from the get-go.
Have your say on this week's picks and give a shout-out to the players you think deserve one using the links below.
X:  @Academybballeng
Facebook:  @Academybballengland
Instagram:  @Academybballengland
How it works 
Player of the Week will be selected by paying attention to the following criteria:
Efficiency  
Stats  
Team and opposition strength  
Periods of influence in the game 
Being on a winning team (exceptional performances from players on losing teams will be considered)
Other players will also receive a shout out as honourable mentions as well.
EABL 
With six games to choose from, there were plenty of candidates for the first Player of the Week of the new season.
Multiple players put together stat lines worthy of consideration, but only one player could be selected, and that honour went to The Canterbury Academy's Tim Oboh.
The talented forward was in dominant form in his side's 77-71 win over JMA Rockets, leading the way with a game-high 27 points.
That output came on a highly-efficient 9/14 shooting performance (64%), also tacking on seven boards, two steals and a block. 
The Kent star held his nerve at the line as well, going 9/12 after being fouled seven times.
Following the performance, Oboh said: "I thank God, and I am especially grateful to my teammates for finding me at the right times.
"Lastly, I want to thank the coaches who were composed and gave me great advice. Hopefully this is one of many wins me and the guys can bring to Canterbury in the 'Final Crusade'."
Head coach Adam Davies added: "Tim had a fantastic summer and really put in the work to come back this season and be better.
"He showed in game one of the season he means business. Super proud of him on winning this award and the team for getting the win against a tough JMA team, everyone is playing for more than just themselves, we playing for the legacy of The Canterbury Academy."
Honourable mentions
Genti Cokaj (DER) - 20P/17R/2A/3S/25EFF
Oscar Curran (CHA) - 20P/4R/7A/4S/24EFF
Ludlow Hewson (CAN) - 16P/6R/7A/4S/24EFF
Femi Edu (COP) - 16P/16R/5A/5S/24EFF
Sam Wood (COP) - 18P/6R/23EFF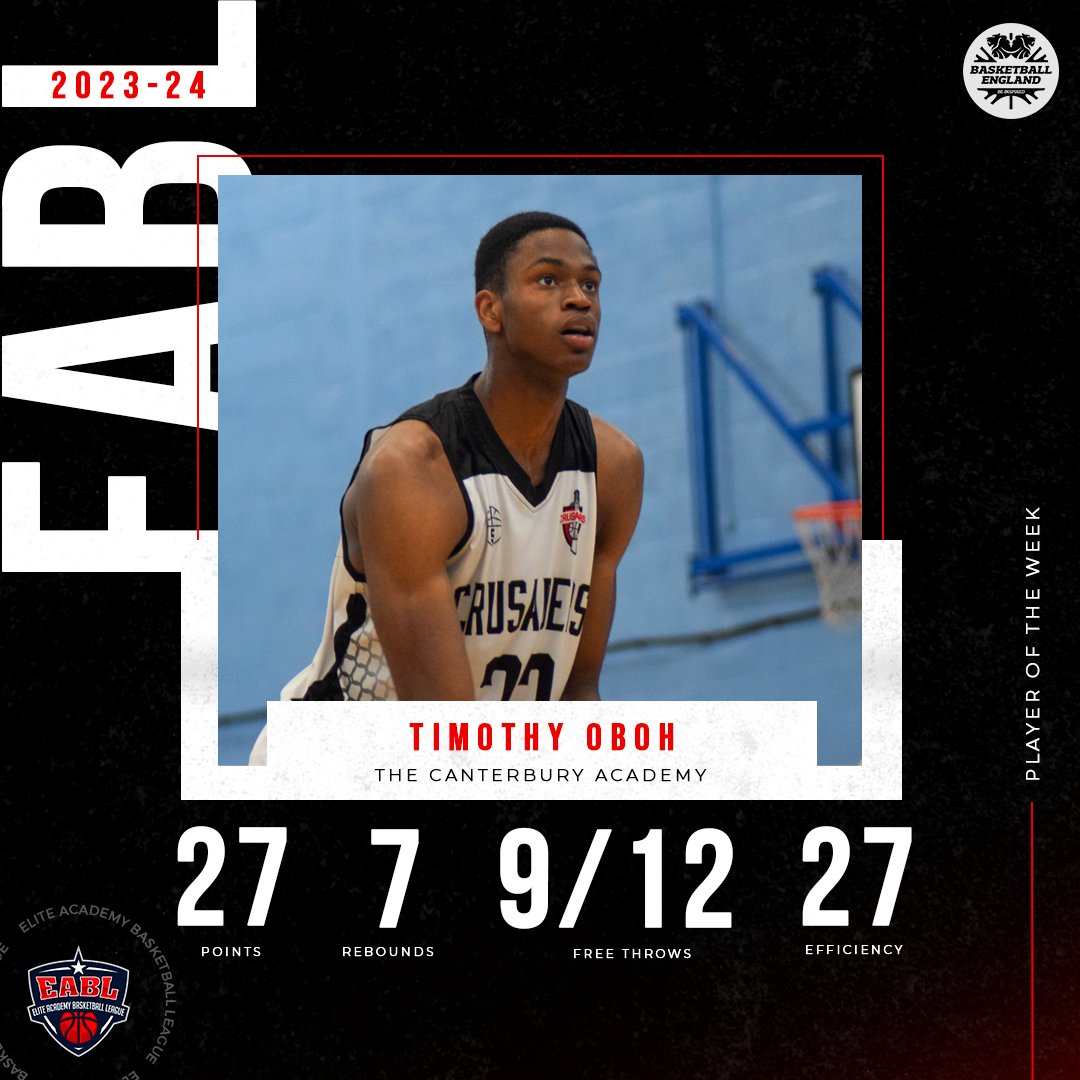 WEABL
The WEABL fixtures provided a smaller pool of potential selections, which shrunk further with the absence of one of the games from Live Stats.
Nevertheless, this week's winner was a worthy candidate and put up a stat line that was impossible to ignore.
Copleston's Yazmin Edwards played a big part in her sides 89-24 win over Oaklands College, including dropping a game-high 28 points.
The talented guard was efficient with the ball, going 8/8 from inside the arc and 3-6 from range for a 78% shooting afternoon that included just two turnovers.
Adding six boards and a stunning 10 steals, all in 23:06 of play, combined to make Edwards an easy selection for WEABL's opening POTW.
After her opening performance, Edwards said: "It was good to get up and running in the WEABL this season. It was a great performance by the whole team, and I'm pleased to share this award with them all."
Head coach Nick Drane added: "Yaz was excellent, as were all the girls. It was a great way to start the season, and a good opportunity to ensure everyone got some extended playing time."
Honourable mentions
Olivia Forster (COP) - 20P/4R/6A/3S/21EFF
Christabel Osarobo (COP) - 10P/14R/1A/1B/17EFF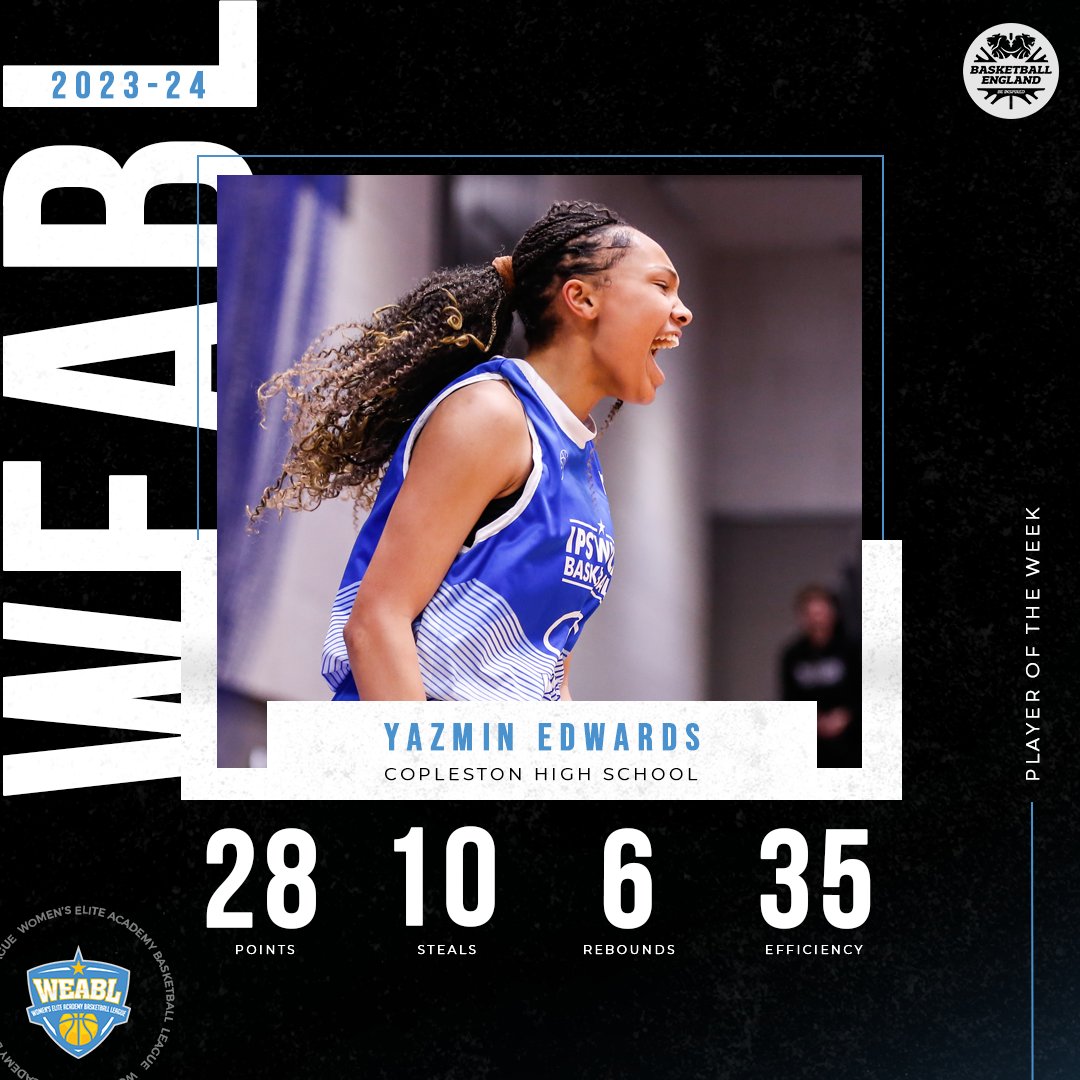 .
.
.