This week's Academy Player of the Week races might have been the closest yet, with plenty of worthy efforts to choose from.
With five EABL games and four WEABL contests, there was a sizable pool of candidates in both leagues to ponder on.
Still, there could only be one winner on either side, so read on to find out who got the nod.
Have your say on this week's picks and give a shout-out to the players you think deserve one using the links below.
X:  @Academybballeng
Facebook:  @Academybballengland
Instagram:  @Academybballengland
How it works 
Player of the Week will be selected by paying attention to the following criteria:
Efficiency  
Stats  
Team and opposition strength  
Periods of influence in the game 
Being on a winning team (exceptional performances from players on losing teams will be considered)
Other players will also receive a shout out as honourable mentions as well.
EABL 
It was always going to need something special to break Daniel Nwauzu's hold on the EABL award after his back-to-back wins, but last Wednesday produced just that in the South East.
Against defending champions Barking Abbey, Canterbury's Tim Oboh went off, playing a major role in securing an 89-77 victory for his programme.
The Team England forward was in sparkling form, dropping a game-high 31 points on a highly efficient 12/16 shooting performance, adding 15 boards, another game-high, for a sizable double-double.
Three steals helped the team's cause on defence and drawing six fouls meant Oboh spent plenty of time at the line, draining 7/8 shots from the charity stripe to make BA pay.
Another repeat winner after Oboh's EABL award in week one, the Canterbury forward said: "Firstly, I want to give all the glory to God. I also want to thank my teammates and coaches, since I could never have done this without them.
It was great to bounce back from our previous game, and as a team we look to continually improve."
Canterbury head coach Adam Davies added: "I'm happy for Tim to pick up his second Player of the Week award in three games.
"I'm super proud of the programme for once again showcasing that it can compete with the best and develop great players to a high standard.
"This is our Final Crusade in the league, Tim along with his teammates and our staff are making it a fun one."
Honourable mentions
Edward Oniya (CHA) - 22P/14R/1A/28EFF
Matt Goodwin (MAN) - 35P (No other stats)
Daniel Nwauzu (MYE) - 29P/11R/2A/34EFF
Isaac Round (JMA) - 22P/7R/9A/4S/30EFF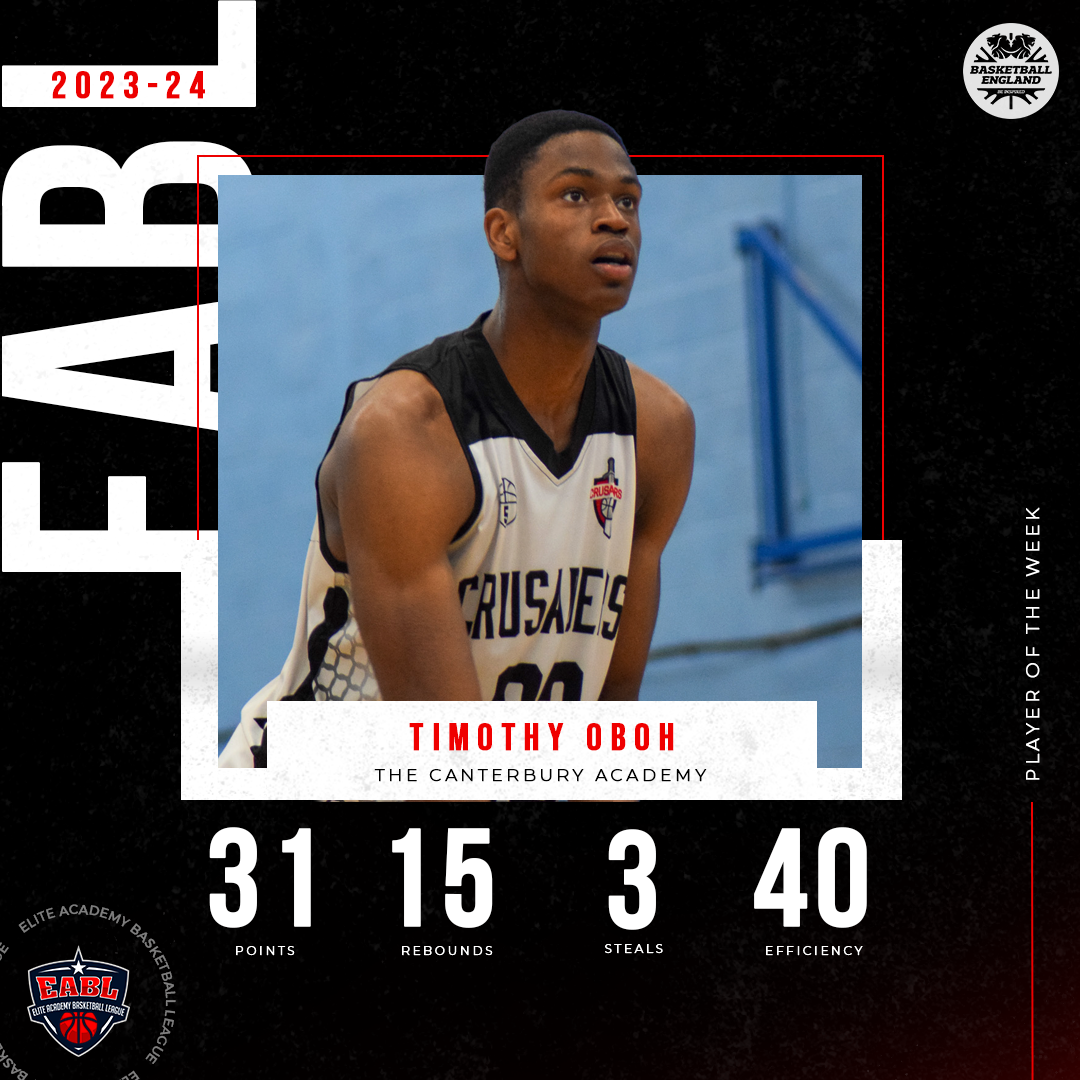 WEABL
Charnwood are doubling up, stringing together back-to-back impressive performances in the North Conference.
A big part of that has been the play of Erin Powell, last week's WEABL winner, and the talented guard is back for more after the Riders' commanding 115-44 victory over Sheffield.
Just as she did a week ago, Powell dominated the stat sheet in a number of areas to record the highest efficiency of all WEABL players.
Her 25 points only trailed teammate Louise Fisher's 29, but Powell sunk 11/14 from the floor, including 2/2 from beyond the arc for a 78% shooting performance.
Add in 10 boards for the double-double, six assists, four steals and a pair of blocks and it's easy to see how Powell racked up an impressive 42 efficiency rating.
After the game, Powell said: "This was another great team win for us. We bring the energy and support each other and that's why we have so much fun and have been successful so far.
"We help each other grow, hold each other accountable and we're always pushing to develop as a team and as individuals, putting winning first!"
Charnwood head coach Nick Moodey added: "It's great to see Erin get recognition and receive back-to-back Player of the Week awards. She had a very well-rounded performance against Sheffield and filled the stats sheet.
"Erin, along with the rest of the team, has been working hard the last couple of weeks and we are really starting to show growth both on and off the court."
Honourable mentions
Louise Fisher (CHA) - 29P/7R/2S/33EFF
Lauren Cooper (CHA) - 13P/8R/11A/2S/28EFF
Alexandra Hernandez (MAN) - 22P/2R/6A/3S/25EFF
Elizandra Costa (MAN) - 20P/4R/2A/6S/25EFF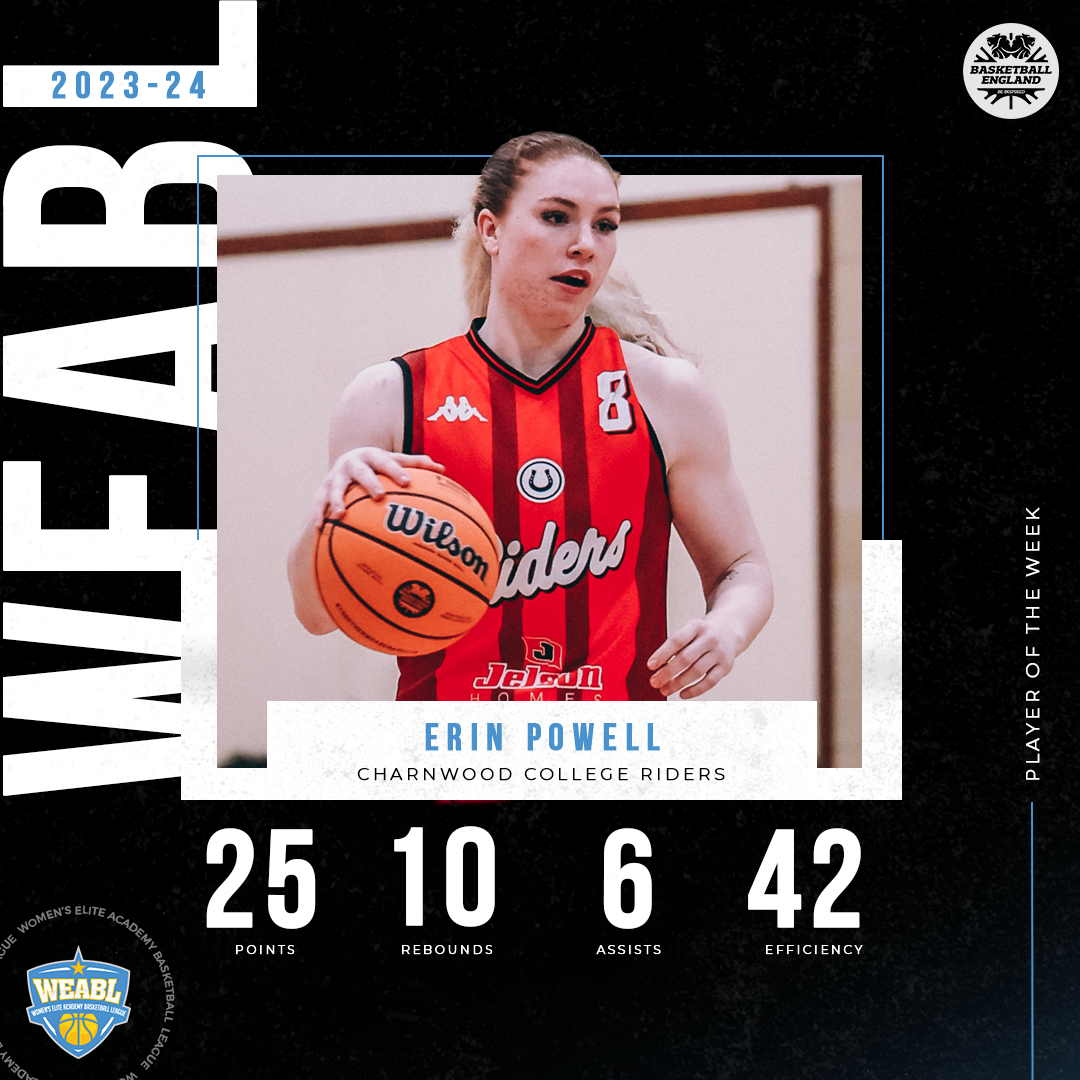 .
.
.