Little did Isra Mohamed know when she started playing basketball that an image of her donning the red of De Montfort University (DMU) would be hanging from the rafters at DMU's Queen Elizabeth II Jubilee Leisure Centre in Leicester.
Now, the graduate radiographer has a goal to inspire more women and girls into basketball, especially those that face challenges and access to sport.
"It is relatively uncommon to see a Muslim woman advocate sports, but it is my love and passion, and basketball is simply who I am," said the 22-year-old.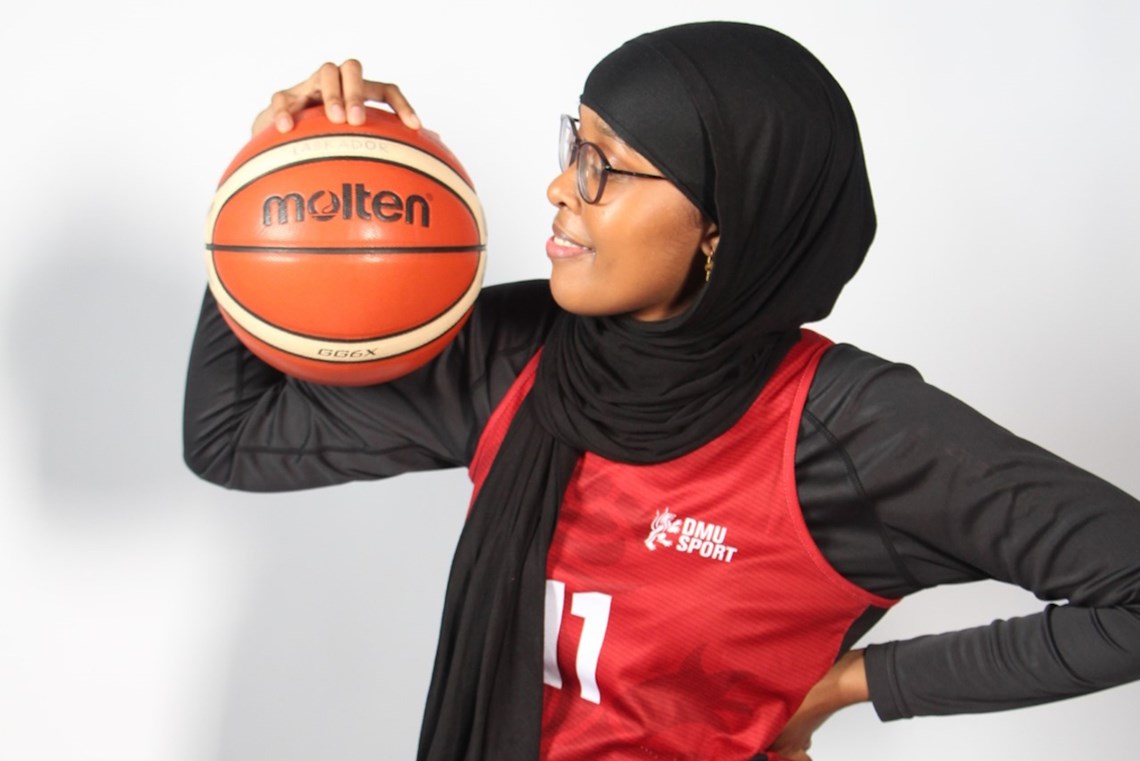 Hiding playing basketball was the hardest part
Inspired by the likes of Michael Jordan and Kareem Abdul-Jabbar, Mohamed was a relative latecomer to basketball, picking it up at 16 when she attended Gateway College in Leicester.
She subsequently fell in love with the game and has fought hard for her right to enjoy it in spite of outside pressures to stop playing.
Growing up in Leicester's Somali community, Mohamed says that she encountered physical, mental and emotional barriers to playing the sport. Girls and young women she knew were encouraged instead to study and help take care of the household.
Her take on the situation is that family and community members were raised in a certain way and tried to instil the beliefs that they were used to and thought were right.
"It wasn't just me," said Mohamed.
"Many of the girls that come from similar communities were told not to play or watch sports. Hiding [playing] was the hardest part, but I found basketball to be such a huge stress relief that I didn't care what people thought anymore. Like it, hate it. I was still going to do it.
"Our religion doesn't say that girls can't play sports. If anything, our religion tells us to be proactive. But it's the communities that can limit us. They follow the traditions from decades ago. But times change, societies evolve.
"I believe it is crucial for Muslim girls who wear a headscarf like me, to feel welcomed and be able to overcome difficulties and obstacles.
"Many girls go through similar situations and hearing a similar story from someone whose been in their shoes and made it through stigma will only bring comfort and ease to their hearts, encouraging them to go on."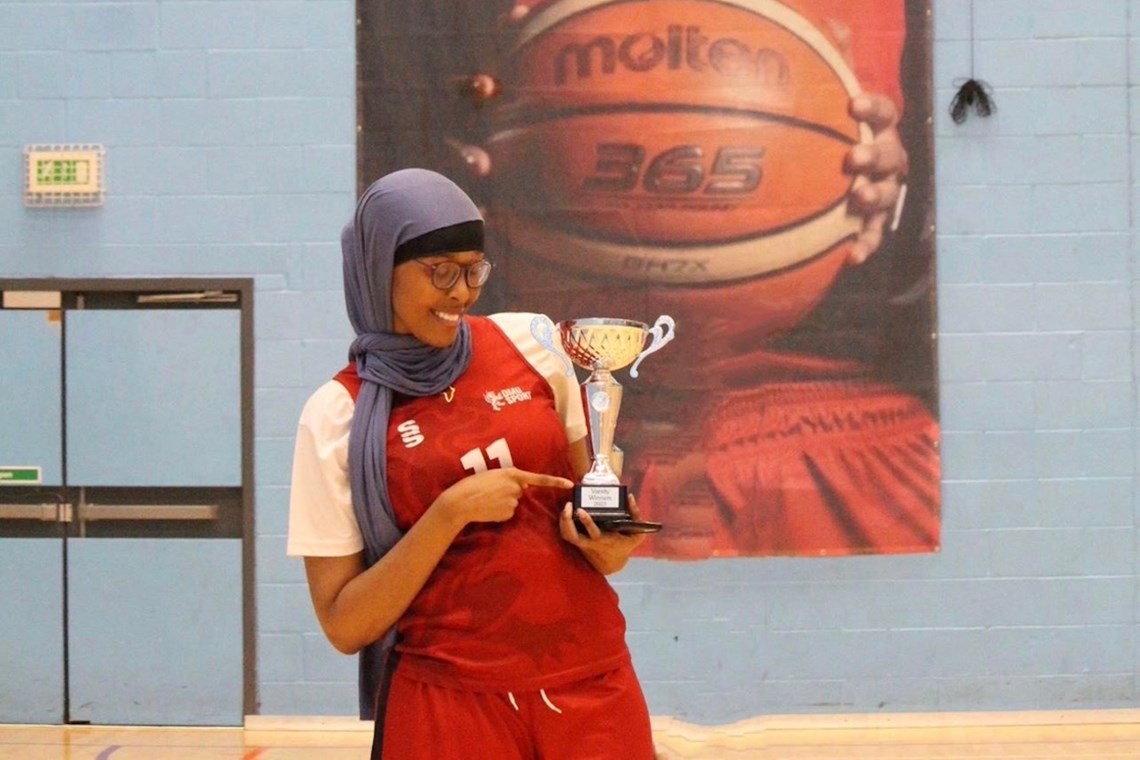 'A very big shock'
Her love for the game strengthened by the time she hit university and represented DMU's women's team in the BUCS (British University and Colleges Sport) leagues.
Like a lot of cities that have more than one university, sporting rivalries are stoked up by intervarsity fixtures – and DMU vs University of Leicester is no different.
DMU's student union held a photo shoot to promote the upcoming game and asked Mohamed to feature. At the time, she thought it was purely for the university's social media channels, but the next time she entered the court, she was confronted with a floor to ceiling banner of herself - made all the sweeter having helped DMU take the Varsity title, 53-40.
"It was a very big shock. I never thought they'd do anything with it. And then it was just up on the wall.
"More and more women started coming up to me to ask about signing-up for basketball. It makes me proud because growing up I never had a female icon that looked like me."
Don't be ashamed. Fight those battles
Mohamed trained for DMU at Leicester Riders' Morningside Arena, and it was there she saw BE branded court boarding and felt motivated to reach out to tell her story in the hope that someone will be inspired to play basketball.
"My message to girls and young women is to chase your dreams and stay involved in the game you love. Don't drop it because society tells you to. Don't stop playing because people laugh at you or call you names. Don't be ashamed. Fight those battles. You're not alone. Like me, there's someone somewhere going through the exact same situation you're going through.
"People from diverse ethnic communities or similar religions tend to relate to one another in some respects but it's important for people from different ethnic and religious backgrounds to all come together and understand what one another are going through.
"It's never too late to fall in love with the sport, you just need the right support system around you. I hope I can influence someone somehow."
.
.