Entries are now open for the 2023/24 Dynamik Schools competition.
Looking to build on another strong competition in 2022/23, schools can now submit their applications to be involved for the upcoming season.
The initial pool/county rounds will run from October 2023 until early 2024, with Finals events scheduled for March and May 2024.
Entry closes on 13 September 2023, with an entry fee of £40 (which can be paid by card or Purchase Order).
.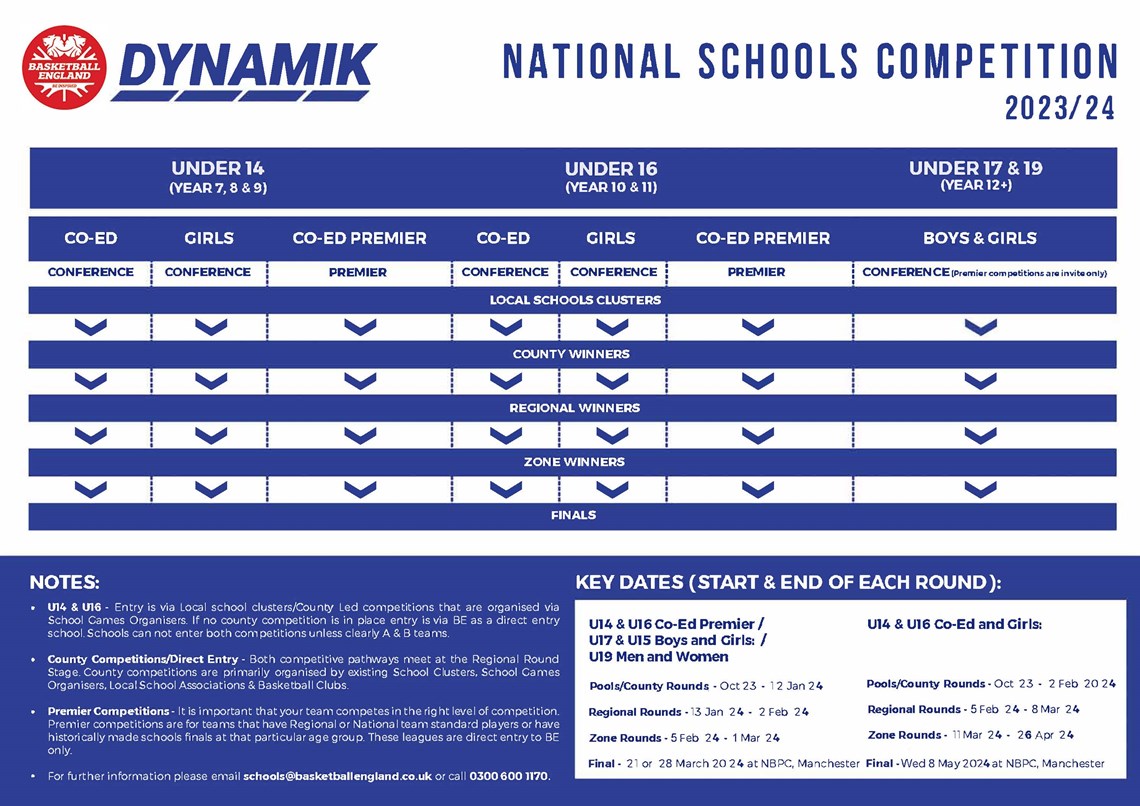 .
The following age groups are available for the coming season:
Under 14 Girls (Years 7, 8, 9)

Under 14 Co-Ed (Years 7, 8, 9)

Under 14 Co-ed Premier (Years 7, 8, 9)

Under 16 Girls (Years 11 and below)

Under 16 Co-Ed (Years 11 and below)

Under 16 Co-Ed Premier (Years 11 and below)

Under 17 Men (Year 12)

Under 17 Women (Year 12)

Under 19 Men* (Year 12, 13, 14)


Under 19 Women* (Year 12, 13, 14)
*No players that are registered on NAQUODA and AoC in the WEABL, EABL or CBL are permitted to play in these leagues. This rule will not apply to the U17 age group leagues.

All Year 7 and Year 8 competitions will operate through Jr. NBA program, for more details please email [email protected]
Please be advised if your unable to access your school finances until September, please contact us using the button below so we can adjust your entry to reflect this.
.

Join Basketball England for free. Whether you have a Supporter Account as a fan, follower, enthusiast or advocate, or a Full Account and have paid for a licence to play, coach or officiate in competition, you can be part of the basketball family.
Basketball has the power to change lives. Our #GameTime campaign aims to raise awareness of the positive impact that basketball can have on people no matter who they are or where they are from.