The academy playoffs have hit the Final Fours stage.
Last week's Elite Academy Basketball League (EABL), Women's Elite Academy Basketball League (WEABL) and College Basketball League (CBL) Elite Eights cut the fields in half.
Now this week's semi-final stages will decide which six teams head to the National Basketball Performance Centre in Manchester for finals days on 29 March.
EABL
With both #1 seeds progressing, Barking and Myerscough will be the hosts of next week's Final Four contests.
Myerscough will get reacquainted with North West rivals Manchester after Magic's road upset against CoLA.
'Sco did the double over Magic in the regular season, winning 88-57 in Manchester a few weeks ago and sealing a hefty 92-54 victory at home on the first week of the season.
That will no doubt give Myerscough plenty of confidence that they can advance to their third EABL final in a row, though Manchester are sure to want to keep their underdog status intact.
South winners Barking will entertain reigning champs Charnwood in a repeat of the famous 2018/19 final.
Charnwood came back to win that day against all the odds but BA are #1 seeds for a reason and have more than enough talent to book a spot in yet another playoff final as one of the most successful teams in the competition's history.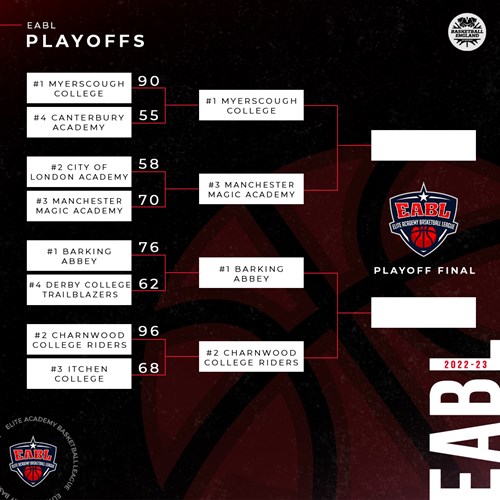 WEABL
Only teams from the South Conference are left in contention for this year's playoff crown after a dominant showing in the Elite Eights.
#1 seeds CoLA have a tie with Oaklands College, a team they've beaten at home 62-51 and on the road 71-39 this season.
The defending champs will no doubt be favourites to extend their record to three wins out of three, booking a place in the the final in the process.
Copleston will have home court advantage as they welcome #4 seeds Itchen, a team they're very familiar with from recent weeks.
The sides met on the South Coast in late February, with Copleston winning 91-81, before renewing their rivalry in Suffolk to begin March. The hosts won that one as well, 94-74, thanks to 22 points from Saruna Gudza.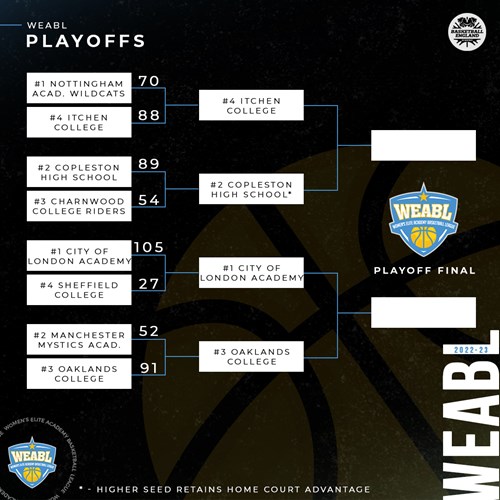 CBL
#1 seeds Shenley Brook End will put their unbeaten streak for the season to the test as they welcome former winners Haringey Sixth Form College.
As former winners of this competition, Haringey know how to come through the big games, making for what is sure to be a much-anticipated clash against the #1 seeds.
Shenley Brook End have continued their unbeaten run in 2022/23, tacking a 74-62 victory over #8 Carmel College, a team they've now beaten three times this year, to their 12-0 regular season record. Haringey sealed their place with an 80-69 win against #5 New City College.
#2 seeds Bracknell and Wokingham College have another home tie as they welcome #3 The Crest Academy.
Both teams have a chance to seal a place at their first ever CBL final, adding an extra level of motivation in that one.
Bracknell navigated a tricky 86-76 win over #7 Holy Trinity School, whilst The Crest Academy will continue as the #3 seeds following their W against #6 Nottingham Academy Wildcats, with a 91-71 final score.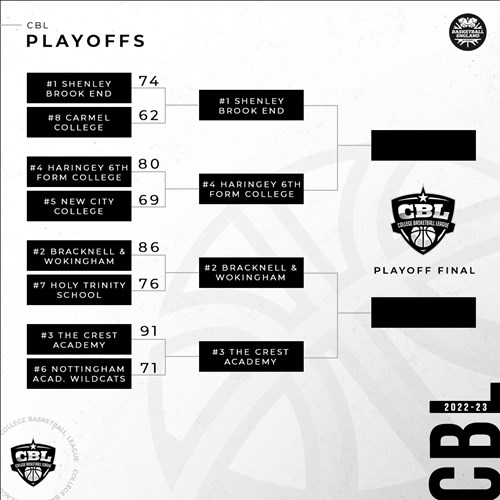 Finals
All games will take place on Wednesday 22 March 2023, with the EABL, WEABL and CBL finals taking place on Wednesday 29 March 2023 at Manchester's National Basketball Performance Centre.
Tickets to attend the final are free, but still need to be purchased for capacity reasons.
To secure your ticket, please head to the Basketball England shop by clicking here.
.

Join Basketball England for free. Whether you have a Supporter Account as a fan, follower, enthusiast or advocate, or a Full Account and have paid for a licence to play, coach or officiate in competition, you can be part of the basketball family.
Basketball has the power to change lives. Our #GameTime campaign aims to raise awareness of the positive impact that basketball can have on people no matter who they are or where they are from.
.