Rebound's Chris Hughes only has a few more accolades to hand out before the end of the regular season, but that hasn't stopped plenty of players from putting up quality performances.
Chris, the All-Star organiser, content producer, YouTube host and producer, commentator and social media observer, had nine games to ponder over, providing a raft of potential selections for this week's awards.
Have your say on this week's choices and give a shout-out to the players you think deserve one using the hashtag #NBL2223 and #ReboundTOTW. Don't forget to tag us!    
Twitter:  @NBLengland / @Rebound__  
Facebook:  @NBLengland  / @ReboundNBL  
Instagram:  @nblengland / @reboundnbl  
How it works 
Chris will pick a Player of the Week and four other selections to round out his Team of the Week, paying attention to the following criteria:
Efficiency  
Stats  
Team and opposition strength  
Periods of influence in the game 
Being on a winning team (exceptional performances from players on losing teams will be considered for TOTW)
Other players will also receive a shout out as honourable mentions at the bottom of the piece.
The Rebound Team of the Week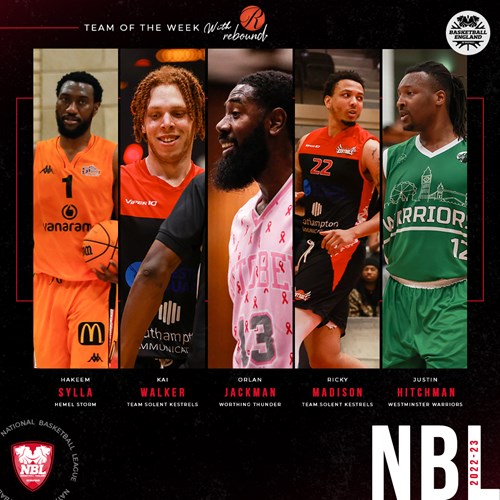 player OF THE WEEK
Hakeem Sylla – Hemel Storm, forward
27PTS/9REB/3AST/2stl/1blk/39EFF
Hemel were staring into the face of what would have been the biggest upset of the season this past weekend as bottom side Westminster were giving the leaders all they could handle and more.
With Hemel trailing 78-75 going into the final quarter, Player of the Week Sylla stepped to the fore to contribute 10 points, three offensive boards, two defensive rebounds and a steal to Hemel's cause, pushing the #1 seeds to a slender 103-95 win.
The talented forward closed with 27 points and nine rebounds, adding three assists and a pair of steals to what was a vital afternoon's work on a rare off day for the soon-to-be-crowned D1 regular season champs.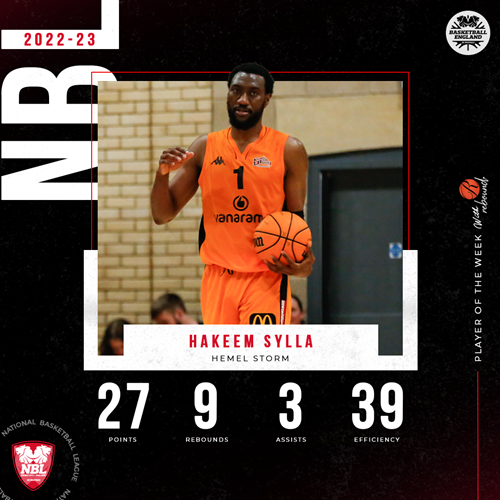 Kai Walker – Team Solent Kestrels, guard 
14PTS/14REB/7AST/3STL/21EFF  
Kai Walker led the way in handing Nottingham a rare home loss this weekend as part of a solid team performance from Solent.
Walker, one of the league's most dynamic guards, was the key in the overtime win, showcasing elite transition offence and rebounding ability as Solent exercised an advantage in both those key areas.
Whilst Walker's numbers might not just off the page, playing over 40 minutes of a tough road trip game against a comparable side and impacting the game during key moments is always going to lead to much-deserved recognition.
Nottingham pulled out all the stops to slow the Solent man down, forcing Walker (who flirted with a triple double) to the foul line, but the young guard showed a real calmness under pressure to net eight of his 13 efforts.
Orlan Jackman – Worthing Thunder, forward
28PTS/11REB/1AST/1stl/28EFF
Jackman put on a 'Player of the Week' worthy performance in the win at Newcastle to kickstart Worthing's winning weekend, though he was missing from Sunday's roster.
With Newcastle's home loss total matching Worthing's total league losses for the year, many would have thought Worthing would have made light work in this one.
That didn't prove to be the case, and Thunder needed the gold medallist's Midas touch to get the win.
Ricky Madison – Team Solent Kestrels, forward
27PTS/10REB/4AST/2STL/26EFF
Solent's 'Mr Consistent' was at it again, delivering important points at key times in another double-double performance.
The American forward's skill and footwork constantly provided Madison with 3-point plays, helping create a sizable output to Solent's winning cause.
Justin Hitchman  – Westminster Warriors, forward
30PTS/7REB/1AST/1BLK/28EFF
Justin Hitchman collected a 30-piece as the Warriors almost did what no other team has managed this season in beating Hemel.
The forward, who was part of Westminster's 22-0 D2 squad, put on a scoring masterclass, going 10/17 from the field that included a stunning 6/8 from beyond the arc. That shooting providing the hosts with multiple scoring boosts when they needed it most.
The effort so nearly prevented Hemel from finishing their D1 season unbeaten, but this was a performance that deserved recognition despite the eventual final score.
Team basketball 
CAVS go 5-0 to enter top eight
Thames Valley are finding some form at just the right time as the current eighth seeds eye a play-off spot.
A win over London Lions takes TVC's record back to .500, and another 20-point performance from former Player of the Week Bode Adeluola helped seal another win.
After winning five in a row, if TVC can find a way past Loughborough and Reading to end the regular season, coach Banks' side would enter the season with plenty of much-needed momentum.
Loughborough ride a 6-0 wave
In a tough road trip win at Essex, defensive stubbornness and superior three-point shooting helped serve up a sixth win in a row for the Riders.
Efficient shooting from downtown, including off the bench, contributing to a fine team performance. Three of the four bench players shot 50 3P% for a total of 8/17 from beyond the arc!
Like TVC above. Loughborough are a team catching fire at just the right time, making them a potentially dangerous opponent once we move into the one and done basketball of the playoffs.
Honourable mentions 
Taylor Johnson (HEM) - 30P/1-R/4A/22EFF
Theo Riley (NOT) - 2P/10R/7A/4S/4B/21EFF
Raheem May-Thompson (DTB) - 21P/5R/3A/2S/6B/25EFF
Andre Arissol (WOR) - 16P/1R/7A/2S/21EFF
Eric Donaldson (DTB) - 20P/7R/1A/1S/23EFF
Jabari Williams (BRA) - 22P/5R/7A/2S/32EFF
.

Join Basketball England for free. Whether you have a Supporter Account as a fan, follower, enthusiast or advocate, or a Full Account and have paid for a licence to play, coach or officiate in competition, you can be part of the basketball family.
Basketball has the power to change lives. Our #GameTime campaign aims to raise awareness of the positive impact that basketball can have on people no matter who they are or where they are from.
.