'Basketball is one of the most popular and inclusive sports that we can offer for someone with a learning disability.'

 
The words of Jacob Meaton, director of

DOSportUK

- or to give it its full title

'Disability Opportunities in Sport UK'

- who spoke to Basketball England ahead of World Down Syndrome Day.

The registered community interest company offers sporting and physical activity opportunities to people with a disability and runs a network of basketball clubs and training sessions for people with learning disabilities across Derbyshire and Greater Manchester. 

Meaton's journey into disability sports began after he received his sports degree at Bangor University and was offered the chance to coach wheelchair basketball in Caernarfon, North Wales. Whilst he was there a local Special Olympics group approached him and asked if he would coach basketball for people with learning disabilities too.  

At the age of 22, buoyed with his knowledge and experience, Meaton moved to Glossop, Derbyshire and set up a local team for people with learning disabilities, which then morphed into DOSportUK.  

At the start of March, the organisation teamed up with Basketball England, Special Olympics Great Britain (SOGB) and Universal Pictures to celebrate the launch of Hollywood movie Champions, with more than 40 SOGB athletes taking part in the event at the National Basketball Performance Centre in Manchester.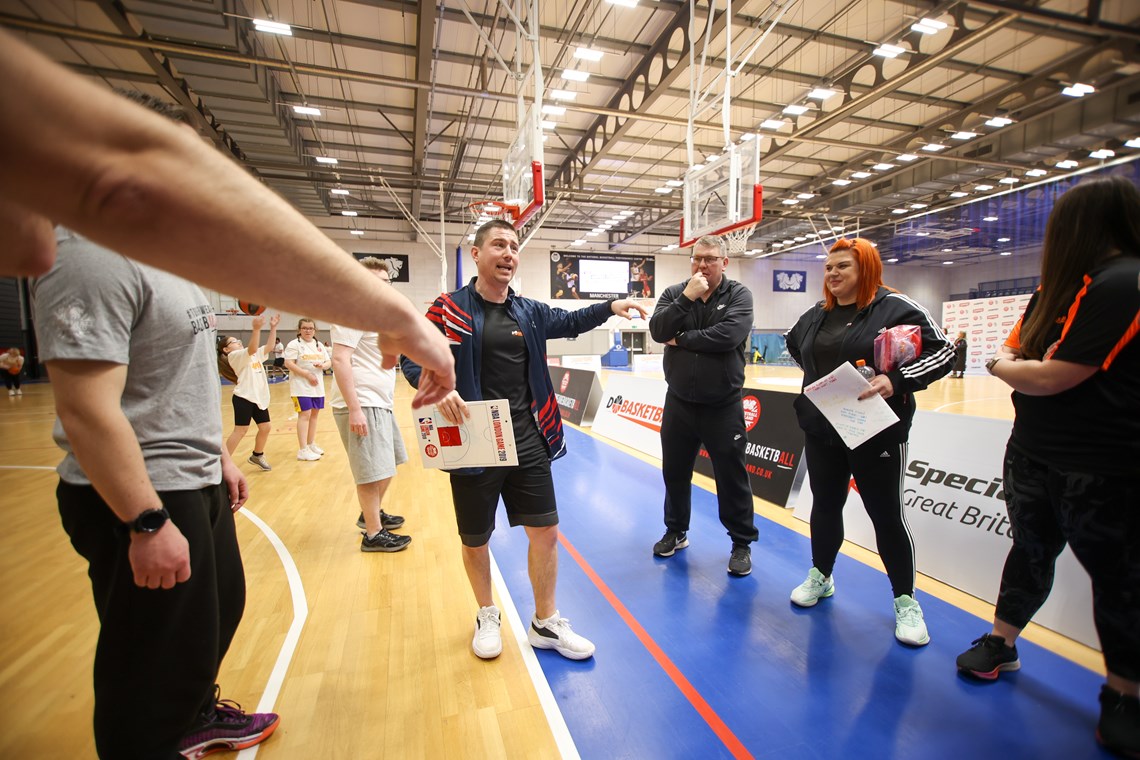 'A sense of belonging' 
The organisation is linked to SOGB and follows its competition pathway, meaning participants can aim to represent GB at Special Olympics competitions domestically or internationally.  
"Whether our participants want to compete at the Special Olympics or not, it doesn't matter," said Meaton, who is the current head coach of the SOGB women's 3x3 team that will be competing at the Special Olympics World Games in Berlin this summer.   
"More importantly, it gives them a sense of belonging, having the opportunity [to play sports], which unfortunately, still to this day and age, people who have a learning disability face many inequalities across the board: health inequalities, lack of employment, lack of social and sporting opportunities, and that's exactly why we set up DOSportUK.  
"Traditionally, we're not getting a lot of people who are coming in thinking, 'I want to be a basketball player', we may turn some into basketball players, who love the game, but it's not their main motivation for coming.  
"It's to be part of a team, part of a group, and then they find that they love the sport. That's why we keep driving basketball because we find it's one of the most popular and inclusive sports that we can offer for someone with a learning disability."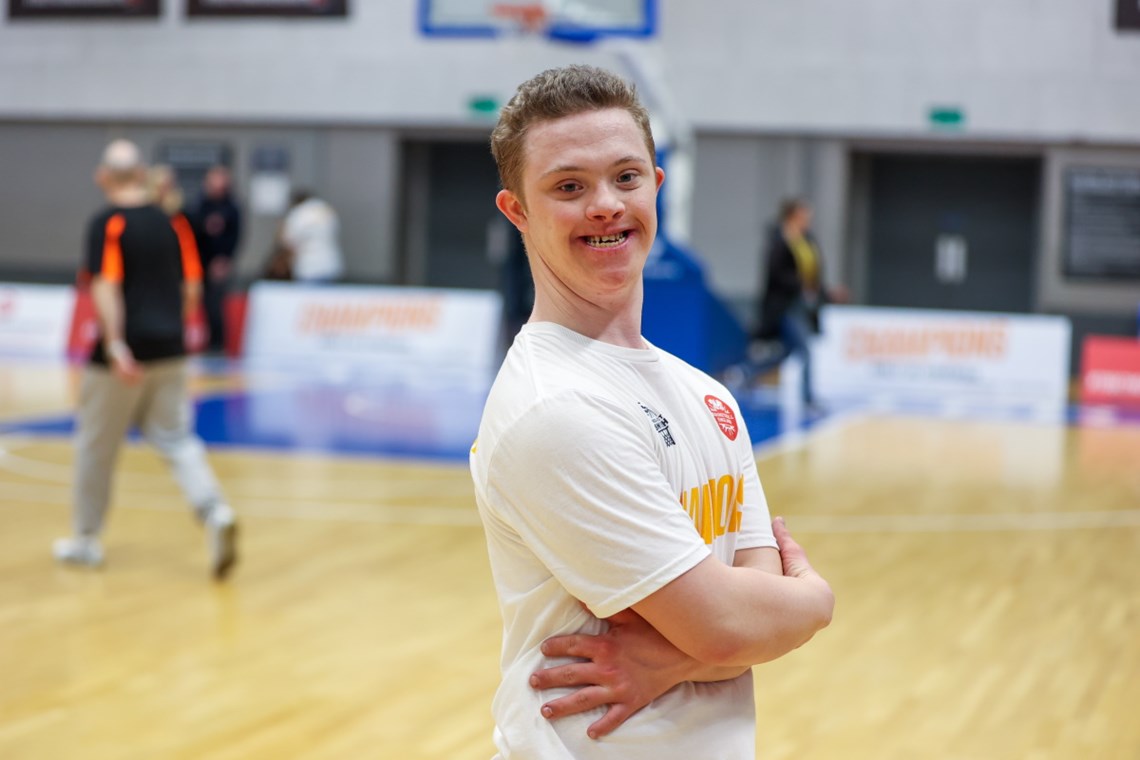 'I love scoring points' 
One player who has benefitted from DOSportUK is James Carr, who joined Trafford Wildcats five years ago after being inspired to play the sport at a taster session hosted by Manchester Magic and Mystics.   
"I really like our coach Jonny [Dakin]", said James, who supports the Manchester Giants and the LA Lakers.  
"He's very good and our training sessions are filled with different skills and drills. 
"I love scoring points and try to emulate the way my favourite player Lebron James shoots and passes the ball. I also like to dunk." 
James' mum Kay says the Wildcats' sessions have got him interacting and playing with his teammates a lot more, whereas before he solely wanted to shoot and dunk, a development that Meaton has witnessed too, having seen James go from a 'keeper' to a keen distributor of the ball.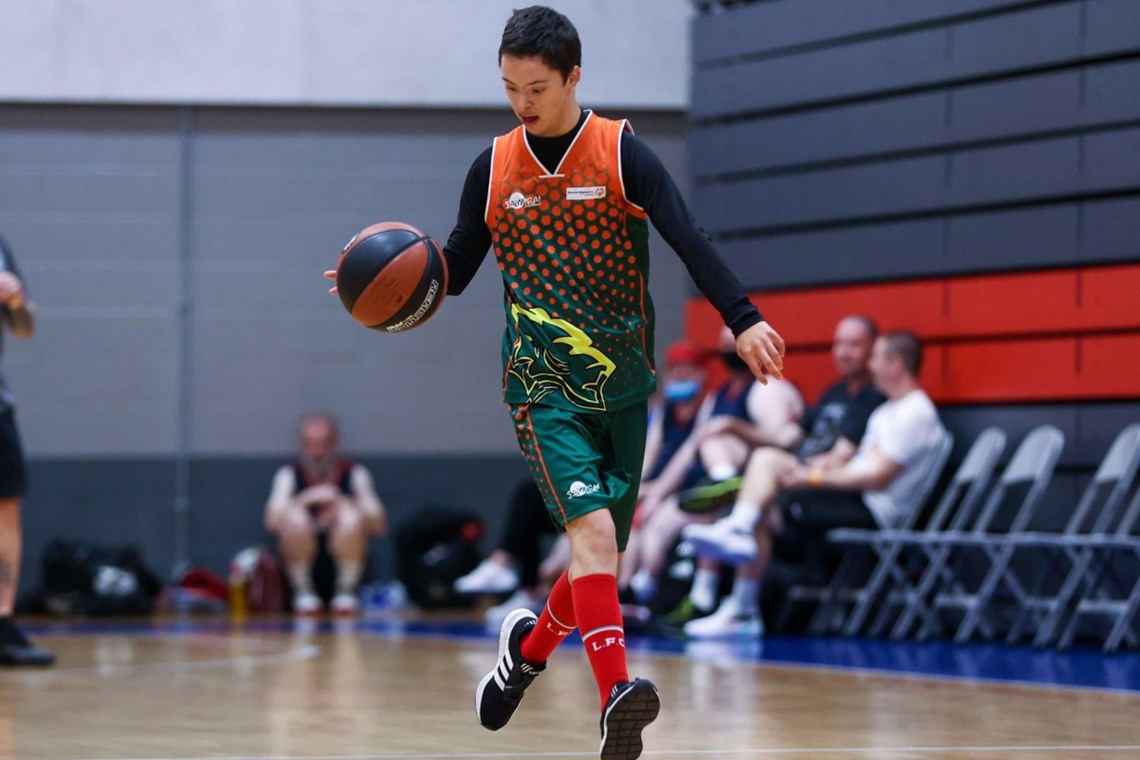 'Earned himself a bronze medal' 
Another player whose personal development has grown since getting involved in basketball is Rory Sinha.  
The Sheffield native loves to defend and shoot and plays for Lynx Basketball Club run by head coach Jasmyn Owen – part of Special Olympics Sheffield.    
His dad, Saurabh, brokered the love-affair between basketball and Rory after finding out about the Lynx from Helen Sanderson, mum to Special Olympics gold medal winner Myles Sanderson, who helped GB beat the USA 26-20 at the 2019 Special Olympics World Championships in Abu Dhabi. 
In 2022, Rory earned himself a medal of his own, when he represented Yorkshire and Humber at the Special Olympics Summer Series national competition in Manchester and nailed two baskets and locked down the opposition's best player to bag himself a bronze.  
Saurabh says Rory's involvement in basketball has developed his coordination and comprehension of the game, saying he couldn't dribble 'for love nor money' in the beginning.  
"When he started, he would do the training, but he wouldn't play the game because it was too complicated and too many people around. But now he passes to his friends, he dribbles, shoots, and defends," said Saurabh.
"Rory never did that before. He only ever played one on one with me. He knows that he's part of a team. He will help defend, he will help attack and he'll be pleased when his team score. It's also really helped with developing his fitness too. This boy can run forever. 
"I think disability sports are important because otherwise these young adults, children and older adults become unfit, they don't socialise, they get stuck in the house, they end up on tablets, and they become unwell. And I think it's a great way of them keeping fit, meeting people and being sociable." 
.
.
.

Join Basketball England for free. Whether you have a Supporter Account as a fan, follower, enthusiast or advocate, or a Full Account and have paid for a licence to play, coach or officiate in competition, you can be part of the basketball family.
Basketball has the power to change lives. Our #GameTime campaign aims to raise awareness of the positive impact that basketball can have on people no matter who they are or where they are from.