FocusHoops' Darren Paul was spoiled for choice when selecting his latest Player and Team of the Week picks.
As a writer, commentator, podcaster and more, Darren had seven games to look over, including the top of the table clash between Thames Valley and Solent, and there were some very strong performances to mull over from multiple teams.
Have your say on this week's choices and give a shout-out to the players you think deserve one using the hashtag #NBL2223. Don't forget to tag us!    
Twitter: @NBLengland / @FocusHoops  
Facebook: @NBLengland  / @FocusHoops  
Instagram: @nblengland / @focushoops  
How it works  
Darren will pick a Player of the Week and four other selections to round out his Team of the Week, paying attention to the following criteria:
Efficiency  
Stats  
Team and opposition strength  
Periods of influence in the game 
Being on a winning team (exceptional performances from players on losing teams will be considered for TOTW)
The FocusHoops Team of the Week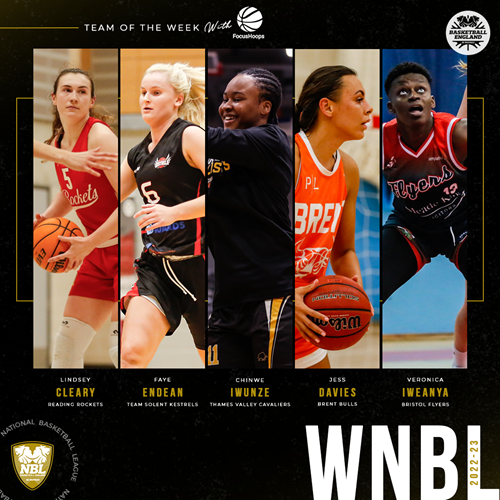 Player of the week
Lindsey Cleary - Reading Rockets, guard
27Pts/14rbs/4ast/4stl/36EFF 
Cleary was dominant this weekend as Reading Rockets claimed an important home win against Anglia Ruskin University to strengthen their push for a top-four finish.
Cleary dominated inside on her way to a 27-point, 14-rebound double-double, whilst finding teammates for four assists and finishing with four steals.
The American's scoring was mostly done in the paint, going 10/19 from inside the arc, also shooting an excellent 7/8 from the stripe in her 38 minutes of action.
This was another top performance for Cleary, cementing her status as one of the signings of the season.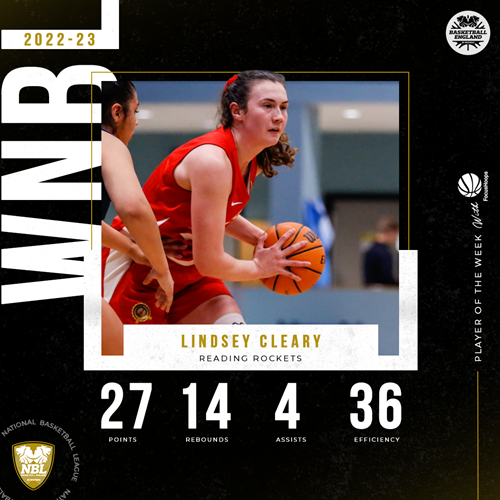 Faye Endean - Team Solent Kestrels, guard 
11pts/8rbs/9ast/1stl/27EFF vs LOU
27pts/5rbs/10ast/6stl/2blk/37EFF @ tvc
Endean was in inspired form this weekend for Team Solent Kestrels with a total of 38 points, 13 rebounds, 19 assists and seven steals in her two games.
In what could well be the title-decider against TVC, Endean finished with 25-5-10 on 57% shooting in 39 minutes of play despite the narrow loss.
The young guard has been a front-runner for MVP honours all season long and her efforts against TVC showed why. When faced with the other top sides in the league, Endean shines, scoring efficiently, working hard on defence and finding teammates to keep the scoreboard ticking over.
Jess Davies - Brent Bulls, forward
18PTS/18REB/2AST/1STL/27EFF
Davies has been a constant menace for opposition defenders this season and this weekend was no exception as Brent's forward ended with 18 points and 18 rebounds in 32 minutes against Cardiff.
Davies shot well from inside, finishing with 58% from inside the arc and 4/6 from the free throw line. In addition, she was unrivalled on the boards, with seven offensive and 11 defensive rebounds, and she even found time to dish two dimes and swipe a steal.
The Bulls forward maintaining this kind of form into the playoffs will be vital for Brent as they continue to impress in their opening WNBL D1 campaign.
Chinwe Iwunze - Thames Valley Cavaliers, forward
22pts/7rbs/2stl/22EFF 
No STATS vs LLII
In the biggest game of the season, Iwunze went off for TVC to the tune of 22 points from the bench in her 21 minutes of floor-time.
She shot very efficiently, finishing with the highest shot percentage from her side, 57%, with all her points coming from two-point-land or at the stripe, where she shot a terrific 6/7.
Iwunze helped out on the glass with seven total boards, five on the defensive end, and continued her defensive work with two steals.
Not only that, the TVC forward contributed 10 of her points in the second half as the hosts overcame a 12-point half-time deficit to clinch what could be a title-winning victory.
Veronica Iweanya - Bristol Academy Flyers, forward
19pts/21rbs/1stl/1blk/28EFF 
In the battle for D1 survival, it was Bristol who edged past Worcester in overtime thanks in no small part to yet another dominant display from Iweanya.
The Bristol forward had no equal in the contest, scoring 19 points and pulling down 21 rebounds, just under a third of her team's total.
She shot efficiently at 47% and did damage on both ends with nine offensive boards and 12 defensive, plus a block and a steal.
In the season-defining overtime period, Iweanya scored the first five points for Bristol as they guaranteed their survival.
Team basketball
TVC stun solent to go top
Thames Valley Cavaliers took down table-topping Team Solent Kestrels at home on Sunday in the biggest game of the season to date.
Having taken a 12-point lead into half-time, a double-header weekend and a complete TVC performance caught up with the Kestrels as the Cavs, led by Chinwe Iwunze, Kat Goldsby and Faith Okwuosa, erased the deficit and secured a famous eight-point victory.
Okwuosa had seven points in the final period, including a crucial three-pointer which gave the hosts breathing room as an inspired Faye Endean would sink one of her own just seconds later in reply.
TVC have one game left on the season, a vital match-up with Reading, whilst TSK have two to play and hold the head-to-head following their opening day domination of the Uxbridge outfit.
Bristol secure survival with ot thriller
Bristol Flyers can breathe a little easier this week having been taken the very limit by Worcester Wolves in their 68-63 overtime victory, which assures top-tier basketball at the SGS-College WISE Campus next season.
Veronica Iweanya dominated both the scoring and rebounding on the way to 19 points and 21 boards, but she didn't do it alone. Emma Bailey bagged 16 points with Leila Jepson and Hannah Wallace both scoring 13 points, with Wallace seeing the bench for only 40 seconds in the 45-minute clash.
Worcester did not go down without a fight, with three players in double-digits scoring, Chloe Finn and Nuri Seyedagha both finished with 12 points and Carolina Marques bagged 17 points.
Honourable mentions
Faith Okwuosa (TVC) - 10P/8R/3A/5S/19EFF  
Nadege Talva (ARU) - 18P/10R/5A/25EFF 
Yassin Belle-Mbaye (TSK) - 18P/9R/4A/23EFF  
.

Join Basketball England for free. Whether you have a Supporter Account as a fan, follower, enthusiast or advocate, or a Full Account and have paid for a licence to play, coach or officiate in competition, you can be part of the basketball family.
Basketball has the power to change lives. Our #GameTime campaign aims to raise awareness of the positive impact that basketball can have on people no matter who they are or where they are from.
.