FocusHoops' Darren Paul is here with his final Player and Team of the Week awards of 2022/23.
With just two playoff games next week, Darren will only be selecting a Player of the Week, but there's still an opportunity to highlight some incredible efforts from last weekend as four teams booked their place in the semi-finals.
Have your say on this week's choices and give a shout-out to the players you think deserve one using the hashtag #NBL2223. Don't forget to tag us!    
Twitter: @NBLengland / @FocusHoops  
Facebook: @NBLengland  / @FocusHoops  
Instagram: @nblengland / @focushoops  
How it works  
Darren will pick a Player of the Week and four other selections to round out his Team of the Week, paying attention to the following criteria:
Efficiency  
Stats  
Team and opposition strength  
Periods of influence in the game 
Being on a winning team (exceptional performances from players on losing teams will be considered for TOTW)
The FocusHoops Team of the Week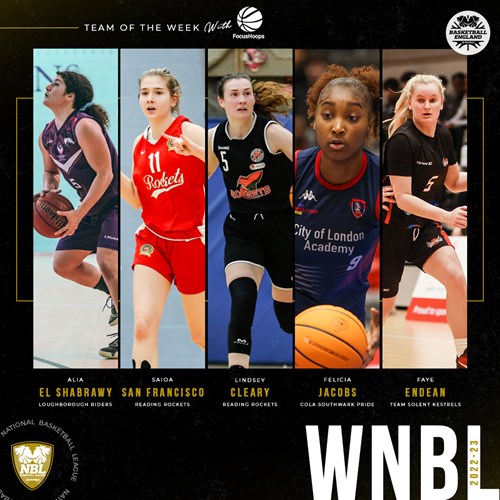 Player of the week
Alia El Shabrawy - Loughborough Riders, guard
25Pts/11rbs/8ast/3STL/36EFF

Alia El Shabrawy had herself a day on Saturday to help lead the Riders past Thames Valley in a quarter-final upset.
Shabrawy flirted with a triple-double, coming up just two assists short and finishing with 25 points and 11 rebounds on 46% shooting, going an outstanding 10/11 from the stripe.
With 13 points, two steals and an assist in the final quarter, El Shabrawy helped fend off TVC who had come roaring back in the third period and ultimately saw her side see out a huge victory that puts the Riders one game away from competing for the title in Manchester.
El Shabrawy was working a perfect game from the stripe until her final free throw attempts but made amends moments later with a steal and a finish for two.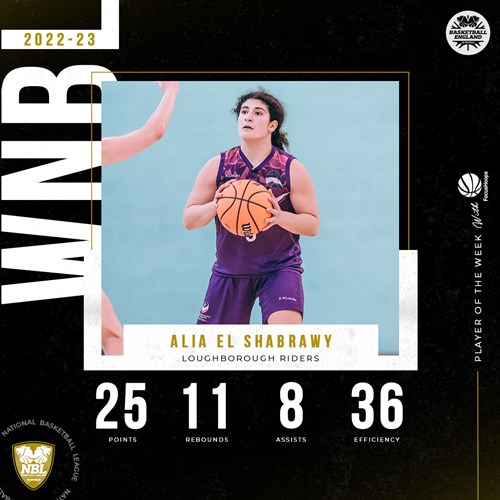 Saioa San Francisco - Reading Rockets, guard
18pts/8rbs/4ast/3STL/27EFF

Saioa San Francisco was on fire from outside the arc in Reading's quarter-final victory over Anglia Ruskin as she hit four of her five three-point attempts on her way to a joint team-high 18 points.
With eight points in the first period, San Francisco helped her side get off to a positive start by hitting back-to-back threes, sinking a further triple in the third that saw the Rockets regain a lead they would not relinquish.
The Reading guard brought down eight boards, second only to team mate Lindsey Cleary for Rockets' rebounders, dished four dimes and picked three passes in a very impressive 33 minutes of action.
Lindsey Cleary - Reading Rockets, guard
18Pts/11rbs/4ast/2stl/1blk/27EFF

Lindsey Cleary put in another dominant display for the semi-finals-bound Reading Rockets in their victory over Anglia Ruskin University.
Clearly had a solid 18-11 double-double on 53% shooting and went 4/4 from the stripe, also pulling down nine of her 11 boards on the defensive end.
Cleary had seven points, four rebounds, two assists and a block in the pivotal third period which saw Reading erase a 10-point deficit and enter the fourth with a two-point advantage.
The American added six points in the final period as well,  putting Reading one game closer to a return to Manchester.
Felicia Jacobs - CoLA Southwark Pride, forward
13pts/15rbs/3ast/1stl/1blk/27EFF 

Felicia Jacobs shone for CoLA as they brought down the curtain on a brilliant first season by the Brent Bulls.
Jacobs finished with 13 points on 71% shooting whilst pulling down 15 total rebounds, four offensive and 11 defensive, a team-high in both defensive and total boards.
The young forward found teammates with three assists and recorded a block and a steal in a complete display.
Jacobs spread her production throughout the contest, keeping the scorers occupied and helping keep the pressure on against a dangerous Bulls side who have impressed this season.
CoLA's standout now plays in the Four Nations this week before suiting up in a big semi-final clash next weekend.
Faye Endean - Team Solent Kestrels, guard
20pts/14rbs/9ast/2stl/1blk/28EFF 
Faye Endean was within touching distance of a triple-double as she put in another dominant display for Team Solent Kestrels in their playoff victory over Ipswich.
Endean hit three triples on her way to 20 points and pulled down a game-high 14 rebounds, 11 defensive, dishing out a game-high nine assists in another all-around display of her talents.
Endean scored consistently throughout the game and had five assists in the first half when Solent built their lead, which they would manage for the remainder of the contest.
The Solent star is looking to cap off another fantastic individual season with more gold and the Kestrels are just one game away from a return to Manchester.
Team basketball
Loughborough upset TVC thanks to El Shabrawy's triple-double bid
Alia El Shabrawy's 25 points were a huge factor in Loughborough's upset victory over the second-seed Thames Valley Cavaliers, who have played brilliant basketball all season long.
The Riders enjoyed a stunning double-double from El Shabrawy, who continues to excel in the WNBL, but also got double-digit scoring from Anna Trett, Sasha Lecuyer and Lauren Dabbs in the 11-point victory.
TVC saw great production from Ezekiela Lisk with 19 points and nine boards and more outside scoring from Robyn Ainge, who went for 15 points.
Faith Okwuosa was a defensive gem for TVC as always, pulling down 14 rebounds, picking off five passes and blocking one attempt.
TVC tried to battle back in the second half but it wasn't enough as Loughborough put in what was arguably their best performance of the season as they now head into the semi-finals.
KEstrels soar into semi-finals
Team Solent Kestrels went about their business, as they have got much of the season, in their playoff quarter-final victory over Ipswich.
The league champions head into the semi-finals after a 20-point victory built on some excellent all-around play from Faye Endean and Krisztina Velkey-Cleeve, plus efficient scoring from Anna Nevison. The trio combined for 56 points, with Endean and Velkey-Cleeve tallying a combined 23 boards and 17 assists. Yassin Belle-Mbaye was also a big contributor over her old side with a 10-12 double-double.
Ava Battese led the scoring charge for the visitors with 18 points in the contest, with only Liv Forster joining Battese in double-digits whilst Louisa Gibbins led the charge on the glass with 10 boards, with Forster and Christabel Osarobo both pulling down eight apiece.
TSK are now one game away from back-to-back visits to Manchester to play for the playoff title whilst Ipswich will be left to reflect on a positive season which saw some big moments from the Suffolk outfit.
Honourable mentions
Chandera Jones-Aryeh (CoLA) - 20P/7R/6A/23EFF  
Krisztina Velkey-Cleeve (TSK) - 16P/9R/8A/25EFF  
Anna Nevison (TSK) - 20P/2R/4A/20EFF
.

Join Basketball England for free. Whether you have a Supporter Account as a fan, follower, enthusiast or advocate, or a Full Account and have paid for a licence to play, coach or officiate in competition, you can be part of the basketball family.
Basketball has the power to change lives. Our #GameTime campaign aims to raise awareness of the positive impact that basketball can have on people no matter who they are or where they are from.
Main image credit - Loughborough basketball