The playoffs are here, and Rebound's Chris Hughes has some Player and Team of the Week awards to hand out.
Chris, the All-Star organiser, content producer, YouTube host and producer, commentator and social media observer, had four ties to oversee, with Hemel, Worthing, Derby and Reading all progressing.
This week's picks will be the last Team awards of 2022/23, with Chris only selecting a Player of the Week next time now we're down to the semi-final stage.
Have your say on this week's choices and give a shout-out to the players you think deserve one using the hashtag #NBL2223 and #ReboundTOTW. Don't forget to tag us!    
Twitter:  @NBLengland / @Rebound__  
Facebook:  @NBLengland  / @ReboundNBL  
Instagram:  @nblengland / @reboundnbl  
How it works 
Chris will pick a Player of the Week and four other selections to round out his Team of the Week, paying attention to the following criteria:
Efficiency  
Stats  
Team and opposition strength  
Periods of influence in the game 
Being on a winning team (exceptional performances from players on losing teams will be considered for TOTW)
Other players will also receive a shout out as honourable mentions at the bottom of the piece.
The Rebound Team of the Week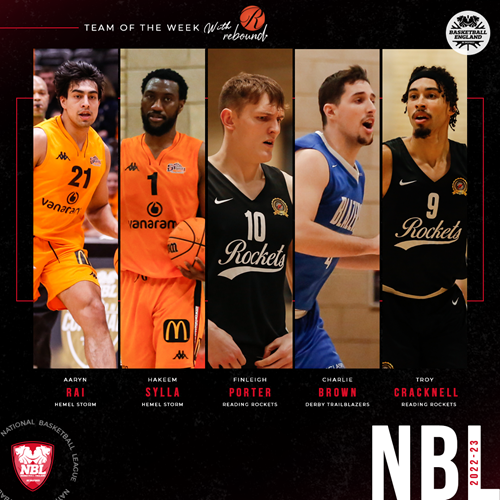 PLAYER OF THE WEEK 
Aaryn Rai - Hemel Storm, forward 
40PTS/16REB/7AST/3STL/2BLK/60EFF
Just when I'm running out of superlatives to describe the Dartmouth graduate, Rai then goes out and produces his finest performance, one that on the scorecard looks simply incredible.
Rai got the party started with 12 of Hemel's 25 first quarter points to set them on the path to advance to the semi-finals. Rai's all-round game was of the highest calibre at both ends, scoring in efficient style with less than a handful of turnovers.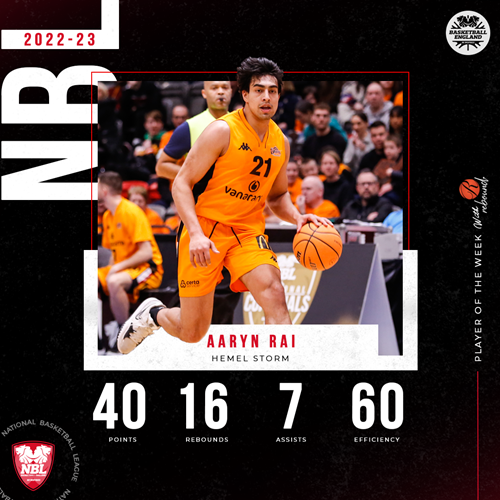 Hakeem Sylla – Hemel Storm, forward 
20PTS/13REB/1AST/1STL/31EFF 
Sylla put in an efficient, routine double-double whilst leading all players in offensive boards as Hemel feasted on second chance points to gain an extra advantage this weekend.
Psychologically, Sylla provided two big buckets down the stretch heading into the half time break to ensure Hemel commanded a 10-point lead, an advantage they'd then stretch once play resumed.
Finleigh Porter – Reading Rockets, forward 
16PTS/6REB/1AST/3STL/23EFF
Like this write up, Porter kept it short and sweet this weekend to help Reading reach the final four.
The young forward put on a show in a limited cameo before fouling out, but the damage was done in 13 and a half minutes with efficient shooting and solid work on the glass.
12 of Porter's points came in the first half to help build a 13-point lead by the half, an advantage Reading would hold the rest of the way.
Charlie Brown – Derby Trailblazers, guard 
5PTS/9REB/133AST/2stl/27EFF 
Charlie Brown is that kind of guy and is the definition of a 'team player', as the pass-first guard clocked up 13 assists and two steals while only losing the ball once.
If you didn't know, Charlie can shoot as his numbers on Saturday suggested, but the All-Star guard led all players in assists and rebounds, only tying with Ryan Bruggeman with nine boards.
Troy Cracknell – Reading Rockets, guard 
14PTS/12REB/4AST/1blk/25EFF
Troy Cracknell makes the cut with an efficient two-way double-double winning performance versus #5 seeds Loughborough.
Rebounding was a big factor in the win with Cracknell and co. outrebounding the Riders 3:2, with Reading finding 17 more second chance points across the encounter.
Cracknell and Reading's dominance in the paint at both ends ensured Reading dominated with 54 points in the paint compared to Loughborough's 24.
Team basketball
Rockets rule the paint to down loughborough
Reading out-muscled and outperformed Loughborough as they started both halves strong to get the 22-point dub.
I was impressed with the host's team effort, sharing the scoring between eight players and shooting a 50FG%.
Defensively they protected the paint well and limited themselves to just six turnovers
Honourable mentions 
Ryan Bruggeman (DTB) – 18P/9R/6A/1S/29EFF
Elijah Bailey (LOU) - 21P/6R/2A/15EFF
Justin Williams (BRA) – 25P/1R/6A/2S/22EFF
Raheem May-Thompson (DTB) - 23P/6R/2A/3S/2B/26EFF 
Orlan Jackman (WOR) - 10P/9R/2A/1S/1B/17EFF
.

Join Basketball England for free. Whether you have a Supporter Account as a fan, follower, enthusiast or advocate, or a Full Account and have paid for a licence to play, coach or officiate in competition, you can be part of the basketball family.
Basketball has the power to change lives. Our #GameTime campaign aims to raise awareness of the positive impact that basketball can have on people no matter who they are or where they are from.
.
Main image credit - Graham Hodges