FocusHoops' Darren Paul is back for the first time in 2023, having his say on the Team and Player of the Week candidates from D1W.
As a writer, commentator, podcaster and more, Darren gives his expert view on another great selection of games, with no shortage of potential options.
Have your say on this week's choices and give a shout-out to the players you think deserve one using the hashtag #NBL2223. Don't forget to tag us!    
Twitter: @NBLengland / @FocusHoops  
Facebook: @NBLengland  / @FocusHoops  
Instagram: @nblengland / @focushoops  
How it works  
Darren will pick a Player of the Week and four other selections to round out his Team of the Week, paying attention to the following criteria:
Efficiency  
Stats  
Team and opposition strength  
Periods of influence in the game 
Being on a winning team (exceptional performances from players on losing teams will be considered for TOTW)
The FocusHoops Team of the Week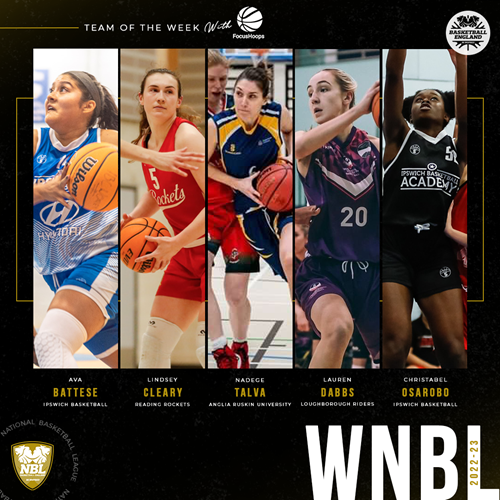 PLAYER OF THE WEEK
Ava Battese – Ipswich, guard 
26PTS, 5REB, 2ast, 4stl 29EFF 
When you shoot the ball efficiently, score threes in bunches and help your team to a dominant win, you're always going to be in the mix for the Player of the Week award.
Ipswich's Ava Battese ticks all those boxes this week, hitting 9/16 (56%) from the floor, including a strong 8/14 (57%) from three-point range, as the Suffolk side beat Brent 100-58.
In a contest between a similarly matched opponents, Battese helped get her side into a comfortable lead that they'd never relinquish from early in the first quarter.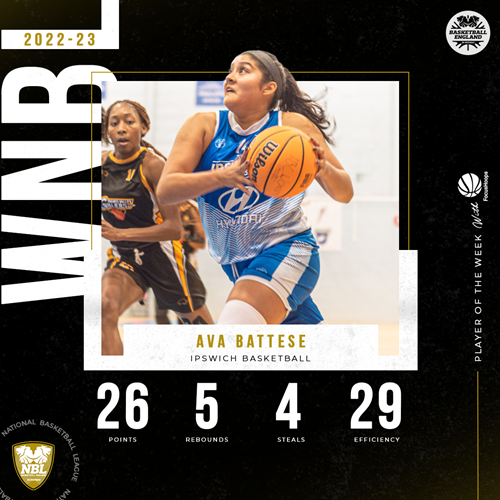 Nadege Talva - Anglia Ruskin University, wing 
13PTS, 9REB, 4AST, 1STL, 19EFF 
Knocking off the league leaders on their own court is always going to put you in the spotlight, and ARU's Nadege Talva is more than worthy of some recognition this week.
Talva's 13 points helped the visitors to keep their score ticking over nicely in the low-scoring 61-52 victory, and when Solent did resort to sending the wing to the line, she may them pay by hitting seven of her eight attempts.
Her four assists were also a team-high and came at the expense of just a single turnover.
Lindsey Cleary – Reading Rockets, guard 
18PTS, 10REB, 2AST, 2stl, 2blk, 30EFF 
Another double-double for Reading's American import Lindsey Cleary (pictured below) helped the Rockets take down Worcester Wolves, with the talented guard doing her bit to seal a 67-57 win.
Working inside, Cleary hit 70% of her shots from the floor, draining a perfect 4/4 from the charity stripe to couple 18 points with 10 rebounds, leading her side in both categories.
A pair of blocks and two steals showed her ability on defence as well, once again highlighting what a key cog she is to the Berkshire side.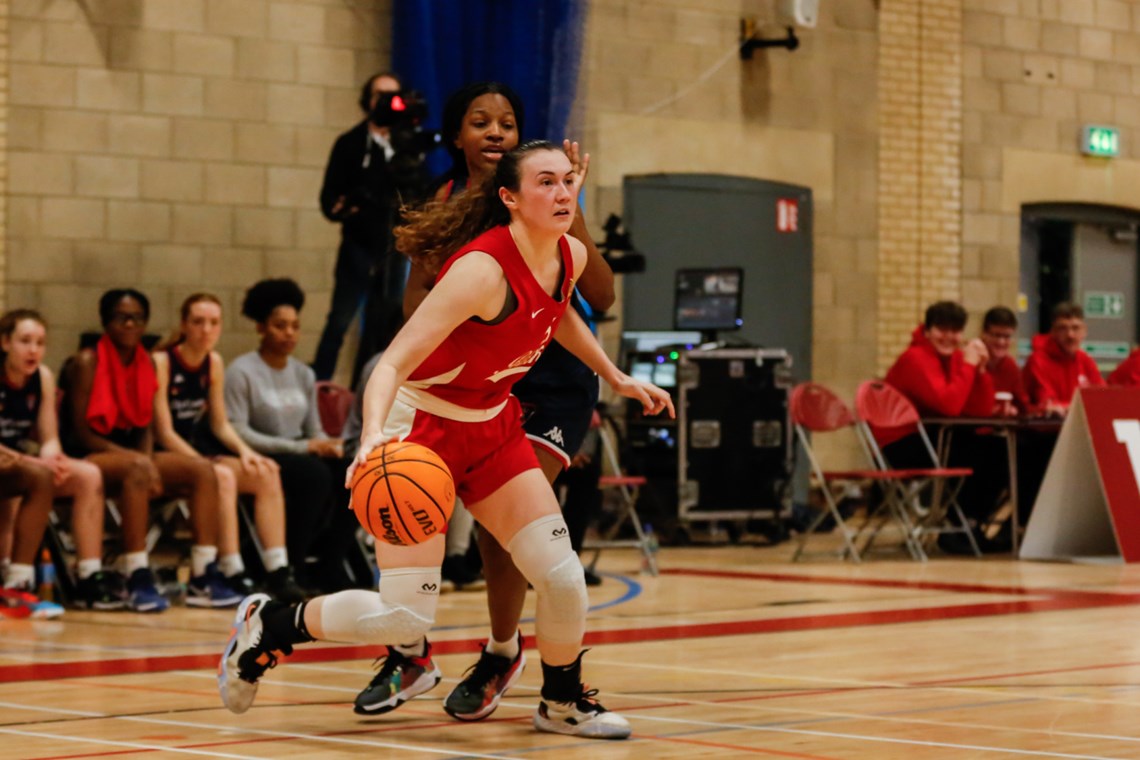 Lauren Dabbs – Loughborough Riders, wing
17PTS, 9Reb, 5ASt, 1stl, 24EFF 
Loughborough made short work of basement side Cardiff Met Archers II, coming out on top 73-44 thanks to a starring role off the bench from Lauren Dabbs.
In just 18:51 minutes of action, the former Solent standout knocked down 17 points at a 53% rate, pulling down nine boards to narrowly miss out on the double-double.
Dishing five dimes also helped her team mates to shine, a vital factor as the Riders were without the usual offensive output from Alia El Shabrawy.
Christabel Osarobo – Ipswich, wing
15PTS, 6RBS, 3ASt, 3ST, 1BLK, 23EFF 
With Ipswich putting up triple digits, it was always likely we'd be double-dipping into the Suffolk programme's ranks for selections this week.
Osarobo's efficiency shone through against the Bulls, barely putting a foot wrong to go 7/8 from the floor on the way to 15 points.
Three turnovers pulled down her overall outing slightly, but her six rebounds, three assists, three steals and a block more than made up for it as Ipswich sealed their seventh win of the season.
Team basketball 
ARU throw blow the title race wide open
Anglia Ruskin's 61-52 victory against Solent this weekend opens the door for a number of teams at the top of the standings, including Thames Valley, CoLA and Reading. All three of those sides are currently on two or three losses, and will no doubt have taken great delight in Ruskin's road victory.
The win came courtesy of a game-high 18 points from Rian Rawlings, whilst Courtney Gray deserves some love for her near double-double (8pts, 11reb).
Lions lose but Janneh keeps on shining
London Lions II may have come out on the wrong end of a 66-63 score line against relegation rivals Bristol, but it's hard not to be drawn to the continual lights-out play of Fatmata Janneh.
The forward has all the skills to dominate at this level despite her age, and is an exciting prospect as she heads off to the States next season.
The talented scorer dropped 30 points this weekend,  nearly half her side's total, to go with a hefty 18 boards. Getting fouled a bruising 11 times, Janneh could only go 5/12 from the line, but it's hard to put a negative against much that the Lions' star does right now.
Hat-tip to Leila Jepson (21pts) and Hannah Wallace (20pts) who both played a great game to claim what could be a priceless win, and to Veronica Iweanya (8pts, 20reb) for going to work on the glass for her side.
Honourable mentions 
Olivia Forster (IPS) – 22P/2A/2R/1S/17EFF 
Fatmata Janneh (LL2) – 30P/18R/3A/4S/1B/34EFF 
Veronica Iweanya (BRI) – 8P/20R/1A/1B/21EFF 
.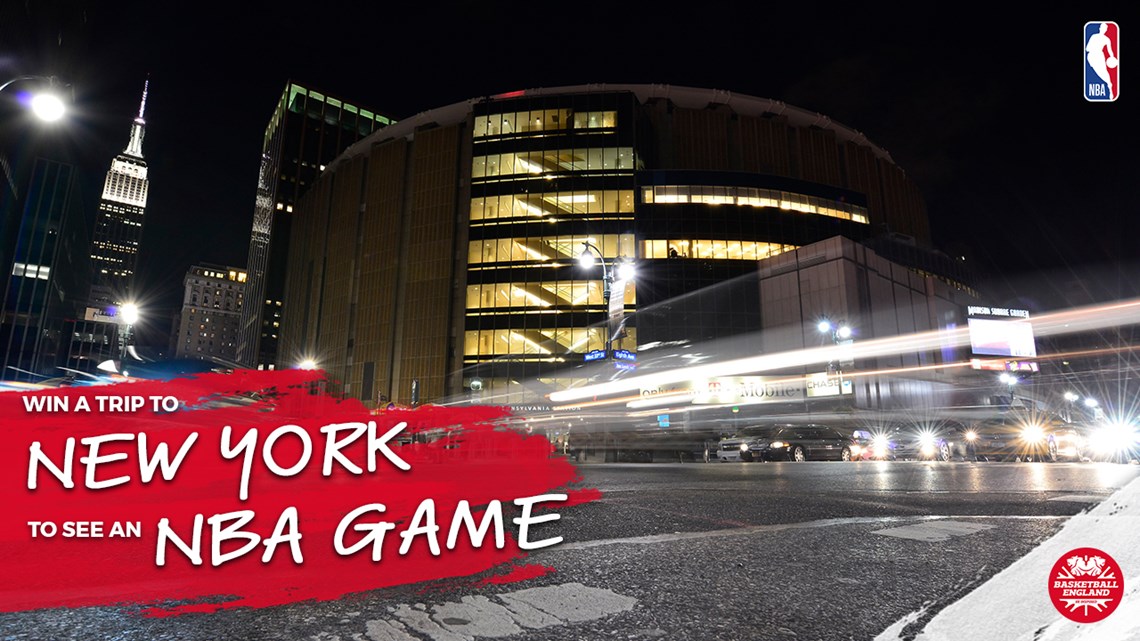 Join Basketball England for free and win a trip to New York City, courtesy of the NBA.
Whether you have a Supporter Account as a fan, follower, enthusiast or advocate, or a Full Account and have paid for a licence to play, coach or officiate in competition, you can enter our prize draw.
Basketball has the power to change lives. Our #GameTime campaign aims to raise awareness of the positive impact that basketball can have on people no matter who they are or where they are from.
.
.
Main image credit - Pavel Kricka