FocusHoops' Darren Paul has just a few weeks remaining in the regular season for Player and Team of the Week honours.
As a writer, commentator, podcaster and more, Darren saw Solent seal the regular season title with their win over Worcester, plus Reading's victory over Thames Valley, as well as five other games across the weekend.
Have your say on this week's choices and give a shout-out to the players you think deserve one using the hashtag #NBL2223. Don't forget to tag us!    
Twitter: @NBLengland / @FocusHoops  
Facebook: @NBLengland  / @FocusHoops  
Instagram: @nblengland / @focushoops  
How it works  
Darren will pick a Player of the Week and four other selections to round out his Team of the Week, paying attention to the following criteria:
Efficiency  
Stats  
Team and opposition strength  
Periods of influence in the game 
Being on a winning team (exceptional performances from players on losing teams will be considered for TOTW)
The FocusHoops Team of the Week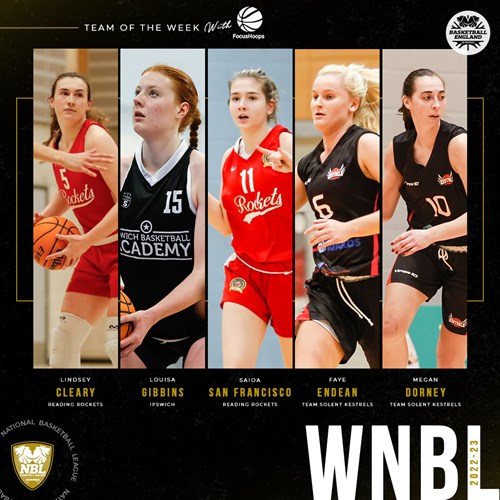 Player of the week
Lindsey Cleary - Reading Rockets, guard
15Pts/11rbs/7ast/1stl/31EFF vs TVC
13Pts/10rbs/4ast/2stl/20EFF vs IPS
Another round of the WNBL D1 in the books, another Lindsey Cleary masterclass.
This weekend saw the American star put up a 15-11-7 performance in Reading's upset win over TVC and follow it up with 13-10-4 in a win over Ipswich on Sunday.
Cleary hit 71% from the field on Saturday and went 5/6 from the stripe, whilst also leading all rebounders with 11, three on the offensive end and was the assist leader in the contest with seven.
Cleary and the Rockets are in fantastic form and will be a threat to anyone come the postseason.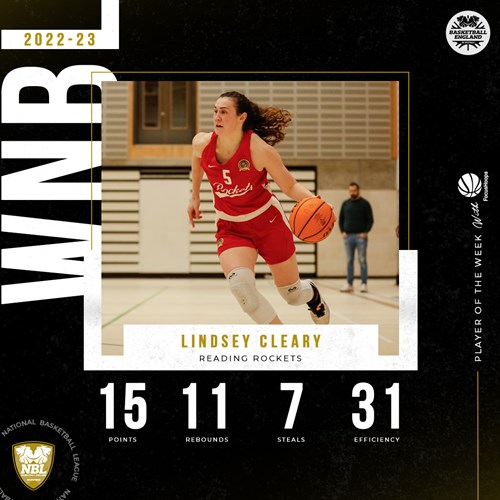 Louisa Gibbins - Ipswich, forward
11pts/13rbs/7ast/4stl/3blk/33EFF

Louisa Gibbins has been one of Ipswich's leading lights this season, and was immense, once again in their losing bid to Reading.
Gibbins was automatic from the stripe, draining 6/7 and hitting her only triple attempt on her way to 11 points.
It was her domination of the glass at both ends which was the real standout for me though, with Gibbins pulling down 13 boards in her double-double performance, with seven coming on the offensive end.
The former Bristol Flyer also found teammates for two assists and finished with a stunning seven stops, four steals and three blocks, in another all-action performance from the youngster.
Saioa San Francisco - Reading Rockets, guard
13Pts/7rbs/3ast/1stl/9EFF vs TVC
19Pts/4rbs/6ast/1stl/19EFF vs IPS
San Francisco has had an excellent season for Reading, and was in sparkling form in their win over Ipswich on Sunday.
She finished with 19 points off 45% shooting, sinking three triples and going an excellent 6/7 at the stripe.
San Francisco added four rebounds, one offensive, to her tally and found fellow Rockets for a team-high six assists, whilst also swiping a steal in her 33 minutes of action.
In a tense finish to the contest, the Rockets guard sank five of six free throws to close out the game and confirm a home quarter-final playoff berth for the Berkshire outfit.
Faye Endean - Team Solent Kestrels, guard
24pts/7rbs/6ast/3stl/26EFF 

Endean continues to put in brilliant performances for Team Solent Kestrels and her 24 points in the win over Worcester helped clinch the title, providing further evidence of that quality.
She bagged her points on 47% shooting but went 57% from three, sinking four triples and hitting 4/5 from the stripe.
Endean, as she's done all season, battled on the glass with seven boards and dished dimes, setting up team-mates six times.
The talented young guard also swiped three steals in the contest, yet again doing a lot of everything in the big moment.
With the title secured, the Kestrels will be looking to go all the way to a playoff win in Manchester, and with Endean in this form, they've got a great chance.
Megan Dorney - Team Solent Kestrels, forward
22pts/16rbs/1ast/1stl/33EFF 
With the championship there to be won, Dorney came up with the goods in efficient style to help TSK clinch the D1 title by downing Worcester on the road.
Dorney, who has been a key performer for Solent this season, put in work to the tune of a 22-16 double-double. The points coming from 70% shooting from the floor, all inside the arc and hitting an excellent 8/10 from the charity stripe, having been fouled six times in the matchup.
Dorney was without equal on the boards with five offensive and 11 defensive rebounds, she helped Solent win the battle on the glass by 21, a sign of the control TSK had over the game and over large swathes of the season.
Team basketball
Rockets edge Cavs
Reading Rockets have struggled this season against the Cavaliers, but got some revenge for their WNBL National Cup final loss by downing the Cavs, and ultimately denying their title bid on Saturday.
The Rockets were led in scoring by Lindsey Cleary and Eva Luzon, scoring 15 and 14 points respectively with a further 13 points from Saioa San Francisco and Jade Blackburn.
Robyn Ainge was the leading scorer for TVC with 18, hitting three triples, Kat Goldsby had 15 and Vanessa Johnson coming off the bench to knock down 11 points.
Reading hit the ground running, and held a five point lead at the half, TVC did hold the lead for a possession or two in the third period, but the Rockets finished the period strong and the TVC fight back came too late.
Rockets complete perfect weekend with thriller over ipswich
Rockets completed a perfect weekend, confirming their top four finish with a 93-89 victory over Ipswich on Sunday.
Less than a day removed from a battle with TVC, the Rockets found themselves in a slugfest with Ipswich and down 13 after the first period, the Rockets fought back to tie the contest 44 a piece at half.
The two sides traded the lead in the second half, but the Rockets, and Saioa San Francisco's free throws, settled the contest and clinched a professional victory to round out a big weekend.
Five Rockets hit double-figures in scoring, with San Francisco (19 points), Karpova (15 points) and Blackburn (15 points) top scoring overcoming the output over Ava Battese's 19 points, Olivia Partridge's 18 and Saruna Gudza's 16 points.
Louisa Gibbins and Cleary were the standout forwards in the match up, the only players on their teams to score double-doubles.
Heading into the post season, this was an enormous weekend for the Rockets.
Honourable mentions
Carolina Marques (WOR) - 18P/7R/1A/20EFF  
Olivia Partridge (IPS) - 18P/4R/2A/22EFF 
Sasha Lecuyer (LOU) - 16P/6R/1A/18EFF  
.

Join Basketball England for free. Whether you have a Supporter Account as a fan, follower, enthusiast or advocate, or a Full Account and have paid for a licence to play, coach or officiate in competition, you can be part of the basketball family.
Basketball has the power to change lives. Our #GameTime campaign aims to raise awareness of the positive impact that basketball can have on people no matter who they are or where they are from.
.