As we edge ever closer to the Playoffs FocusHoops' Darren Paul return with his WNBL1 Player and Team of the Week selections.
As a writer, commentator, podcaster and more, Darren looked over six games from this past weekend, finally whittling the potential selections down to a chosen few.
Have your say on this week's choices and give a shout-out to the players you think deserve one using the hashtag #NBL2223. Don't forget to tag us!    
Twitter: @NBLengland / @FocusHoops  
Facebook: @NBLengland  / @FocusHoops  
Instagram: @nblengland / @focushoops  
How it works  
Darren will pick a Player of the Week and four other selections to round out his Team of the Week, paying attention to the following criteria:
Efficiency  
Stats  
Team and opposition strength  
Periods of influence in the game 
Being on a winning team (exceptional performances from players on losing teams will be considered for TOTW)
The FocusHoops Team of the Week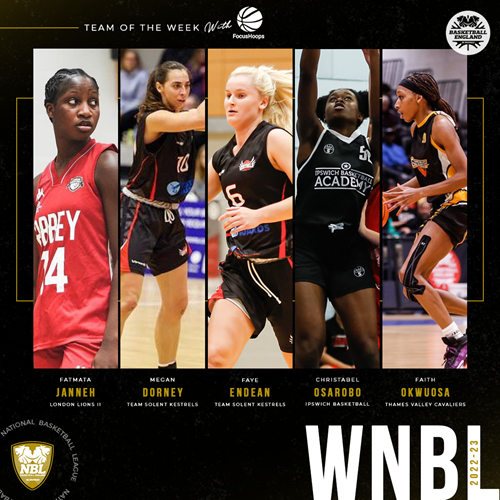 Player of the week
Fatmata Janneh, London lions II – Forward/guard 
34Pts/15rbs/3ast/35EFF 
Janneh led all scorers this weekend as she helped to keep London Lions II's playoff hopes alive thanks to her 34 points in a strong win over Worcester.  
She did much of her damage inside, sank three triples and went 5-6 from the charity stripe. Janneh had 13 points in the first period, when the Lions really built their advantage, opening up a 16-point gap.  
As ever, she was no slouch on the boards with a game-high 15 rebounds, 11 of those defensive, and finished the game with four assists, five steals and two blocks in a highly productive outing for the young star.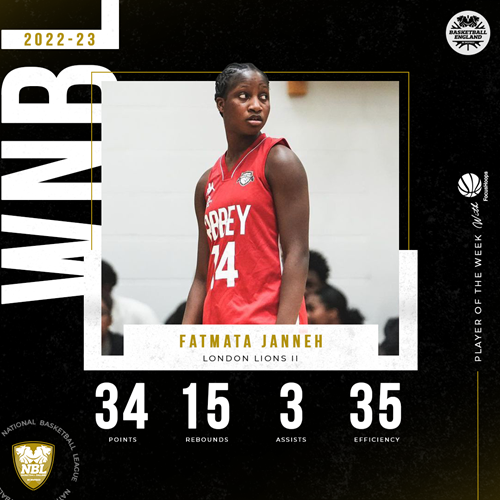 Megan Dorney, Team Solent Kestrels - Forward 
21pts/11rbs/3ast/24EFF 
Dorney was an offensive rebounding machine in Team Solent Kestrel's tight win over Ipswich this weekend, with the forward pulling down nine offensive boards on her way to 11 total. 
She also led the way in scoring for the Kestrels with 21 points, with 3 coming from the stripe and the rest coming in the paint as Dorney's inside game was once again on full display.  
Dorney had six vital points in a tense final period, that looked like going either way and also dished out two of her three assists to Faye Endean for huge baskets in another hard-fought win for the league leaders.  
Faye Endean, Team Solent Kestrels - Guard 
18pts/10rbs/5ast/26EFF 
Endean once again came up clutch for her Team Solent Kestrels sides as they narrowly overcame a spirited Ipswich at home this weekend, scoring eight crucial points in the final period.  
She hit a triple to open the quarter to tie the contest at 50 seconds, and then hit another with 1:09 left on the clock to take a three-point advantage, before securing the win with a layup in the dying moments.  
Endean has been inspired this season with a will to win that has helped Solent in their toughest moments. Endean finished with an 18-10 double-double, all defensive, found her teammates for five assists and defended well with three steals and three blocks in another huge performance.  
Christabel Osarobo, Ipswich - Forward/guard 
13pts/16rbs/2ast/2stl/26EFF 
Osarobo was one of the leaders for Ipswich as they took the champions-elect to the wire this weekend, finishing with an efficient 13 points, 16 rebounds double-double. She sank two threes and hit 5-6 from the line and led the way on the glass for the Suffolk club, who are in a battle for the playoffs with the London Lions II. 
Osarobo did a bit of everything finding her teammates with two assists and picking two passes. She finished the opening period with 10 points, helping establish a platform that had them in the contest for the full 40.  
Faith Okwuosa, Thames Valley Cavaliers – Forward/guard  
18pts/7rbs/22 EFF 
Okwuosa (above) has had an excellent season and had another excellent performance on Sunday as she helped TVC take a very strong victory over the London Lions II at home. She ended with a game-high 18 points, hitting four triples and draining 6-6 at the stripe.  
Okwuosa pulled down seven rebounds, with two on the offensive end and dished one assist, picked one pass and sent a shot back on a day in which she didn't commit a single turnover. The bulk of her points came on either side of the half when the Lions applied the pressure and mounted their fightback, but the versatile Okwuosa helped to ensure that TVC maintained a healthy lead and stay in the title fight.  
Team basketball
Ipswich take Solent to the wire, but the league leaders win out 
The Team Solent Kestrels have been playing like Champions in 2023, constantly finding ways to win in the face of tough opposition performances and this weekend was no exception. Ipswich started well and carried the lead until midway through the third before a back-and-forth final period was edged by the South Coast club. Solent had three players in double-digits scoring with Yassin Belle-Mbaye scoring 14 points against her old club, Faye Endean bagging 18 points and Megan Dorney leading her side with 21 points. Ipswich saw Liv Forster sink six threes on her way to 24 points with Cristabel Osarobo efficiently adding 13 points in a contest that sent a message to the rivals of both clubs. 
London remain in the playoff hunt keeping the Wolves at bay 
The London Lions II keep their playoff hopes alive as they took down the Worcester Wolves at home with a 17 points victory. The Lions were led in scoring by Fatmata Janneh on 34 points, Ruchae Walton with 19 points and Genessa Bedoya adding 11, with Janneh dominating the glass and Bedoya leading the way with four dimes. The Wolves, as spirited as ever, had four players in double-digits with two players putting in 40-minute shifts. Shona Williams has been quietly impressive for Worcester at times this season, and she performed well with 10 points and 9 boards in her 40 minutes Diedre Edwards had 11-9-6 off the bench with captain Grace Brownell leading the way with 15 points. 
Honourable mentions
Courtney Gray (ARU) - 12/10/1/18EFF  
Veronica Iweanya (BRI) - 11/21/2/24EFF 
Helene Trailin (TVC) - 8/17/1/21EFF  
.

Join Basketball England for free. Whether you have a Supporter Account as a fan, follower, enthusiast or advocate, or a Full Account and have paid for a licence to play, coach or officiate in competition, you can be part of the basketball family.
Basketball has the power to change lives. Our #GameTime campaign aims to raise awareness of the positive impact that basketball can have on people no matter who they are or where they are from.
.