The Derby Trailblazers are building something special in the East Midlands.
Currently, they are third in D1 of the NBL, are this season's National Cup runners up, are only the second side in the NBL's history to reach the last four of the BBL Trophy, and are holders of the 2021/22 KitKing (formerly L Lynch) Trophy.  
All of this and more are the foundations on which the club's ambitions to return to the topflight of British basketball are being built.
Shaping and finessing the Trailblazers brand, with engaging social media content and sharp imagery, is their Head of Content Lauren Hunt-Newham, who was awarded Media/Photographer of the Year at the Basketball England Awards 2022, which recognise the selfless dedication and efforts of England's basketball community.
"It felt amazing," said Hunt-Newham on her award win. "But it was very unexpected as there are a lot of great media people in the league and across the UK. It was great to see my hard work getting recognised. I've been doing this for two seasons, so to see how I've developed in the space of two years is a really good feeling."
'Basketball link foreordained'
It was foreordained that the 23-year-old would be linked with basketball what with her school PE teacher being none other than Trailblazers Men's Head Coach Matt Shaw, who invited her down to train with the club; eventually playing for the academy team pre-WEABL in the Association of Colleges league.
As part of the Derby family, a younger Hunt-Newham would often watch the D1 men's team in action and took it upon herself to record the team's performances, sitting in the stands with a camcorder and making highlight reels to upload to YouTube.
"I just learnt how to do the video editing myself. I didn't have any formal training because it's not something I ever thought I would do [as a job]. I thought making highlights [of the players] would be cool, so I learnt how to use Premiere Pro. And then we needed graphics, so I taught myself how to use Photoshop."
Before the COVID-19 pandemic hit, Lauren was gearing up to do a sports coaching degree at university, but changed tact completely after realizing she was a dab hand at photography, videography and content creation. "Picking up that camera has completely changed everything," said the Derbyshire native.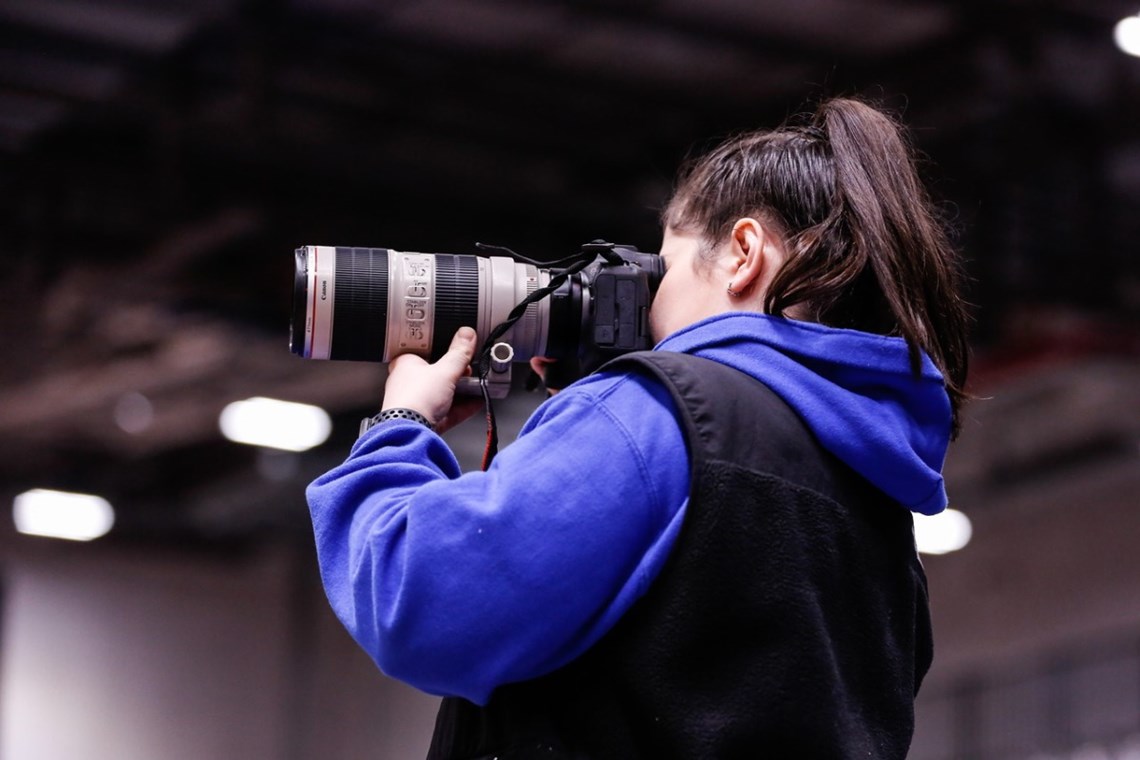 'Boost to the women's game'
Not surprisingly, she is midway through a degree in Digital Marketing at the University of Derby and is on a placement year, honing her marketing and communications skills at the East Midlands Chamber, which helps business' grow in the region.
Hunt-Newham says she is one of several women coming up in the media/photography industry and making their mark on the British basketball scene, but that mainly they are the one's covering both the men's and women's leagues.
She says that more exposure for women's basketball can only be a good thing and calls on her male peers to give the women's game a boost through their work.
"There are lot more men in the industry and most of my friends within the league are men, but there are women I know too, picking up the camera and getting into it. As the women documenting the league, it's good that we cover the women's games as well. I don't often see as many men covering them.
"Some of the guys in the league are really good photographers and videographers and I think getting the same quality of content that the men get in the women's game would really boost its exposure."
Main image - Luke Simcock
.

Join Basketball England for free.
Whether you have a Supporter Account as a fan, follower, enthusiast or advocate, or a Full Account and have paid for a licence to play, coach or officiate in competition, you can be part of the basketball family.
Basketball has the power to change lives. Our #GameTime campaign aims to raise awareness of the positive impact that basketball can have on people no matter who they are or where they are from.