FocusHoops' Darren Paul saw plenty of fireworks this weekend with some illuminating performances across D1W.
As a writer, commentator, podcaster and more, Darren had five games to look through in order to pick his Player and Team of the Week to kick off November.
Have your say on this week's choices and give a shout-out to the players you think deserve one using the hashtag #NBL2324. Don't forget to tag us!     
Twitter: @NBLengland / @FocusHoops   
Facebook: @NBLengland  / @FocusHoops   
Instagram: @nblengland / @focushoops   
How it works   
Darren will pick a Player of the Week and four other selections to round out his Team of the Week, paying attention to the following criteria: 
Efficiency  

 

Stats  

 

Team and opposition strength  

 

Periods of influence in the game 

 

Being on a winning team (exceptional performances from players on losing teams will be considered for TOTW)

 
The FocusHoops Team of the Week 
 
Harriet Welham - Endeavour Ipswich Basketball, guard
35pts/8reb/5ast/3stl/1blk/37EFF 
Sinking 14 of her 25 shots, Harriet Welham was the round's leading scorer on her way to 35 points in Ipswich's impressive home win over Manchester Mystics.
Never a slouch outside of scoring, Welham was busy on the glass, pulling down eight boards, dishing five dimes and finishing with three steals and a block.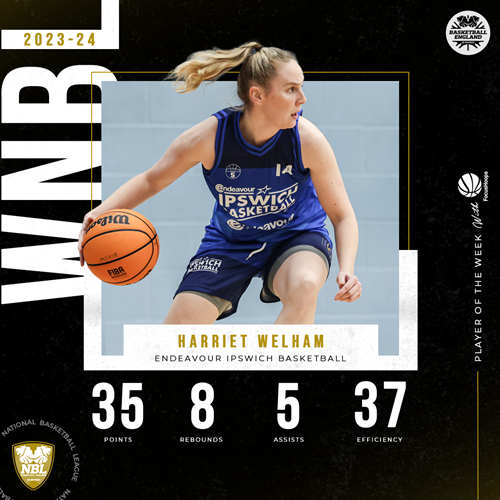 Cristina Bigica - Bristol Academy Flyers, forward
25pts/4reb/3ast/24EFF 
Bristol kickstarted their 2023/24 campaign with an important road win in Loughborough and captain Cristina Bigica came off the bench to bag 25 points on 60% shooting.
Bigica was a menace to Loughborough as evidenced by her 10 fouls drawn and impressive 12/16 shooting from the stripe.
The Flyers' forward also pulled down four boards, dished three assists and didn't commit a single turnover in her 24 minutes of play.
Ruchae Walton - Barking Abbey, guard
22pts/16reb/2ast/7stl/25EFF 
Walton had a big day for Barking as they took the victory in a low scoring game against the Kestrels on the road.
BA's captain finished with a 22-16 double-double, pulling down seven offensive boards and finished with seven steals in an important win for the Londoners.
Judit Fritz - Brent Bulls, guard
22pts/4reb/5ast/24EFF 
Judit Fritz was the catalyst for victory on the road for Brent as they edged by ARU on Saturday.
The only Bull in double-digit scoring, Fritz had 22 points on 58% shooting, going an impressive 3/5 from outside and 5/5 at the stripe.
Fritz also found her teammates for five assists to cap off a strong performance.
Yazmin Edwards - Endeavour Ipswich Basketball, guard
25pts/9reb/4stl/29EFF  
Just one rebound shy of a double-double, Yazmin Edwards continues to shine the early stages of the 2023/24 season.
Edwards bagged 25 points on a remarkable 84% shooting, going a perfect 10/10 from two and training a triple.
The young guard worked hard on the glass and swiped four steals in another quality start for Ipswich.
Team basketball 
bristol off the mark
Loughborough is a tough place to visit for travelling teams, but especially daunting for a team with a 0-4 record. Bristol were unfazed and came away with a crucial victory this weekend that is sure to kick start their season.
Led by their leader Cristina Bigica bagging 25 points and Kim Khieng adding 15 more, every other Flyer at least registered on the scoreboard.
Free throws proved to be the difference between the two sides, with Bigica alone scoring more at the stripe than Loughborough took in total, creating the advantage needed in an otherwise evenly matched contest.
Ipswich keep on rolling
Endeavour Ipswich Basketball remain top of the tree with a perfect 5-0 record after an impressive 102-41 victory against a shorthanded Manchester Mystics, who have otherwise made a great start to life in the WNBL D1.
Ipswich were led by Harriet Welham (35-8-5) but saw double-digit scoring from Yazmin Edwards, Olivia Forster and Danielle Cazey in the win.
Relentless in the passing lanes, Ipswich stole the ball 31 times, eight alone by Forster against her old club, whilst the hosts limited turnovers to just 19 in the contest.
Add in that the hosts controlled the boards as well, out rebounding their guests 58-49, and it all added up to another commanding Ipswich W.
Honourable mentions
Kasia Neininger (ARU) - 14P/10R/4A/19EFF 
Chinwe Iwunze (TVC) - 20P/7R/1A/23EFF 
Helene Trailin (TVC) - 14P/15R/1A/3S/23EFF 
.