FocusHoops' Darren Paul returns to assess the best of the WNBL and select his top-flight Team of the Week.
As a writer, commentator, podcaster and more, Darren had six D1W games to study, with a number of top performances across the league. 
Have your say on this week's choices and give a shout-out to the players you think deserve one using the hashtag #NBL2324. Don't forget to tag us!     
Twitter: @NBLengland / @FocusHoops   Facebook: @NBLengland  / @FocusHoops   
Instagram: @nblengland / @focushoops   
How it works   
Darren will pick a Player of the Week and four other selections to round out his Team of the Week, paying attention to the following criteria: 
Efficiency  

 

Stats  

 

Team and opposition strength  

 

Periods of influence in the game 

 

Being on a winning team (exceptional performances from players on losing teams will be considered for TOTW)

 
The FocusHoops Team of the Week 

Helene Trailin - Thames Valley Cavaliers, forward
12pts/6reb/4ast/19EFF 
Trailin claimed player of the week honours thanks to her efficient scoring display in TVC's victory over the Reading Rockets on Saturday. Three makes, back-to-back-to-back, ended a brilliant fightback from Reading by Trailin, who also went 4/6 from the stripe and pulled down a co-team-high six boards, four on the offensive end.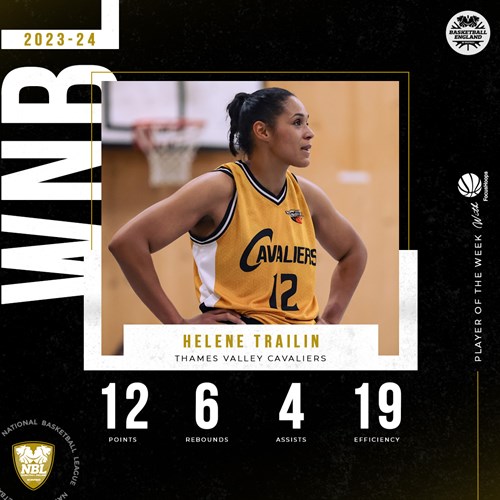 Chinwe Iwunze - Thames Valley Cavaliers, guard
21pts/6reb/2ast/18EFF 
Saturday saw an excellent showing from Iwunze in a crucial win for TVC over Reading.
Iwunze finished with a team-high 21 points, including 9/13 from the stripe, having drawn eight fouls, demonstrating the trouble she caused her opponents! 
Harriet Welham - Endeavour Ipswich Basketball, guard
23pts/13rebs/2ast/17EFF 
Local derbies are always tense affairs, and Welham's 23 points, scoring 50% from inside the arc and drawing nine fouls, was a key element in Ipswich's win over ARU.
Welham capped off her double-double with a round-high 13 rebounds and a crucial five steals.  
Chandera Jones-Aryeh - CoLA Southwark Pride, guard 
12pts/5rebs/8ast/20EFF 
Jones-Aryeh was close to a guard's double-double in CoLA's win over Loughborough with 12 points on 66% shooting, eight assists performance, which also saw the Southwark star pull down five boards, swipe two steals and send a shot back.
Five points early in the second period helped establish the platform for CoLA's win on home court.  
Vanessa Akra - Brent Bulls, guard 
12pts/5reb/4ast/18EFF  
Akra made a big impact from the bench in Brent's road win over Bristol, with 12 points on 55% shooting, and added five boards and four assists in just 20 minutes of action.
No slouch defensively, Akra also swiped three steals in a performance that has a bit of everything. 
Team basketball 
Cavaliers on a roll 
Thames Valley Cavaliers took a huge victory this weekend over Reading thanks in large part to the trio of Chinwe Iwunze, Helene Trailin and Kat Goldsby, all hitting double-digit scoring, with Iwunze leading the way with 21.
TVC won every quarter after the first, and an Iwunze-inspired second period saw them go on a 26-0 run that lasted into the third period.
TVC made their way to the line 23 times and made it count in the victory, despite losing the battle of the boards, with another great game from Reading's Lindsey Cleary.  
CoLA fizzing  
CoLA Southwark Pride took a resounding home victory over Loughborough Riders by 28 points at home to signal their intent on the WNBL in 2023/24.
Five members of the Pride hit double-digits in scoring, with Felicia Jacobs finishing with a 12-10 double-double, Violet Stutz bagging 13 points and Chandera Jones-Aryeh with 12 points and eight dimes in a fine display of team basketball.
After a close first period, CoLA took control of the contest in the second and despite trading in baskets in the third frame they took an ultimately comfortable win in commanding fashion. 
Honourable mentions
Lindsey Cleary (REA) - 21P/11R/4A/25EFF 
Yazmin Edwards (IPS) - 15P/10R/16EFF 
Jess Davies (BRE) - 13P/11R/1A/18EFF 
.