Chris Hughes is back once again to provide his Player and Team of the Week selections.
Hughes, the All-Star organiser, content producer, YouTube host and producer, commentator and social media observer, had an early game of the season candidate in Bradford vs City of Birmingham to pick from, plus good wins for Hemel, Reading, Essex and Derby.
Have your say on this week's choices and give a shout-out to the players you think deserve one using the hashtag #NBL2324 and #ReboundTOTW. Don't forget to tag us!    
X:  @NBLengland / @Rebound__  
Facebook:  @NBLengland  / @ReboundNBL  
Instagram:  @nblengland / @reboundnbl  
How it works 
Chris will pick a Player of the Week and four other selections to round out his Team of the Week, paying attention to the following criteria:
Efficiency  
Stats  
Team and opposition strength  
Periods of influence in the game 
Being on a winning team (exceptional performances from players on losing teams will be considered for TOTW)
Other players will also receive a shout out as honourable mentions at the bottom of the piece.
The Rebound Team of the Week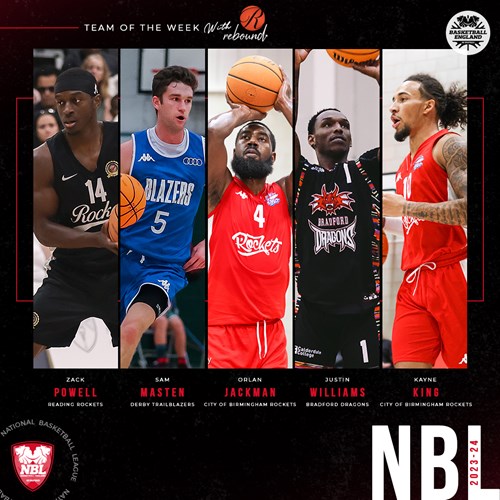 PLAYER OF THE WEEK 
Zack Powell - Reading Rockets, guard
26pts/6reb/5ast/6stl/.1blk/40eff
Powell didn't like the feel of the bench this weekend. The exuberant guard didn't start against Thames Valley Cavaliers but when he did hit the court he shot the lights out as part of a two-way playmaker masterclass. 
In a standout 32-20 third quarter for the Rockets, Powell showcased his ability as a versatile scorer, racking up 12 points in efficient style as the Rockets dominated what was an important passage of play.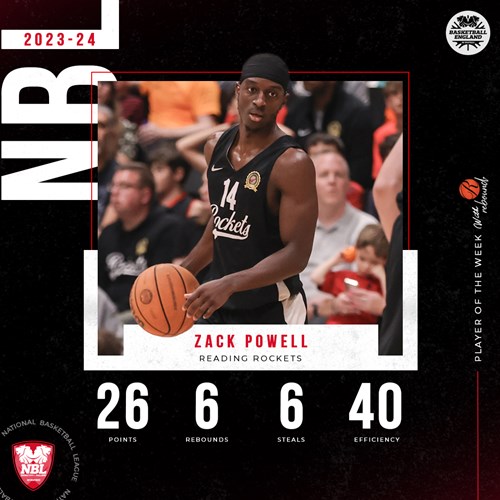 Sam Masten – Derby Trailblazers, guard
28pts/10reb/5ast/0TO/39eff

Masten put on a show in the capital to heighten his stock as one of the best floor generals in the NBL1.
The American ran the show in the 21-point win at London Elite, leading his side in points, rebounds and assists, all while protecting the ball with zero turnovers.  
Kayne King - City of Birmingham , guard
19pts/3reb/4ast/2stl/17eff
If at first you don't succeed, try and try again. On two occasions, the former NBL1 assist king must have thought he had shot the winning bucket for the Rockets, first with a three-point shot with 11 ticks left in regulation,, then in double overtime, netting three out of four free throws. Both times the Dragons fought back though, refusing to go quietly.
Finally, in triple overtime, King's three secured the W. His efficiency rating might have been lower than others elsewhere, but his input was so telling when it mattered most. 
Orlan Jackman – City of Birmingham Rockets, forward
34pts/15reb/5ast/1stl/33eff
Teammate Kayne King may have hit the game winner in triple overtime but Orlan Jackman was a key figure in the victory.
The veteran scored nine of the Rockets' 14 points in the first period of overtime and was a constant threat throughout with an impressive 34-point, 15-rebound double-double. 
Justin Williams - Bradford Dragons, guard
31pts/4reb/8ast/2stl/33eff
Williams was a force to be reckoned with, reaching his 31-point tally despite Birmingham trying everything to shut him down.
The one-time Rebound All-Star missed only one of his 15 free throws, no surprise for the Dragons' standout who currently averaging 85.7FT%, and Williams was a key reason that the Dragons pushed City of Birmingham all the way to 3OT.
Team basketball 
Rockets tame Dragons in epic tussle
COB Rockets once again proved they are not to be underestimated.
The newly-promoted side got the job done in triple-overtime with a nine-man roster who all contributed to the 131-point tally, with 41 points coming from the bench. 
Honourable mentions 
Hakeem Sylla (HEM) - 20P/8R/3A/3B/28EFF 
Sam Toluwase (COB) - 25P/7R/4A/4S/26EFF
Fin Porter (REA) - 18P/6R/2A/2S/2B/27EFF 
Igor Stokic (TVC) - 20P/15R/2A/1S/26EFF 
Ebuka Ekwegh (ESS) - 20P/2R/2A/20EFF 
.
.