FocusHoops' Darren Paul is back on hand to pick out his Player and Team of the Week from D1W.
As a writer, commentator, podcaster and more, Darren ended the month with a great schedule of games, leaving no shortage of performances to pick from.
Have your say on this week's choices and give a shout-out to the players you think deserve one using the hashtag #NBL2324. Don't forget to tag us!     
Twitter: @NBLengland / @FocusHoops   
Facebook: @NBLengland  / @FocusHoops   
Instagram: @nblengland / @focushoops   
How it works   
Darren will pick a Player of the Week and four other selections to round out his Team of the Week, paying attention to the following criteria: 
Efficiency  

 

Stats  

 

Team and opposition strength  

 

Periods of influence in the game 

 

Being on a winning team (exceptional performances from players on losing teams will be considered for TOTW)

 
The FocusHoops Team of the Week 
 
Liv Forster - Endeavour Ipswich Basketball, guard
30pts/5reb/4ast/5stl/21EFF 
Ipswich continued their perfect start to the season and Liv Forster's 30 points was a massive factor in their win away to Reading Rockets.
Forster knocked down seven triples on 43% shooting and went 5/8 from the stripe in a weekend-high in scoring.
Forster put in a total performance with five boards, five steals and four dimes in another significant early-season victory.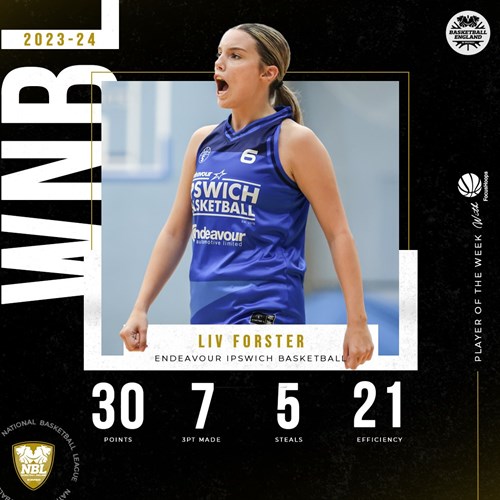 Wura Ijelu - Barking Abbey, guard
9pts/13reb/4ast/20EFF 
Just one point shy of a double-double Wura Ijelu led the way for Barking in their win over Bristol.
Pulling down 13 boards, seven offensive, and dishing four dimes, Ijelu also added a block and a steal whilst drawing five fouls in a big win for Barking.
Kasia Neininger - Anglia Ruskin University, guard
19pts/4reb/1ast/20EFF 
The driving force of Cambridge basketball, Kasia Neininger put in a fine scoring performance in ARU's road victory in Manchester.
Neininger bagged a game-high 19 points, going 7/10 from two and draining a triple to go with her four boards, three offensive, one assist and one block.
Parfaite Ando - Reading Rockets, forward
15pts/14reb/19EFF 
Despite being on the wrong side of things against Ipswich, Ando's individual performance earns her a spot in my Team of the Week.
Scoring a rare double-double, Ando led her side in scoring as well as on the glass with 15 points on 45% shooting, going 5/6 from the stripe and pulling down 14 rebounds.
Emma Dunsire - Loughborough Riders, forward
14pts/12reb/5ast/20EFF  
Dunsire led by example for Loughborough in their road win over the City of Birmingham Rockets, bagging a 14-12 double-double on 55% shooting
The forward also added five assists and three steals in a complete performance as the Riders got back to winning ways.
Team basketball 
Ipswich stay perfect
Ipswich consigned Reading Rockets to their second defeat in as many games, taking a hard-fought 10-point victory on the road.
Narrowly winning three of the four quarters, Ipswich exerted control in the contest and were tenacious in the passing lanes, out-stealing Reading 21-9.
The visitors controlled the ball, committing 20 fewer turnovers which allowed them 10 more shot attempts and did a lot of damage beyond the arc.
After another big day from Liv Forster, and big scoring contributions from Yazmin Edwards and Harriet Welham, Ipswich were too much for their Berkshire opponents.
TVC Tame Pride on the road
TVC continue to battle back from their slow start to the season with a hard-fought road victory against last season's playoff finalists CoLA Southward Pride, taking the win by just six points in a low-scoring affair.
Helene Trailin and Kat Goldsby led the way in scoring, both finishing in double-digits, with Trailin bagging a 13-12 double-double before fouling out at the end of the game.
Outside of that duo, it was Chinwe Iwunze contributing on the boards with 10 rebounds as TVC withstood a good shooting performance from Felicia Jacobs and a late fightback from the hosts.
Honourable mentions
Michelle Turner (CoB) - 16P/8R/5A/21EFF 
Ezekiela Lisk (REA) - 8P/12R/3A/17EFF 
Yazmin Edwards (IPS) - 12P/6R/1A/4S/16EFF 
.