Chris Hughes rounds out October with one more batch of D1M honours.
Hughes, the All-Star organiser, content producer, YouTube host and producer, commentator and social media observer, is once again charged with selecting a Player and Team of the Week, though the individual honour was an easy choice this time following one of the performances of the season so far.
Have your say on this week's choices and give a shout-out to the players you think deserve one using the hashtag #NBL2324 and #ReboundTOTW. Don't forget to tag us!    
X:  @NBLengland / @Rebound__  
Facebook:  @NBLengland  / @ReboundNBL  
Instagram:  @nblengland / @reboundnbl  
How it works 
Chris will pick a Player of the Week and four other selections to round out his Team of the Week, paying attention to the following criteria:
Efficiency  
Stats  
Team and opposition strength  
Periods of influence in the game 
Being on a winning team (exceptional performances from players on losing teams will be considered for TOTW)
Other players will also receive a shout out as honourable mentions at the bottom of the piece.
The Rebound Team of the Week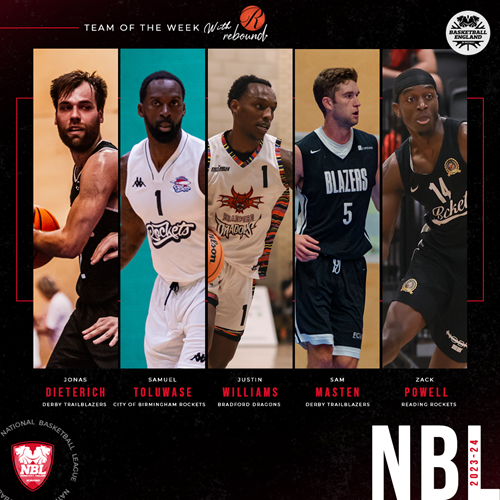 PLAYER OF THE WEEK 
Jonas Dieterich - Derby Trailblazers, guard
37pts(12/14 3pt)/7reb/2ast/2stl/41eff
Derby's number 12 and this week's Rebound Player of the Week hit his jersey number in threes, making shooting beyond the arc look too easy in an astonishing display. 
The shooter was razor-sharp and his team needed him to be, in the high-scoring eight-point W, as the rest of the squad - Sam Masten apart - struggled to get going with a collective five threes from 17 attempts.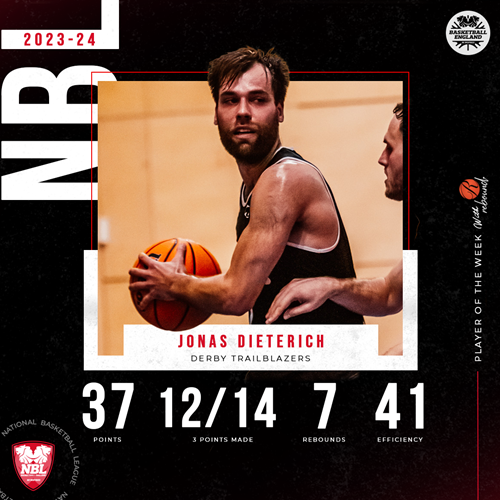 Sam Toluwase – City of Birmingham Rockets, forward
32pts/11reb/1ast/1STL/33eff

Toluwase put up a tough 32-point, 11-rebound double-double to inspire Birmingham to continue their unbeaten start to life in NBL1. 
He worked hard in the paint and his rebounding at both ends, as part of a team effort, helped COB to outscore the Cavaliers by twice as many second-chance points even with Toluwase's side making less boards.  
Justin Williams - Bradford Dragons, guard
31pts/4reb/3ast/27eff
Williams makes a back-to-back 'Team of the Week appearance with a high-scoring masterclass in the four-point win, as the All Star almost got as many points as the remaining Dragons starters combined (31v35). 
The third quarter was the most open with the Dragons outscoring the Hoods by eight, as Williams made a trio of threes as well as completing three-point play from a trip to the line to help the cause. 
Sam Masten – Derby Trailblazers, guard
31pts/4reb/6ast/29eff
Is it a team of the week without Sam Masten? The floor general was once again a key piece as Coach Shaw benched him for barely a minute. 
Masten was tough to stop, making eight from 11 from inside, as Hemel were unable to stop him driving to the bucket. 
The Trailblazers are second for most threes attempted and on average the most made threes per game. 
Zach Powell - Reading Rockets, guard
13pts/9reb/4ast/2stl/24eff
A good general leads his team to victory, and Powell did just that. He was busy from the start, assisting the first bucket and then making a completed and-one as the Rockets propelled themselves into a 10-point lead after a quarter. It was a gap the Riders couldn't bridge. 
In the 21-point win which pitted two unbeaten sides against each other, Powell was the difference-maker and Reading performed the best when he was on the floor as part of a team effort. 
Team basketball 
DTB Weather The Storm
Derby shot 52% from inside, 50% from beyond the arc and 100% from the line in the 104-96 win over Hemel, and while sometimes the defence was questionable, they took care of business to entertain the masses. 
In a game where Coach Shaw heavily relied on the starters, Charlie Brown and Rob Marsden came on in impressive albeit small cameo roles, with the duo combining for 6 offensive boards as the five starters combined only recorded two as Derby scored 13 second-chance points. 
On Halloween, the scary news is Derby are impressing with players to come back from injury, including 2x Rebound All Star Jase Harrison. 
Honourable mentions 
Corey Johnson (DTB) - 8P/8R/13A/1S/21EFF 
Daniel Johnson-Thompson (WOR) - 13P/9R/1A/1B/+-13/15EFF 
Ishmael Fontaine (WOR) - 12P/6R/3A/3S/20EFF 
Elijah Maynard (REA) - 11P/5R/2A/2S/2B/+-24/16EFF 
Zion Tordoff (BRA) - 10P/14R/3A/5S/24EFF 
.
.

Main image credit - Ivan Grotsev