FocusHoops' Darren Paul returns once more, looking over the best of the week two action from the WNBL.
As a writer, commentator, podcaster and more, Darren had five games to study, with a number of top performances across the league.
Have your say on this week's choices and give a shout-out to the players you think deserve one using the hashtag #NBL2324. Don't forget to tag us!    
Twitter: @NBLengland / @FocusHoops  
Facebook: @NBLengland  / @FocusHoops  
Instagram: @nblengland / @focushoops  
How it works  
Darren will pick a Player of the Week and four other selections to round out his Team of the Week, paying attention to the following criteria:
Efficiency  
Stats  
Team and opposition strength  
Periods of influence in the game 
Being on a winning team (exceptional performances from players on losing teams will be considered for TOTW)
The FocusHoops Team of the Week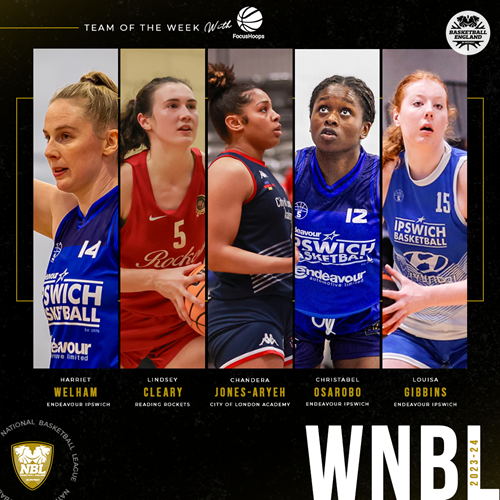 Player of the week
Harriet Welham - Endeavour Ipswich Basketball, guard
18pts/16reb/11ast/3stl/+/-21/32eff
Box-office basketball from Harriet Welham and Ipswich as they took down TVC in the blockbuster game of the round.
A triple-double performance with 18 points on 40% shooting, 16 boards and 11 dimes, leading to 26 points for her teammates.
Ipswich got off to a hot start on Sunday with Welham contributing one steal, three assists and two points in the opening five minutes, helping her side build their platform for success.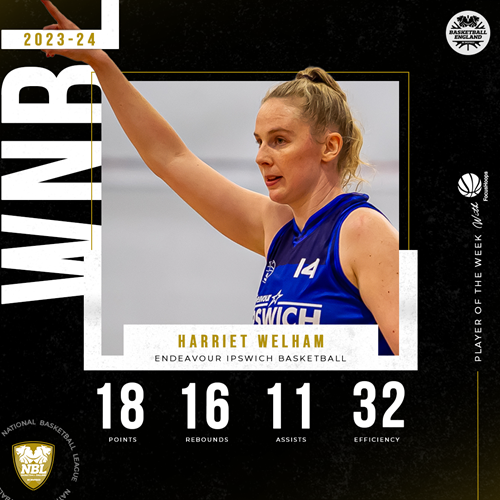 Lindsey Cleary - Reading Rockets, forward
24pts/8reb/4ast/4stl/2blk/31eff
Lindsey Cleary's consistency has been a marvel to behold the last few seasons, and 2023/24 is shaping up for more of the same.
Cleary led the way for her Rockets over the Riders, scoring 24 points, hitting 10/16 from the paint to go along with eight boards, four dimes and four steals.
Chandera Jones-Aryeh - CoLA Southwark Pride, guard
21pts/7reb/2ast/20eff
CoLA bounced back this weekend in no small part to Chandera Jones-Aryeh's 21 points performance.
Jones-Aryeh was next level efficient in her play, hitting 50% from two points-land, sinking her one three point attempt and going 10/12 from the stripe, drawing 10 fouls.
Christabel Osarobo - Endeavour Ipswich Basketball, guard
13pts/9reb/4ast/2stl/23eff
Christabel Osarobo came within touching distance of a double-double this weekend with 13 points and nine rebounds against TVC.
Osarobo's points came off 62% shooting including going 2/2 from the stripe.
Louisa Gibbins - Endeavour Ipswich Basketball, forward
14pts/6reb/1ast/2stl/3blk/23eff
Louisa Gibbins came off the bench for Ipswich on Sunday and contributed in a huge way with 14 points, six boards, two steals and a game high three blocks.
Gibbons shot with great efficiency to boot, draining 4/6 three pointers on a productive afternoon.
Team basketball
Ipswich state their intentions
Ipswich took down TVC on the road on Sunday, winning 92-71 in a performance and result that puts the league on notice, that they are back and they are the real deal.
Led once again by Player of the Week Harriet Welham's triple-double, Ipswich saw excellent all-around performances from Christabel Osarobo and Louisa Gibbins.
Coach Drane's side finished with six scorers in double-digits, with solid contributions from Danielle Cazey, Yazmin Edwards and Olivia Partridge, in addition to the three TOTW performers.
As a team Ipswich shot at 41% from the field and edged the battle on the boards 59-58.
Rockets remain unbeaten
Reading continue to build on an excellent season in 2022/23 with a statement victory over Loughborough at home.
Reading controlled three of the four quarters, only scoring fewer than 21 points in the second, which was the only quarter they dropped to Loughborough in an otherwise dominant performance.
A great display from Lindsey Cleary on her way to 24 points and eight boards was bolstered with 14 points from captain Kristina Karpova.
Parfaite Ando also came up big for Reading with a 14-16 double-double whilst Loughborough who were led by another fine showing from ex-Kestrel star Erin Caldwell's 16-6-1 performance.
Honourable mentions
Kristina Karpova (REA) - 14P/5R/3AST/18EFF
Helen Trailin (TVC) - 16P/17R/3A/27EFF
Mara Marchizotti (BRI) - 14P/14R/2A/18EFF
.