The D1M regular season is underway, and week 1 produced some wild results for Chris Hughes to sift through.
Chris, the All-Star organiser, content producer, YouTube host and producer, commentator and social media observer, had six games to look through, including Loughborough ending Hemel's mammoth win streak, a come-from-behind victory for Essex over Worthing, and a high-scoring shootout between local rivals Nottingham and Derby.
Have your say on this week's choices and give a shout-out to the players you think deserve one using the hashtag #NBL2324 and #ReboundTOTW. Don't forget to tag us!    
X:  @NBLengland / @Rebound__  
Facebook:  @NBLengland  / @ReboundNBL  
Instagram:  @nblengland / @reboundnbl  
How it works 
Chris will pick a Player of the Week and four other selections to round out his Team of the Week, paying attention to the following criteria:
Efficiency  
Stats  
Team and opposition strength  
Periods of influence in the game 
Being on a winning team (exceptional performances from players on losing teams will be considered for TOTW)
Other players will also receive a shout out as honourable mentions at the bottom of the piece.
The Rebound Team of the Week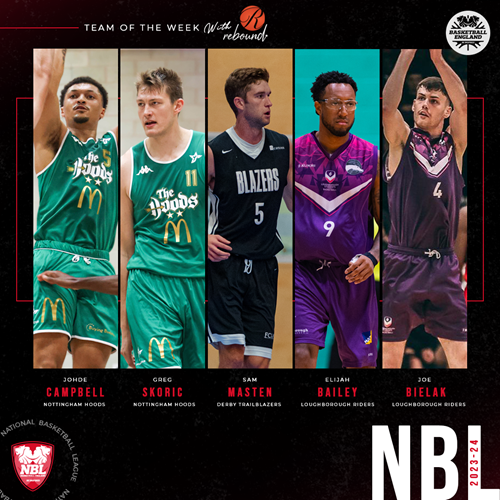 PLAYER OF THE WEEK 
Johde Campbell - Nottingham Hoods, guard
27pts/6reb/11ast/31eff
Campbell put on a 27-point, 11-assist double-double, including six points and a dime down the stretch to earn the dub against Derby and this week's Rebound Player of the Week. 
In a high-scoring game, his efficiency from three-point range and his +/- impact helped keep the Hoods on top in the local derby and edged him just ahead of teammate Greg Skoric.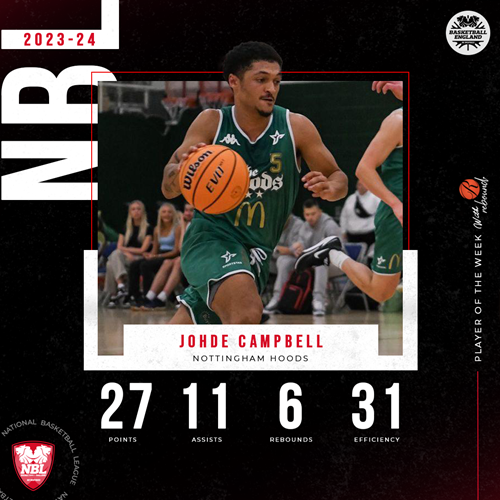 Greg Skoric – Nottingham Hoods, forward
30pts/12reb/2ast/37eff

Skoric put up an unstoppable 30-point, 12-rebound double-double in Saturday's big win. His dominance in the paint allowed spacing for the Hoods to dominate from beyond the arc too.
Unlucky to narrowly cede the honours to teammate Campbell. 
Sam Masten - Derby Trailblazers, guard
32pts/5reb/8ast/2stl/39eff
The highly impressive guard put in another stand-out performance this weekend, as Masten did everything he could in the fourth against the Hoods to prevent the loss.
He laced six threes in efficient fashion while also posting an impressive eight assists and two steals, giving away the ball just once. 
Elijah Bailey – Loughborough Riders, guard 
30pts/4reb/3ast/22eff
Bailey was too tough to guard with a key shooting performance from all three spots as Loughborough sent Hemel home with a rare loss.
Bailey's 12 points in a tricky third quarter limited the damage from Hemel's highest scoring quarter and kept the offence ticking over. 
Joe Bielak - Loughborough Riders, guard
19pts/2reb/2ast/3stl/1blk/18eff
Bielak put in an impactful two-way performance, influencing the game with a game high plus and minus.
A perfect free-throw shooting performance (9/9) was the difference in the five-point win as Bielak was sent to the line at key times at the start of the first quarter, and to close the game. 
Team basketball 
Newcastle's Elite Performance
In the capital, Newcastle put on a team shooting clinic as every shooter got on the scoreboard as the University side posted an impressive team 46FG% and 50% from 30 three-point attempts.
Given that it was a close game, Newcastle never let the lead slip, thanks in part to a dominant first-half performance. 
Honourable mentions 
Hakeem Sylla (HEM) - 24P/11R/3S/4B/32EFF 
Josh Guddemi (NOT) - 19P/11R/5A/27EFF
Justin Williams (BRA) - 27P/3R/2A/2S/25EFF 
AJ Roberts (TVC) - 20P/4R/1A/1B/19EFF 
Logan Rooney (NEW) - 24P/4R/1A/2S/18EFF 
Martyn Gayle (COB) - 24 POINTS 
.
.