The Great Britain Under-16 Men finished in 10th place at the FIBA European Championships Division B in
Pitesti, Romania
.
Head coach Troy Culley's team had a 1-3 group record with their only win coming with a 100-64 thrashing of Norway.
But they saw off Iceland with a 83-63 margin in the 9-16 classification then Sweden 69-64 before losing their final game against Denmark 83-69.
Against Iceland, Harry Shellhammer had a monster 30 points, while Nojus Zajankauskas had 18 against Sweden.
Against the Norwegians all 12 players on Coach Culley's roster contributed to the scoring but Zajankauskas led the way with 22 points.
Emmanuel Ahamefule was a board short of a double-double with 17 points and 9 rebounds and Kelvin Aigbogun had one with 14 and 13.
Across the tournament Jack Walton headed the GB efficiency averages with 10.6, Kerby Mabaya-Mueba lead the scoring with 11.3ppg, Kelvin Aigbogun averaged 7.4 rebounds per game and Khyle Capanzana had 4 assists per game.
Head coach Troy Culley said:
"Once again, the European Championship proved to be a challenging yet incredibly rewarding journey for everyone involved. I am immensely proud and grateful for the opportunity to lead the U16 Men for a second summer as I genuinely believe their is no better feeling than representing your country.
"While our 10th-place finish mirrors last year's position on paper, several key positives stand out. Compared to the 2022 tournament in Sofia, this year's group demonstrated significant improvements, ranking in the top-10 for points per game, rebounds, assists, free throw percentage, and efficiency across the seven games as well as having some standout individual performances.
"Our roster faced notable setbacks, starting with Nathaniel (Djanogly), a key contributor in our prep games, being sidelined due to injury just before we flew to Romania. The losses of Corey Hill in our second game against Ukraine and Kervy Mabaya-Muteba the following day further tested our squad's depth. Yet, this adversity paved the way for our two U15 players, Emmanuel Ahamefule and Kelvin Aigbogun, who effectively rose to the occasion leading our group in a number of ways which highlights promising building blocks for next year's team.
"While I believe we had the potential to place higher, especially considering Hungary and Estonia's fifth and sixth-place finishes, our journey was marred by a challenging opening game against Estonia and close losses to Ukraine and Hungary where the games came down to the final minute. Nonetheless, it was immensely satisfying to witness our decisive victories over Norway and Iceland, as well as our resilient and mature comeback from a 14-point deficit against Sweden. We truly evolved with each game, taking important strides forward from last year while clearly identifying areas for future improvement both individually and collectively.
"I want to extend my heartfelt appreciation to our dedicated staff, committed players, and the travelling parents whose unwavering support was instrumental throughout the tournament. It was an absolute privilege to stand on the sideline once more this summer. I am convinced that everyone involved has grown from this experience, and I firmly believe that we will use these lessons to return stronger and more prepared for future competitions."
Scores
Estonia 86-55 Great Britain - Boxscore 
Great Britain 57-59 Ukraine - Boxscore 
Norway 64-100 Great Britain - Boxscore 
Great Britain 60-67 Hungary - Boxscore
9-16 classification - Iceland 63-83 Great Britain - Boxscore
9-16 classication - Great Britain 69-64 Sweden - Boxscore
9/10 classification - Great Britain 69-83 Denmark - Boxscore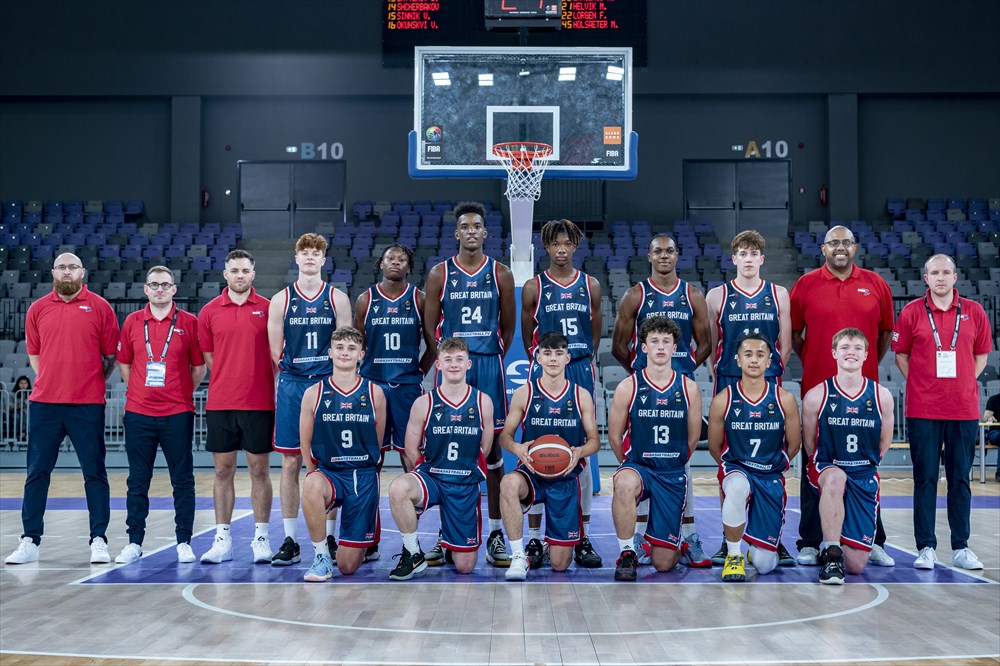 How to watch 
GB Basketball TV is the only place to watch Great Britain youth teams this summer at the FIBA European Championships.  
Subscribe to see all the action live at gbbasketball.tv. 
For results, stats and group tables, see the FIBA U16 Men's European Championships Division B website HERE 
Roster
Emmanuel Ahamefule, London Elite
Kelvin Aigbogun, Manchester Giants 
Khyle Capanzana, London Lions  
Corey Hill, Bristol Academy Flyers 
Julius Kimani, Montverde Academy (USA) 
Kervy Mabaya-Muteba, Enfield Scorpions 
Ethan Round, Northamptonshire Titans 
Harry Sheehan, Manchester Giants 
Harry Shellhammer, Tri-City Basketball (Canada) 
Isaac Spurrier, Plymouth BC 
Jack Walton, Manchester Magic 
Nojus Zajankauskas, Baltic Stars 
Reserves 
Xavier Lewis, Anthony Edwards 5 (USA)
Elijah Omar, Brixton Topcats 


Head coach: Troy Culley 
Assistant coach: Daniel Petts 
Assistant coach: Stephen Barnes 
Team manager: Lewis Scott 
Physio: Daniel Morton 
Media Officer: Benjamin Davidson