Great Britain Under-16 Women finished in sixth place at the FIBA European Championships Division B in Podgorica, Montenegro after a final-game loss to Iceland
.
GB fell just short in the 5-6 classification game at 69-62 to end the tournament, with Irene Oboavwoduo top-scoring with 14 and Athena Thompson hitting 13.
Head coach Lee Davie's team were victorious in all four of their Group C games before going down to Estonia in the quarter-finals on Thursday with an agonising 66-65 defeat. Thompson led the GB effort then with 19 points.
They regained momentum with a 67-53 win over Romania in the 5-8 classification round on Friday - Thompson top-scored with 15, Oboavwoduo had 14 - before falling to Iceland, who they beat in the group stage, to end the tournament. 
GB had racked up big group-stage wins over Iceland (65-54) Bosnia and Herzegovina (61-46), the Netherlands (78-47) and Denmark (75-50). 
Hayley Wright is leading the GB averages for efficiency (14) and rebounds (7), with Thompson (14) top scorer and Ayla Habbal dishing out 4 assists per game.
Head coach Lee Davie said:
"It has been great to be back involved with the National Team Programme again, and this campaign was a very rewarding experience.
The commitment from all the players and families from the very start of the programme with our long list squad right through to our final twelve players that participated at the European Championships has been fantastic.
"The U16 programmes are always a tricky one to navigate because there are very few players with international basketball experience that the group can draw from which leaves a lot of unknowns when it comes to the work ethic, concentration, levels of shooting and finishing, and applying and dealing with the pressure required at this level if you wish to succeed.
"The preparation programme was four days on then three days off for four weeks straight allowing us to recreate the first and last four days of a European Championships as much as we could. We had seven two hour practices across the four days and 56 hours overall across the sixteen days of preparation.
"The preparation had us in a fantastic place for when we started the tournament, the first game is the most important game  for setting the tone for how you want to operate and play over the rest of the tournament. The Iceland group game was our first actual game together as a team vs a national team with a first eight who played together at club level.
"The highlight of the group games was the dismantling of the Netherlands, from start to finish we were firmly in control of the game, playing fantastic basketball at both ends of the floor against a very good team. Topping a very strong group was a fantastic achievement and testament to all the work put in from players, staff and parents throughout the programme.
"After the first game, the next most important one is the quarter final which allows you to play for a medal and potential promotion. Although we prepared well, we never really felt like we got going and playing anywhere near our best basketball. That being said, we fought to the end and coming back from a double-digit deficit to force an end of game situation, but we ultimately lost by one. That game had so many lessons for all players, staff and parents which I hope we can all learn from and carry forward.
"I think overall it was a fantastic experience for all, with a lot of fun, memories and experiences gained over the course of the summer. I would like to say a special thank you to all the staff involved in this programme that made the experience what it was for both the players and myself. Maialen Zilbeti, Azeb Smalley, Charlotte Redhead, Chedell Cruickshank and Dan Cruse were nothing short of a joy to be around all day, every day and helped raise the standard and bar for what is achievable for Great Britain U16 Women in the future.
"Thank you Michael Hanson Morris for the additional performance analysis support throughout the tournament.
"Thank you Donnie MacDonald for everything you put in place the previous year and for all your help and support helping me get this year's programme up and running.
"Special shout out goes to Barry Laing and Meehra Gorasia for always being at the end of the phone when we needed you, and to Fiona Pimblett and Chris Grant for their messages and support throughout the programme."
Scores
Thursday 10 August 2023: Great Britain 65-54 Iceland - Boxscore 
Friday 11 August 2023: Bosnia Herzegovina 46-61 Great Britain - Boxscore 
Saturday 12 August 2023: Great Britain 78-49 Netherlands - Boxscore 
Monday 14 August 2023: Denmark 50-75 Great Britain - Boxscore 
Thursday 17 August 2023: Quarter-finals - Great Britain 65-66 Estonia - Boxscore
Friday 18 August 2023: 5-8 classification - Romania 53-67 Great Britain - Boxscore
Saturday 19 August 2023, 3pm: 5-6 classification - Iceland 69-62 Great Britain - Boxscore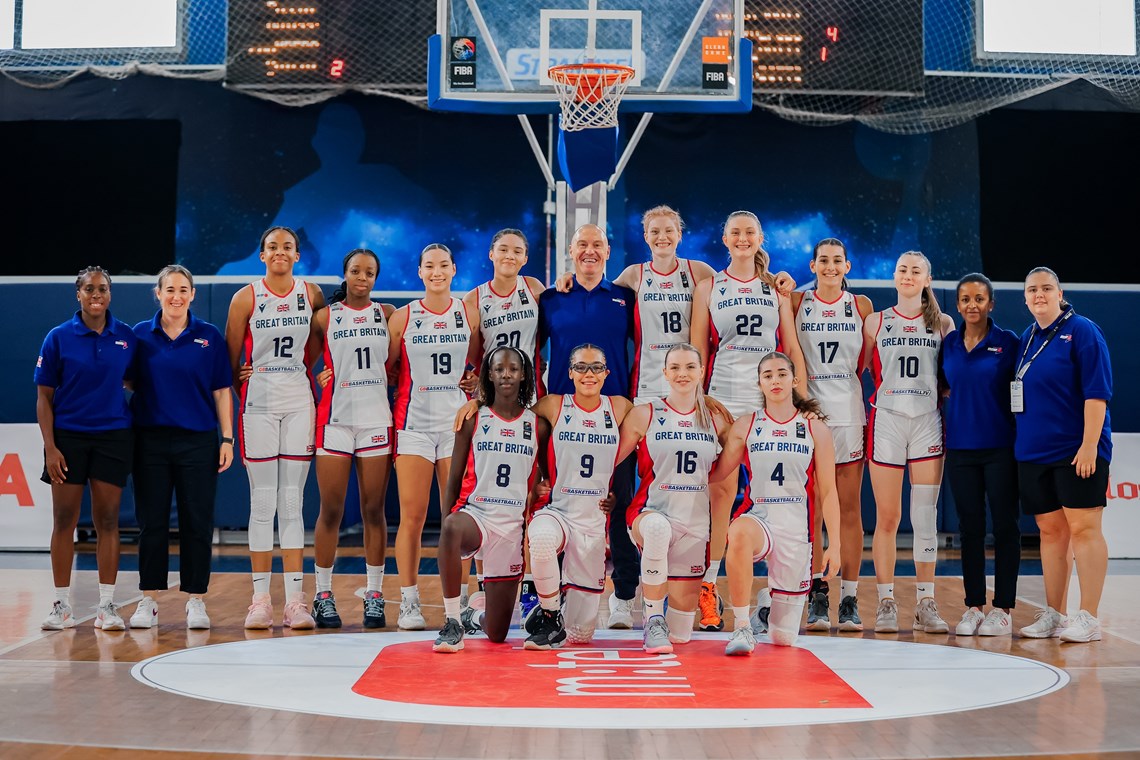 How to watch 
GB Basketball TV is the only place to watch Great Britain youth teams this summer at the FIBA European Championships.  
Subscribe to see all the action live at gbbasketball.tv. 
For results, stats and group tables, see the FIBA U16 Women's European Championships Division B website HERE 
Roster 
Kara Bassil, Endeavour Ipswich
Emma Briggs, M14 Hoops (USA) 
Tiarna Chambers-Desmond, Derby Trailblazers  
Fleur Gamal, City of Edinburgh 
Ayla Habbal, Haringey Hawks 
Maisie Keyes, Manchester Mystics 
Irene Oboavwoduo, Manchester Mystics 
Neve Rugette, Richmond Knights 
Athena Thompson, Milton Keynes Breakers 
Chloe Vella, Richmond Knights 
Megan Verbeeten, Sussex Storm 
Haley Wright, Valencia (Spain) 
Reserves 
Charley Woodman, Bristol Academy Flyers  
Alice Woodward, Nottingham Wildcats 
Head Coach: Lee Davie   
Assistant Coach: Maialen Zilbeti   
Assistant Coach: Azeb Smalley  
Team Manager: Charlotte Redhead  
Physiotherapist: Chedell Cruickshank  
S&C Coach: Dan Cruse 
Media officer: Lauren Newham