Great Britain's U18 Men finished fifth at

the

FIBA Division B European Championships after a dramatic overtime win against the Netherlands in their final game.

GB came from behind to take a 95-94 victory that showed the fighting qualities they had displayed throughout the tournament.

A 65-62 defeat in the quarter-finals to Montenegro - their only loss of the campaign - means that they miss out on promotion the Division A.

But head coach Alan Keane's team did themselves proud with a 6-1 record in Matosinhos, Portugal.

GB went down 65-62 to Montenegro in an agonisingly close game, falling just short of claiming a place in the semis.

They bounced back to beat Romania 79-67 then edged past the Dutch to seal fifth spot. 

GB had claimed had claimed their quarter-final spot with a 4-0 run in Group A in Matosinhos, Portugal, capping it with an 84-73 victory over Norway. 

That came after commanding victories over Iceland, North Macedonia and Austria.

Nedas Cholevinskas was a standout, leading the team in effieciency (16.3) and points per game (14.9), while Tyresse Lacey, Latrell Davis and Benjamin Michaels also performed well. Individual stats can be seen here.
Head coach Alan Keane said:
"I probably say this most years, but this was maybe the most enjoyable European Championship experience I have had to date. The lead-up did not come with its challenges. Trying to get players back for the summer who are doing well overseas as well as putting a programme together with prep camps and games against other national teams was not easy. 
"The tournament itself started off well for us. The first game is always critical as the group games are very few and you never really know what you are up against or how it will go. That win gave us a lot of confidence going forward which carried over into the next three which we built upon from game to game. Finishing the group on top and unbeaten was testament to all the hard work, sacrifices and grittiness our group showed on a daily basis.
"What people who have never experienced this won't know is the daily grind can wear the body down. However, even more significant is the mental and emotional strain and how hugely impactful it can be. From early starts, to 45 minute bus rides to practice and back again, to team meetings, individual meetings, scout reports, video scouting, then 45 minute travel to game, play the game, 45 minute travel back, review the game, recovery sessions, scout the next team and get ready to do it all again tomorrow. Not all players always cope with it so well. However this group was incredible with their mental robustness and resilience. A critical factor was the cohesiveness within the group and the strength of each connection, player to player and player to coaches. 
"The key game that would have enabled us to play for a medal demonstrated that you certainly need a bit of luck to go your way or less luck to go the way of the opposition. Four desperation buzzer beaters Montenegro threw up, went in, one high off the backboard for three points and the others in a similar fashion. While frustrating as it may seem, these are things we knew we had no control over so we simply accepted it and moved on. Side note, what I have enjoyed most about this group is that they took very well to building a culture of acceptance.
"That meant we agreed and followed through (supporting each other) in accepting anything that was thrown at us and responded with a plan and intentional actions. It served us well in many difficult moments both pre and during the championships, including bouncing back from this only loss in the tournament to Montenegro for a place in the semi-final.
We closed out the tournament in the most fun way possible with a go-ahead three from Ben Michaels in over-time. Another great experience for all, full of many learning opportunities and great memories.
Lastly, I have to give a special mention and a world of thanks to the staff that the players and I had the honour of working with this summer. Ian MacLeod, Mike Bernard, Steve Miknis, Toby Welch, Tom Austin and media official Nathan Green. When you are 24/7 with people for the summer the balance of work and enjoyment may be the greatest game changer. These guys were nothing short of elite in achieving this. I am thankful and better for working alongside them all summer and will be forever grateful. Shout out to Meehra Gorasia who was at the end of the phone repeatedly when we needed her too. Thank you!"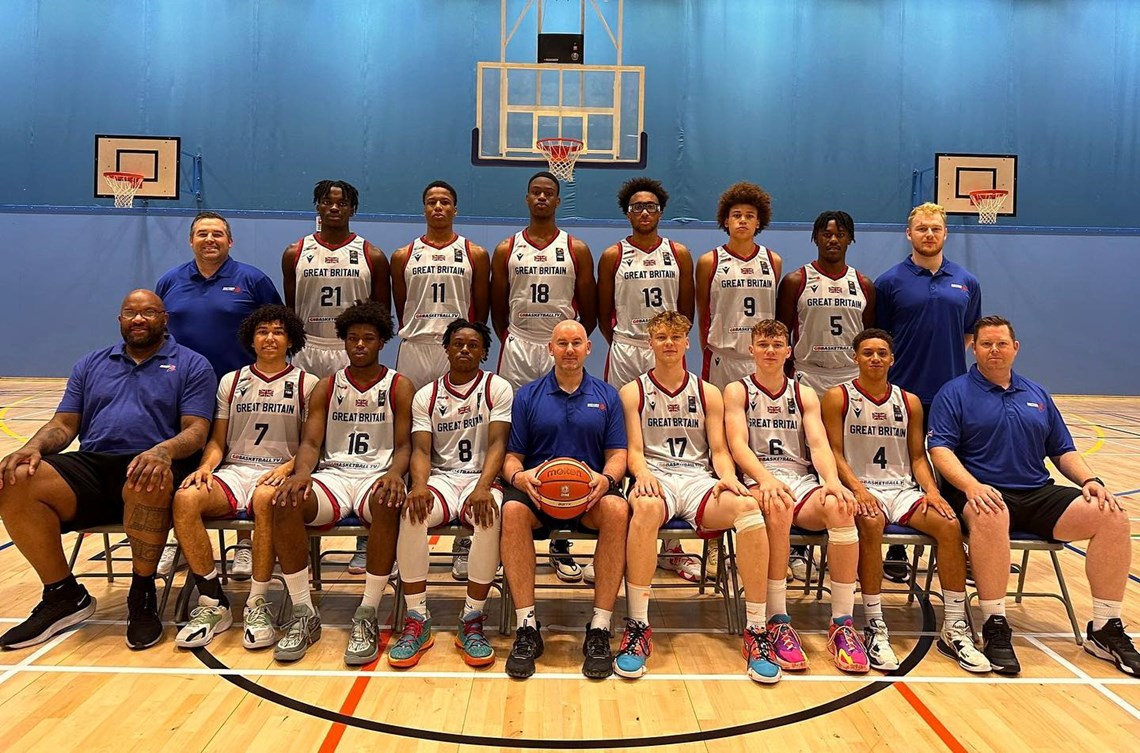 Scores
Great Britain 84-68 Iceland - Boxscore 
North Macedonia 68-84 Great Britain - Boxscore 
Great Britain 79-64 Austria - Boxscore 
Norway 73-84 Great Britain - Boxscore 
Quarter-finals - Great Britain 62-65 Montenegro - Boxscore
5-8 classification: Great Britain 79-67 Romania - Boxscore
5/6 classification: Great Briatin 95-94 Netherlands - Boxscore
Roster 
Liam Campbell, London Elite
Nedas Cholevinskas, Barking Abbey 
Latrell Davis, First Baptist Academy, USA 
Sebastien Emenalo, Thames Valley Cavaliers  
Matthew Goodwin, Manchester Magic 
Tyrese Lacey, Kongo Basketball, USA 
Moziah King-Danchie, Barking Abbey 
Benjamin Michaels, Long Island Lutheran, USA 
Timothy Oboh, Kent Crusaders  
Edward Onyia, Leicester and Loughborough Riders 
Tyreese Perry-Huggins, Endeavour Ipswich Basketball  
Marcus Robinson, Team Arsenal AAU, USA  
Reserves 
Shaquille Furlonge, Manchester Magic Manie Joses, NBA Academy 
Head Coach: Alan Keane  
Assistant Coach: Michael Bernard  
Assistant Coach: Ian MacLeod   
Team Manager: Steve Miknis  
Physio: Toby Welch  
Media officer: Nathan Green 
Gallery