Hulme Park basketball court has received a total make-over thanks to Basketball England's #ProjectSwish campaign and partnership with Wilson Sporting Goods Co.
The organisations collaborated as part of their ongoing multi-year partnership to design and finance the renovation, with part of the funds coming from the sale of Wilson #ProjectSwish limited edition balls.
Basketball enthusiasts have been able to support BE's campaign by purchasing the ball, with profits from the sales going towards the regeneration of outdoor courts – Hulme Park being the first to benefit.
The scheme stays true to Wilson's basketball campaign 'Bonded by Ball', which focuses on the friendships and familial bonds that people have through playing basketball and how the basketball community can come together to affect change.
The iconic court, a stone's throw from the city centre, has been well loved by the local basketball players for many years.
Through the refurbishment – completed in alliance with Sport England and Manchester Active – the court now boasts a totally new surface, complete with a beautiful black and red colourway, in tribute to the ball designed by Project in the Paint's Gareth Roberts, three full-sized basketball hoops, and official court markings to play the 3x3 and 5v5 formats of the game.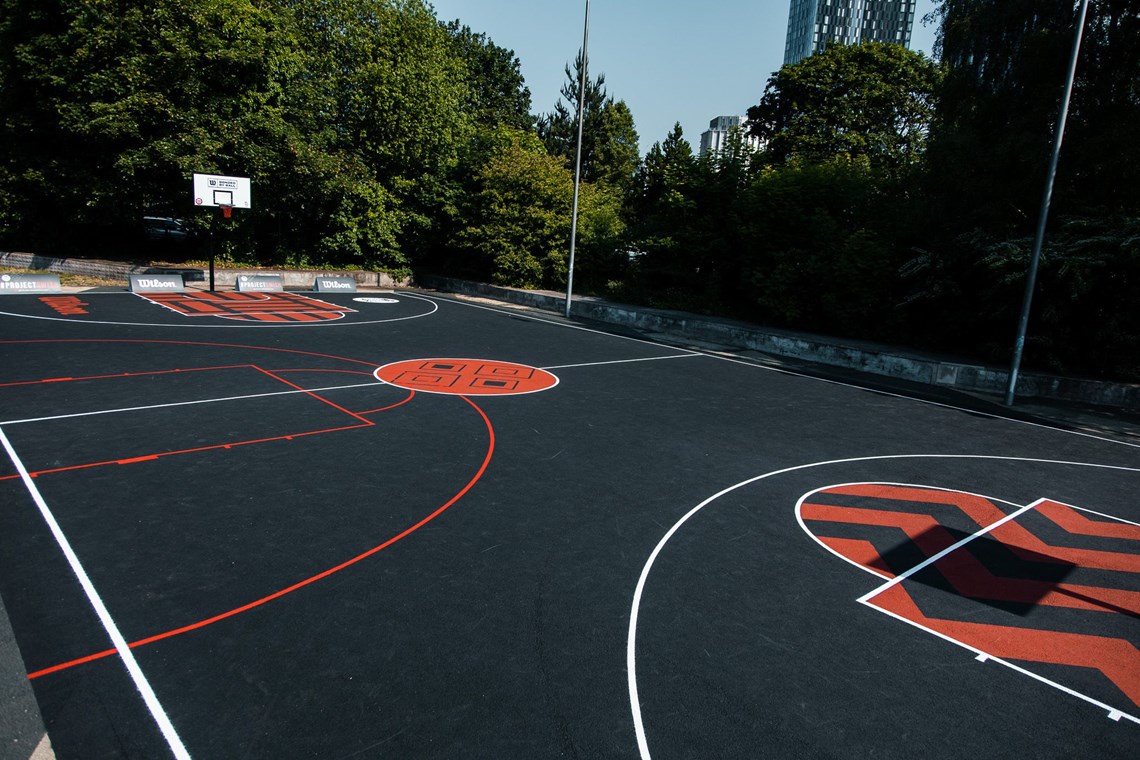 BE Head of Participation Peter Griffiths said:
"We are ecstatic about the new look Hulme Park court, created collaboratively with Wilson, and with the help of Sport England and Manchester City Council, who have helped us turn this project into a reality.
"When we started the #ProjectSwish campaign in 2019, it was to simply give ballers some nets to put up at their local outdoor court, but like all great ideas with humble origins, they morph and shape into something greater.
"Since I got my hands on a #ProjectSwish ball, I wanted to do an art court using its colours and design. Now that it has come to fruition, it looks better than I imagined. The beauty of new or renovated outdoor courts is their physical presence. You build it and you know it will service a lifetime of basketball for the local community."
Regional Commercial Manager EMEA – Wilson Teamsports Andy Meddings said:
"We are delighted to see our partnership and #ProjectSwish deliver a court renovation and give something back to the basketball community. Incorporating the Wilson ball graphics into the court design has delivered a unique court that we know the basketball players in Manchester will enjoy and benefit from.
Wilson is proud to partner on the #ProjectSwish campaign and look forward to seeing the community benefitting from new court renovations in the years to come."
Councillor John Hacking, Manchester City Council's Executive Member for Skills, Employment and Leisure said: 
"I am pleased that #ProjectSwish has landed in Manchester, the scheme is brilliant for encouraging our residents to get involved in basketball.
"A key priority of the council is to make sure our residents have access to state-of-the-art facilities in their local communities. Basketball England's #ProjectSwish campaign is a great example of how we're working with partner organisations to deliver the best for our residents and enhance the facilities available in local communities.  Residents from all over the city will benefit from the investment for many years to come and we're pleased with this collaboration."
Councillor Lee- Ann Igbon, Manchester City Council's Executive Member for Vibrant Neighbourhoods said:
"Hulme's new basketball court is an excellent facility for the local community and ballers across our city.
"The renovation of the courts is fantastic for the local community because residents can get involved in basketball right on their doorstep and, they can also meet others who share a similar passion for basketball. I'd encourage all basketball lovers, old and new, to try out the new court!"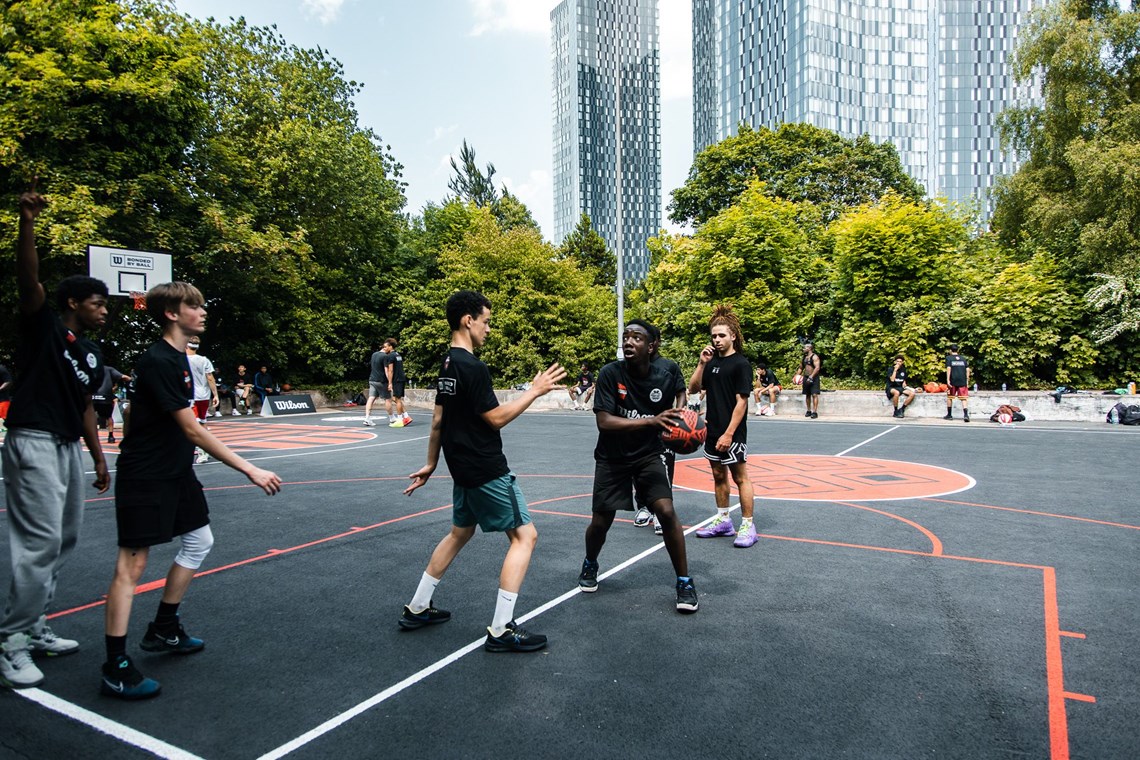 #ProjectSwish is helping renovate and renew other outdoor courts this year too, working with partners and stakeholders to improve England's stock.
This year the following courts will receive the #ProjectSwish treatment:
Platt Fields Park, Manchester in collaboration with Universal Pictures
Crowcroft Park, Manchester
Hanley Park, Stoke-on-Trent
West Park, Worthing
Freshwater, Isle of Wight
.
.

Join Basketball England for free. Whether you have a Supporter Account as a fan, follower, enthusiast or advocate, or a Full Account and have paid for a licence to play, coach or officiate in competition, you can be part of the basketball family.
Basketball has the power to change lives. Our #GameTime campaign aims to raise awareness of the positive impact that basketball can have on people no matter who they are or where they are from.
.