Brendan Okoronkwo takes pride in basketball's diversity and inclusivity - and how it is seen by society.
And the Worthing Thunder guard says that he feels at home and safe on the basketball court.
"I'm proud of how basketball looks to society," Okoronkwo says.
"It is inclusive, it is diverse, we have all the statistics to back that up and it is why for me personally, I felt at home, and I felt safe on a basketball court.
"My first group of friends I made was a majority of black people; it's just a welcoming environment, so if there is a way to use my own voice, use basketball as a channel to get our wider message out to people like me, then fantastic."
In the United Kingdom today, out of the population of more than 65 million people, 15% of those come from ethnic minority backgrounds.
And according to this season's Basketball England membership figures and the the latest Sport England  Active Lives data, 33.6% of U16 basketball participants come from a Black, Asian or minority ethnic background. That figure is 37.7% for licenced U16 players.
Okoronkwo is part of the 35.1% of the adult participants who are from a Black, Asian or ethnic minority background, with 34.7% licenced by Basketball England.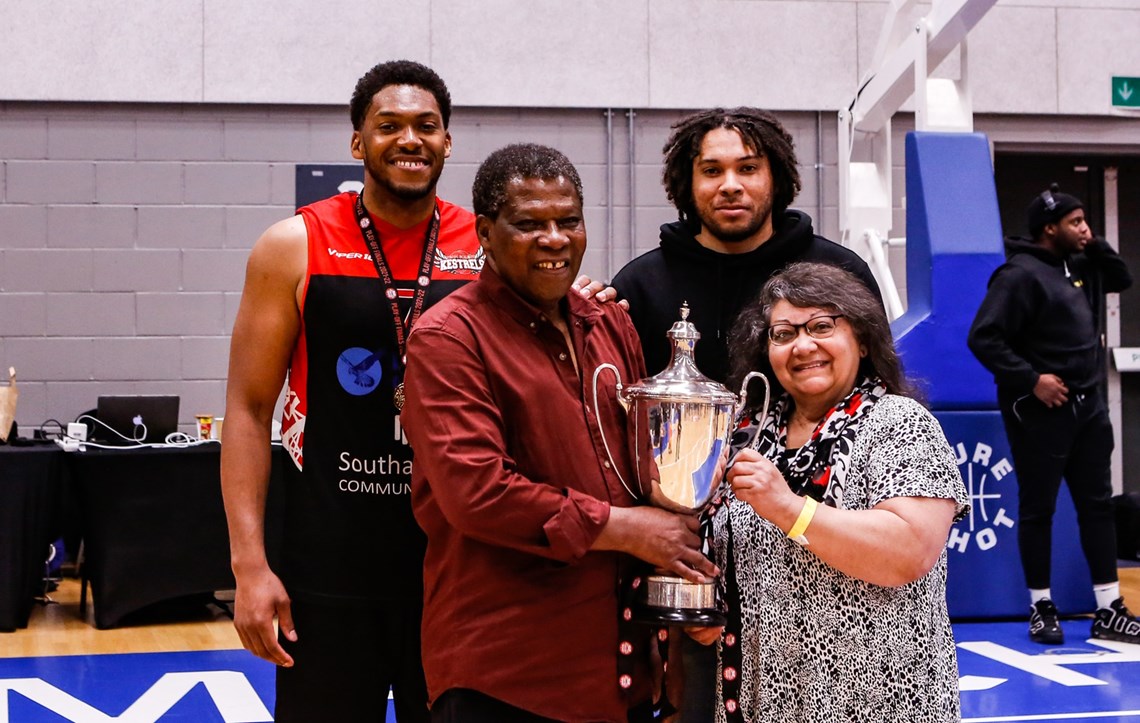 Born in Milton Keynes to mother Gloria and father Valentine, of Jamaican and Nigerian descent respectively, Okoronkwo is proud of his heritage and even more proud to use his social media platforms to champion the positives.
"Anytime there is an unfortunate, negative news story around black lives, it immediately goes to the core of every black person," Okoronkwo explains.
"It may not be us experiencing it, but we know that we are one or two generations removed, from those direct things happening to people that are in our bloodlines.
"We will have experienced some form of racism, every instance in the news starts off small like a police stop, like going for a run, like being in a local park and someone looks at you, and escalates quickly. How can you not relate when they are circumstances we've also been in.
"Being able to have some sort of platform and ability to make a change is something I will always try to do and always try to champion.
"Unfortunately, to put it bluntly, if there are people that do not support the mission, the statement that we are intending around removing racism or any form of inequality, then you need to leave the sport.
"This is not the place where we can allow with a high percentage of diverse, black, non-white members that you can allow racism, that you can allow discrimination, even if it's a tiny percentage or one person, we can't have that."
As well as using his voice to promote racial equality, Okoronkwo, who lives in Hove, East Sussex, constantly promotes local black-owned businesses around the county.
He does this through BARCO (Black Anti-Racism Community Organisation), an independent CIC, established in 2020, where Okoronkwo is a trustee and volunteer alongside Sussex Bears' guard and co-founder/trustee Bud Johnston.
"I have to give a huge shout out to Bud Johnston, who is championing black excellence, black business and black joy in Brighton," Okoronkwo said.
"He is one of the first people I knew when I moved here. I came here; I knew nobody. I tried out for Worthing. I made the team and became friends with him. We have been on separate teams for around five years, and we connected again, and now we're on a fantastic mission."
That mission is to inspire and celebrate anything and everything black in Brighton and Hove.
"There's all these terrific ideas, but until they're centralised, you're never going to get the maximum out of it," Okoronkwo adds.
"That's all we are; we're not here to reinvent the wheel, we're not doing anything exceptional, all we are doing is being as loud and proud as we can about black business."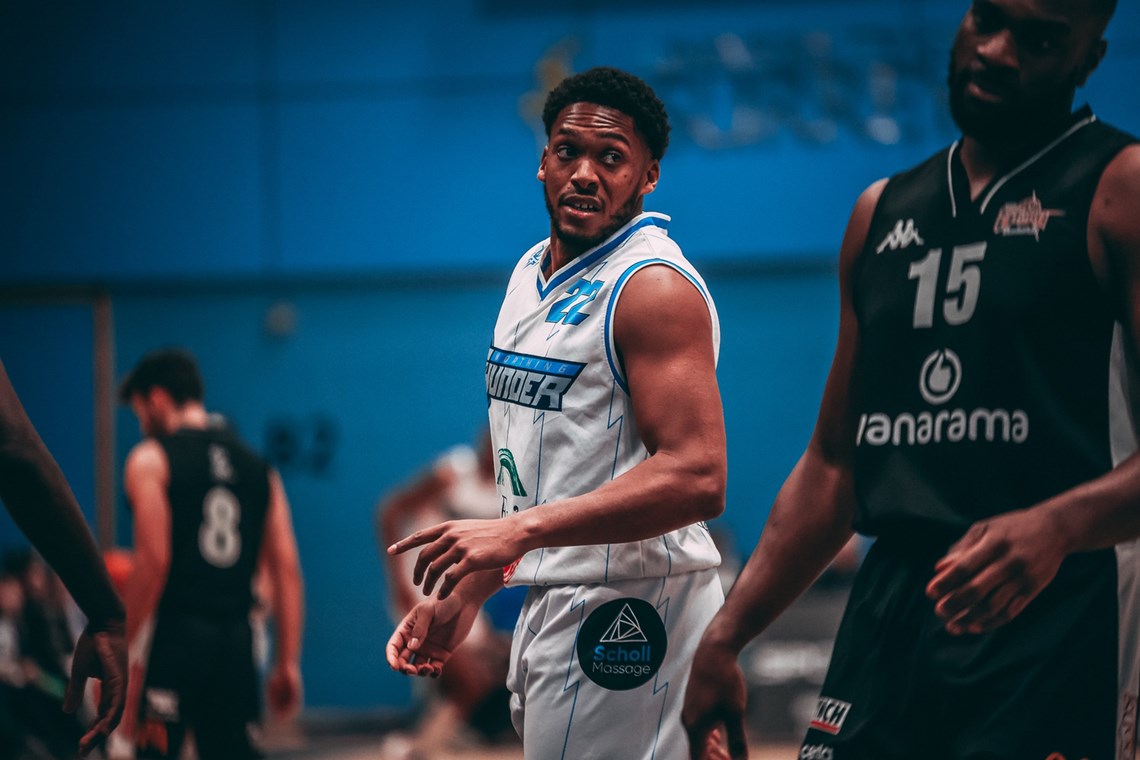 Brendan mixed his work in Brighton and Hove with BARCO alongside his playing time in Southampton with the Solent Kestrels, where he enjoyed capturing all the silverware NBL1 had to offer. 
However, he admits that they "nearly won everything", referring to the BBL Trophy final defeat in 2020 to the Newcastle Eagles alongside a second KitKing Trophy where they lost out to Derby Trailblazers in the semi-finals.
"The whole Solent experience was special, and we had a feeling that it was going to be something special from day one," Okoronkwo reflects.
"For me personally, the reason why I moved across to Solent for those three years was to push myself as a player.
"Matt Guymon is one of the most, if not the smartest, basketball minds in this country, and we had Adam Sewell, who is part of the Great Britain set-up.
"Everything was there to help the team and me to maximise our potential, and I felt I would have done myself a disservice not to at least try it out and see where it took me, and it helped me a lot, and I loved my time there."
However, from a playing perspective, the Covid-19 pandemic was incredibly difficult for Brendan. A fierce competitor on the court, the lockdown saw Okoronkwo unable to play the sport.
So, to keep fit and to give Okoronkwo happiness, he used his initiative and found other ways to exercise alongside Solent Kestrels' assistant, Jack O'Keefe.
"Tennis kept me sane, especially during one of the lockdowns we had when I started playing the sport," Brendan admits.
"At the time, basketball courts had padlocks on the gates, baskets were taken off, bubble rules and I physically couldn't play, so tennis was the one thing that kept me sane, kept me occupied, and myself and Jack found ways to play as it was possible sooner.
"For me, it was nice to try and challenge myself to something new having played basketball for around 20 years, I have never had a proper break from it since my under-12 days. During the off-season, I've always had the Brighton beach courts down the road from since moving here, so it's always been non-stop basketball.
"So tennis was a new challenge, and as a sport, I've always enjoyed it, I've followed it as much as I can as a fan, and now I've been fortunate to pick it up, somewhat okay."
Okoronkwo's newfound enjoyment of tennis put him on a basketball sabbatical. However, a few trips to watch Worthing Thunder early in the season as a fan brought a new kind of fire.
"I'm competitive," he says. "Playing tennis kind of scratches that itch, but there's nothing quite the same as being on a basketball court at a high level and winning in a team environment, and in that four or five-month break, I just missed it.
"Seeing the guys that Worthing have on the team, seeing the guys they had and the fact that they wanted to win and be successful, there's only so many times you can sit down and watch it as a fan knowing that you have a chance to be on the team and contribute."
And in December, Okoronkwo found himself back in a Thunder uniform, making his season debut in the NBL Live game against Hemel Storm.
"It's nice to be back," he says. "Yes, there's been some changes from when I was last here from top to bottom with the senior team to the NBL3 team and the vast amounts of juniors and a women's team.
"But that's a good thing as there's a great effort in growing the sport here in Worthing, and I'm happy to play my part whether it been helping out or contributing on the court in any way I can."
For more information on BARCO, please use the button below.
Interview: John Hobbs
.

Join Basketball England for free. Whether you have a Supporter Account as a fan, follower, enthusiast or advocate, or a Full Account and have paid for a licence to play, coach or officiate in competition, you can be part of the basketball family.
Basketball has the power to change lives. Our #GameTime campaign aims to raise awareness of the positive impact that basketball can have on people no matter who they are or where they are from.
.