The 2023 JD Ball Out 3x3 National Tour, in partnership with Basketball England, see its two final qualifying rounds this weekend.
The Tour hit Birmingham last weekend, marking the one-year anniversary of Team England's double 3x3 medal success at the 2022 Commonwealth Games.
The London qualifier had got things under way the previous weekend and there will be further qualifiers at Writtle University, Essex on Saturday and in Manchester on Sunday before the tour culminates with two days of national finals back at Finsbury Park.
The tournament boasts a new headline sponsor in JD, who together with Basketball England, will continue to drive Ball Out 3x3 from strength to strength.
Qualifying dates
22/23 July – Finsbury Park, London
29/30 July – Smithfield, Birmingham
5 August – Writtle University College, Essex
6 August – National Basketball Performance Centre, Manchester
Finals
12/13 August - Finsbury Park, London
.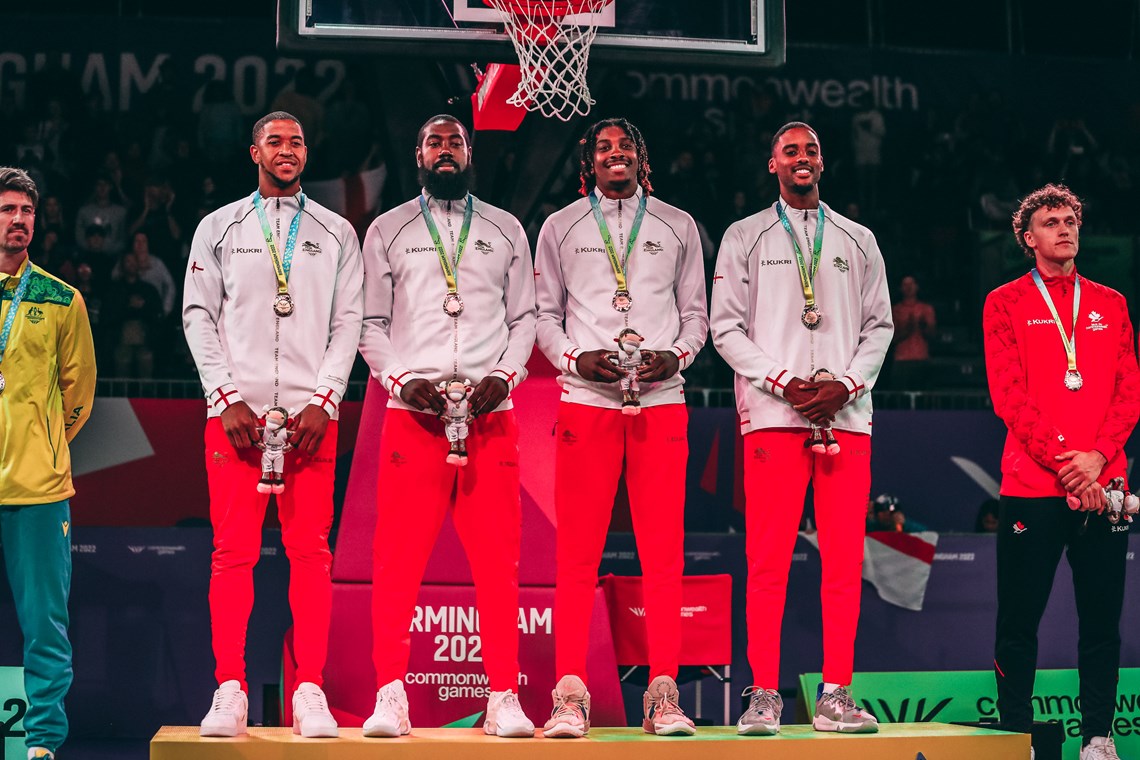 .
Competition categories
Elite/Recreational Men
Elite/Recreational Women
Wheelchair Basketball
U18 Men/Women
U16 Boys
U14 Boys/Girls
The quicker, short-format of basketball was the jewel in the crown of last year's Commonwealth Games, with Smithfield in Birmingham playing host to an unforgettable 3x3 tournament.
Homegrown baller Myles Hesson and teammates Orlan Jackman, Kayne Henry and Jamell Anderson – lead by founder and CEO of Ball Out 3x3 Julius Joseph – won England's first-ever basketball gold, while England's women - Hannah Jump, Chantelle Handy, Cheridene Green and Shanice Beckford-Norton - completed a triumphant night for the sport with a hard-earned silver medal.
Joseph said:
"Following the success of last summer's Commonwealth Games and the national Ball Out 3x3 tour, we are excited to provide another opportunity for players from around the country to get involved. We are looking forward to a great summer of basketball."
Pete Griffiths, Basketball England's Head of Participation, said:
"What an exciting summer we are in for, with Ball Out 3x3 right at the heart of a jam-packed 3x3 schedule to get even more people involved in basketball. It's great to team up once again and keep building on the work done so far." 
Joseph Simpson, Head of Partnerships at JD, said:
"JD is delighted to be the lead partner for this year's JD Ball Out 3x3 National Tour, building on the fantastic tournaments in recent years. The 3x3 events are pillars in the local communities and the work the Ball Out team are doing to champion basketball culture is something we're proud to support. We're confident this year will be the start of a really successful partnership with Ball Out and JD."

.

Join Basketball England for free. Whether you have a Supporter Account as a fan, follower, enthusiast or advocate, or a Full Account and have paid for a licence to play, coach or officiate in competition, you can be part of the basketball family.
Basketball has the power to change lives. Our #GameTime campaign aims to raise awareness of the positive impact that basketball can have on people no matter who they are or where they are from.
.