Next week will see the launch of a free online resource, featuring some of the most internationally recognised referees from across the NBA.
The Jr. NBA referees - online program is a virtual resource and content platform featuring five online clinics from 5 September - 11 September, and is aimed at referees of all levels from across the globe.
Sessions will last 30 minutes, with a specific topic being delivered from a structured NBA referee curriculum by the featured NBA official.
The clinic will be moderated by the NBA's EME Basketball Operations team with the last 10 minutes open for Q&A.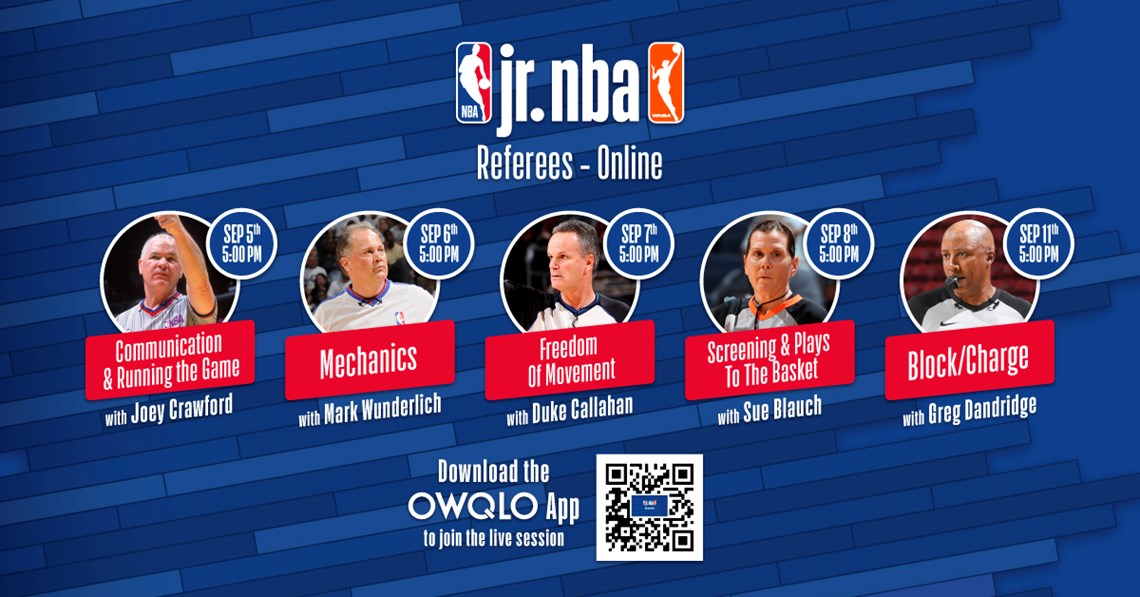 The following sessions will be available, with all clinics beginning at 5pm:
5 September - Communication & Running the Game - Joey Crawford

6 September - Mechanics - Mark Wunderlich

7 September - Freedom of Movement - Duke Callahan

8 September Screening & Plays to the Basket - Sue Blauch

11 September - Block/Charge - Greg Dandridge
Basketball England's Delivery Manager - Officiating Simon Unsworth said:
"This is an excellent opportunity for our officials to learn about key developments within the game from some of the world's top referees.
It's great that through the Jr. NBA and Basketball England partnership we are able to offer these clinics to BE officials, and hopefully there will be a great take up ahead of next week."
Sign up and access to the clinics is done via the OWQLO app, in the "Program" section of the app. You can also use the QR code on the graphic above.
To find out more about the OWQLO app, or to download it for your chosen platform, please click the button below.
.
.
Join Basketball England for free. Whether you have a Supporter Account as a fan, follower, enthusiast or advocate, or a Full Account and have paid for a licence to play, coach or officiate in competition, you can be part of the basketball family.
Basketball has the power to change lives. Our #GameTime campaign aims to raise awareness of the positive impact that basketball can have on people no matter who they are or where they are from.
.